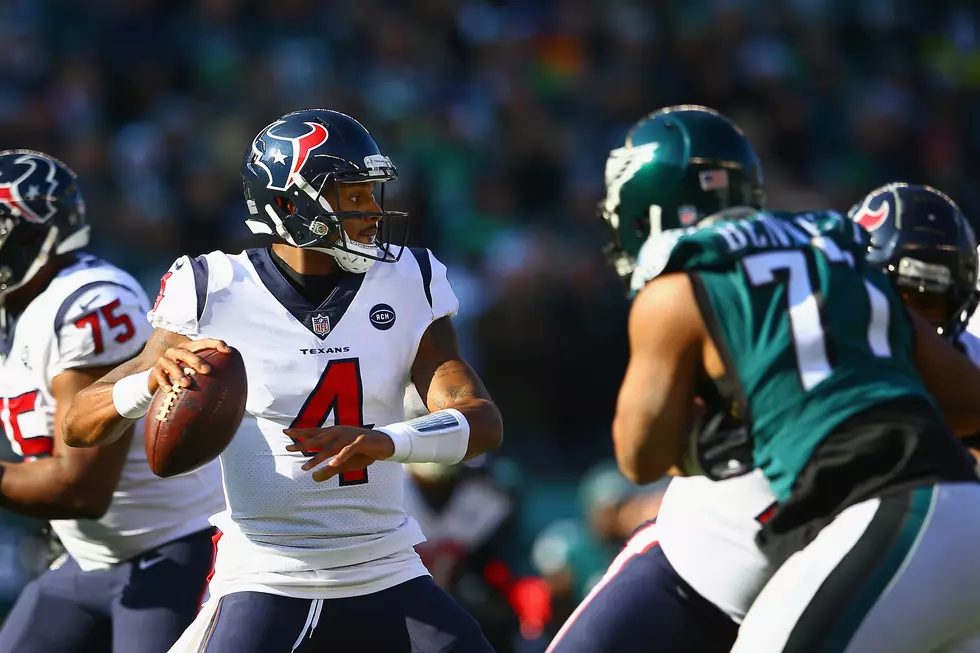 Source: Eagles Talks with Texans 'Heating Up' for Deshaun Watson
Getty Images
The Sixers have rumors almost daily surrounding Ben Simmons' future with the team. Now, the Eagles have their own version with Deshaun Watson.
Since the time Watson asked to be traded from Houston, the Eagles have been connected to acquiring the 25-year old signal-caller, in large part because of a perceived need at the quarterback position and their army chest of draft capitol to throw at the Texans to make a deal work.
They are currently rumored to be trying to come to an agreement with the Texans for a deal involving Watson which would include multiple draft picks, despite the fact that he faces sexual assault accusations from 22 women.
The Eagles currently own two, first-round draft choices, and have the potential of adding a third based on Carson Wentz's playing time.
Over at CBS Sports, NFL reporter Chris Trapasso suggested late on Wednesday night that talks are 'heating up' between the Eagles and Texans about a deal for the 25-year old quarterback.
Popular football website Pro Football Talk suggests that is not the case, mentioning the 'looming possibility of prosecution' as the reason.
In the story a PFT source says: "Teams have to wait to make sure jail isn't a possibility."
To further add fuel to the fire, Eagles head coach Nick Sirianni was asked on Thursday about the constant rumors surrounding Watson. He had a chance to name his current QB1, Jalen Hurts, his Week 1 starter on Thursday and declined saying "we're just not there yet."
Watson is not required to speak on the matter until his February deposition, but there is little possibility that he ends up playing a single snap this season until his legal issues are behind him.
Sometimes where there is smoke there is fire, this just might be one of those times.
Top 10 Rushers in Eagles History
Look Back at Past Philadelphia Eagles' Uniforms
We have your look back over the decades of Eagles' uniforms.