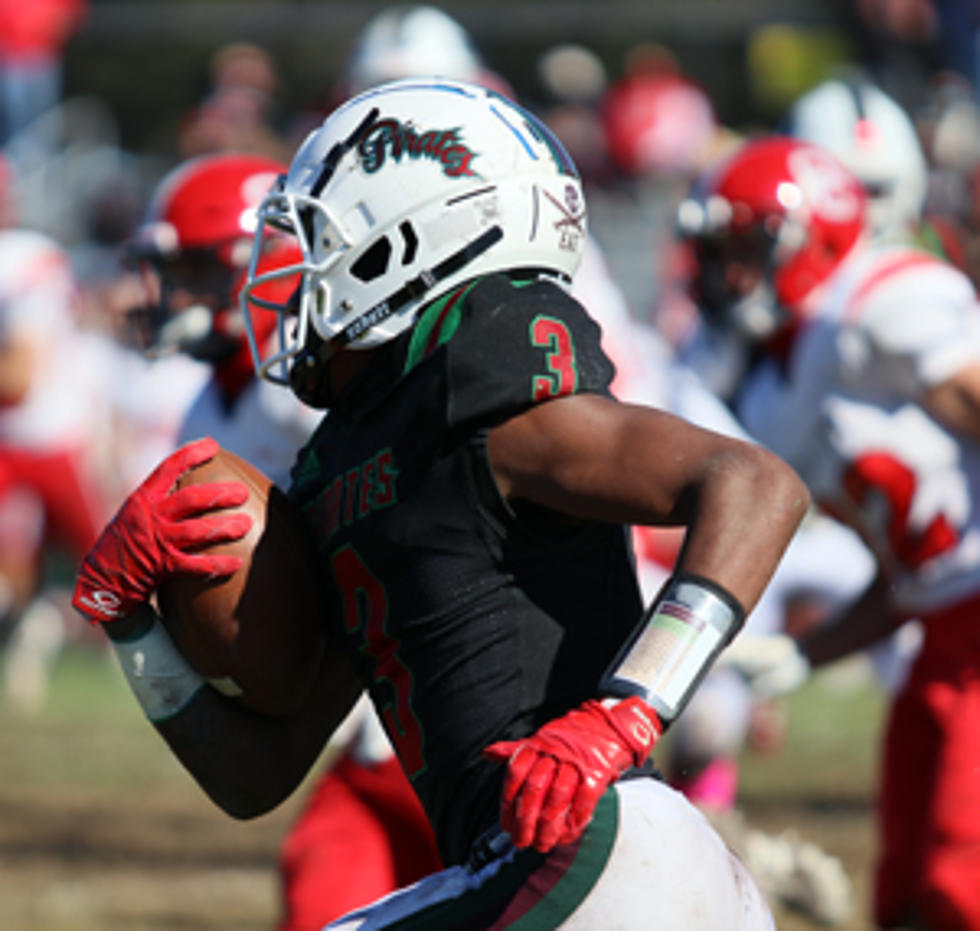 South Jersey High School Football Playoff Notebook
Photo: Dave O'Sullivan, Glory Days
Ocean City, Millville, Cedar Creek, St. Augustine, St. Joe's Academy and Holy Spirit are all still vying for state titles.
First-Round results:
GROUP 5: Cherokee 37, Egg Harbor Township 8
GROUP 4: Shawnee 34, Hammonton 15
GROUP 4: Ocean City 41, Mainland 7
GROUP 4: Millville 58, Toms River South
GROUP 3: Cedar Creek 47, Absegami 6
GROUP 3: Rumson Fair-Haven 37, Oakcrest 0
GROUP 2: Haddonfield 34, Middle Township 7
This week's Schedule:
Friday:
GROUP 4: Long Branch (7-1) @ Ocean City (10-0) 6pm
GROUP 4: Pennsauken (8-2) @ Millville (8-1) 6pm
GROUP A: Delbarton (5-5) @ St. Augustine (8-1) 6pm
Saturday:
GROUP 3: Somerville (8-2) @ Cedar Creek (10-0) 1pm
GROUP B: St. Thomas Aquinas (9-0) @ St. Joseph (7-2) 1pm
GROUP B: Holy Spirit (3-5) @ Hudson Catholic (8-1) 7pm
Making history?
A pair of local players could make history this weekend, according to South Jersey sports historian Chuck Langerman.
Millville quarterback Nate Robbins, who became the first ever Cape-Atlantic League school quarterback to pass for over 400 yards in a single game, tossing for 408 in a game against Williamstown, could become the first Thunderbolt to throw for over 2,000 yards in a season.
He currently has 1,973 yards passing, which is the sixth most passing yards in New Jersey, and no Millville quarterback has ever topped 2,000 yards since the Thunderbolts started playing football in 1892.
Meanwhile, Cedar Creek wide receiver, JoJo Bermudez currently has 166 career receptions, which is second all-time and his 2,824 yards places him third in receiving yards in South Jersey history.
Bermudez is 29 catches away from most career catches and 32 from most catches in a single-season. He is 465 yards away from most yards in a career and 397 yards away from the single -season South Jersey record.
However,  he holds all four of those records or a Cape-Atlantic League player.
This season, he currently has 61 catches for 1,222 yards, both tops in the state of New Jersey.  He also has 10 touchdowns this season, which is sixth most in the state.
South Jersey Online Top 25
1. NPA St. Augustine (8-1) bye until Nov. 12
2. G3 Cedar Creek (10-0) Saturday vs Somerville
3. G3 Rumson-Fair Haven (8-1) Friday vs Burlington Township
4. G4 Millville (8-1) Friday vs Pennsauken
5. G3 Somerville (9-1) Saturday @ Cedar Creek
6. G4 Winslow Township (7-2) Saturday vs Colts Neck
7. G3 Woodrow Wilson (6-2) Saturday vs Manasquan
8. G3 Delsea (10-0) Friday @ Wall Township
9. G4 Ocean City (10-0) Friday vs Long Branch
10. NPB St. Joseph (7-2) Saturday vs St. Thomnas Aquinas
11. G5 Hillsborough (10-0) Friday vs Williamstown
12. G5 Cherokee (6-2) Friday vs North Brunswick
13. G3 Wall Township (6-3) Friday vs Delsea
14. NPB Holy Spirit (3-5) Saturday @ Hudson Catholic
15. G4 Shawnee (6-3) Friday vs Clearview
16. G5 Washington Township (6-3) season complete
17. G5 North Brunswick (7-3) Friday @ Cherokee
18. G5 Burlington Township (8-1) Friday @ Rumson Fair-Haven
19. G1 Woodbury (9-0) Saturday vs Penns Grove
20. G1 Paulsboro (8-1) Saturday vs Gloucester City
21. G1 Salem (8-1) Saturday vs Audubon
22. G3 Manasquan (6-2) Saturday @ Woodrow Wilson
23. G2 Camden (5-4) Nov. 25 vs Woodrow Wilson
24. G4 Long Branch (7-1) Friday @ Ocean City
25. G4 Pennsauken (8-2) Friday @ Millville
Most Accomplished South Jersey Male Athletes From Each High School