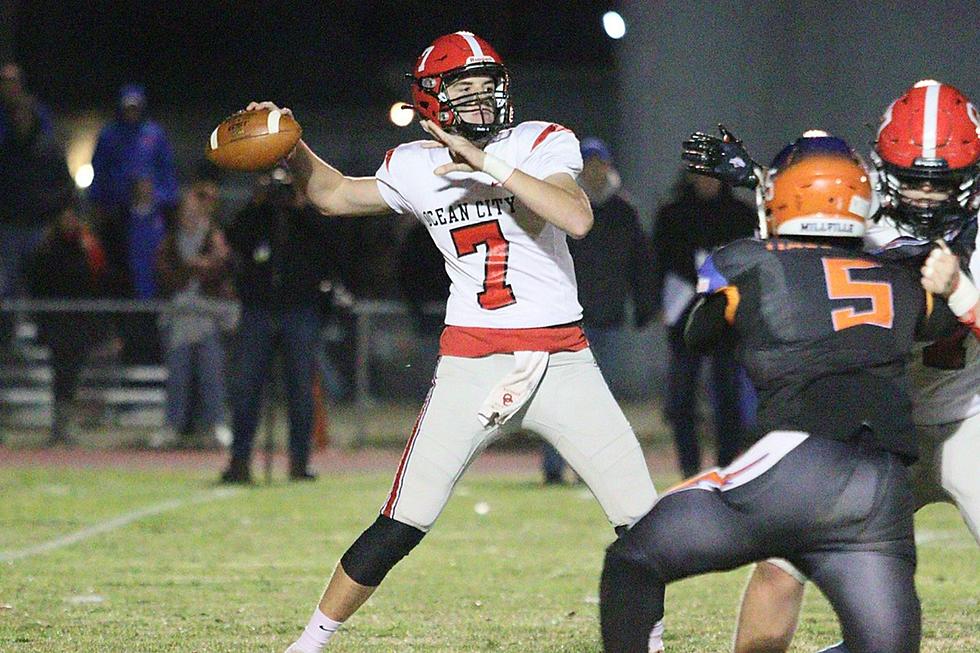 South Jersey HS Athlete of the Week for the Week of Dec 1st
Ocean City High School QB Riley Gunnels - Photo by Dave O'Sullivan/Glory Days Magazine
Each week, 973 ESPN South Jersey and Prime Events are bringing you the chance to vote for the South Jersey High School Athlete of the Week. We want to recognize some of the great student-athletes from around the Cape Atlantic League with five nominees. Last week's winner was J.C. Landicini from Cedar Creek!
Check out this week's candidates for the South Jersey High School Athlete of the Week and see below who is the winner of this week's vote:
*Trevor Cohen, Holy Spirit, Senior - The Quarterback completed 15 of 19 passes for 264 yards and five touchdowns against Atlantic City. He became the 12th Cape Atlantic League player to throw five TDs in a game, joining a list that includes Holy Spirit High School graduates Ryan Yost (2018) and Fred Dalzell (1968).
*David Giulian, Middle Township, Senior - He ran for 181 yards and two touchdowns while also throwing a touchdown pass in their win over Lower Cape May. He also anchored the defense that held Lower scoreless until the final minutes.
*Lotzeir Brooks, Millville, Freshman - He had 119 receiving yards and two touchdowns in their win over rival Vineland. That gives him 909 receiving yards this season, a new South Jersey record for a freshman.
*Riley Gunnels, Ocean City, Junior - The Quarterback completed 12 of 19 passes for 137 yards and two touchdowns in their win over Pleasantville. He finished the season with 1,395 passing yards, 17 touchdown passes and also ran for 11 touchdowns.
*Kevin Mayfield, St. Joseph, Senior - He rushed for 126 yards and a touchdown as the Wildcats defeated Winslow Township. He lifted his career totals to 1,298 rushing yards and 21 touchdowns.
The winner of this week's South Jersey High School Sports Athlete of the Week is Ocean City Quarterback Riley Gunnels!  It was a close vote all week between Gunnels, Millville's Lotzeir Brooks, and Holy Spirit's Trevor Cohen but the Red Raiders Quarterback pulled away with the win on Friday afternoon thanks to a surge in votes.  Remember to check back each week to see our nominees here at 973ESPN.com then vote, and tune into GameNight with Josh Hennig on Fridays to find out who won each week!
KEEP READING: Greater Atlantic City Area Athletes Who Played Games In NFL