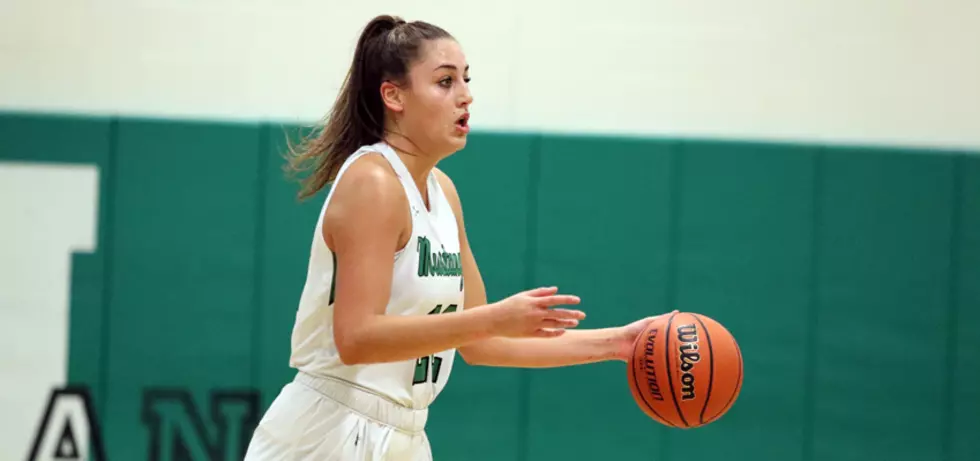 South Jersey Sports Report: Mainland Holds Off AC Behind Watson
(Glory Days photo/Dave O'Sullivan)
LINWOOD — Throughout her career at Mainland Regional, Kylee Watson has predominantly been a post player because of her now 6-foot-4 stature, but she is talented enough to play anywhere on the court when the need arises. The Mustangs have turned to Watson — a University of Oregon commit who is on the verge of becoming the school's all-time leading scorer — to play point guard in certain games and, naturally, she has responded.
Sophomore point guard Camryn Dirkes, who was a starter on last year's state championship-winning team, went down early in the season with an ankle injury, and coach Scott Betson has had to come up with different combinations and schemes from game to game without his primary ball handler.
Against Atlantic City in a matchup of two of the top teams in the Cape-Atlantic League, Watson played a point-forward role, at times bringing the ball up against the Vikings' full-court pressure, then settling into the low post. She finished with a game-high 29 points, including 14 in the first half, to help guide the Mustangs to a 49-40 victory.
"We had this one circled as one of the toughest games on our schedule, particularly what they do with the pressure they apply and with us having some inexperience at the ball-handling positions, so it was nice to be able to know we can win a game like that. Kylee was a little bit of a point/forward today. We didn't think they'd be able to apply the same type of pressure to her. We know (Madison) Brestle is a terrific defender and they were just going to run her at any ball handler we have, but Kylee is bigger and she was able to relieve some pressure for us," Betson said. "When they extend and play defense like that, it allows Kylee to get back (into the post). That's the trick, you have to figure out how can Kylee handle the ball and then get down there for a catch-and-shoot? Once we got that going in the second half we started doing pretty well."
"We faced some adversity early in the season, losing our starting point guard who played such a huge role for us last year, and obviously that's going to take its toll on any team, but just adjusting and having all of us take up the ball and stuff like that. It's going to take some time, but we're all starting to get used to it," Watson said.
Mainland (7-3, 3-0 CAL National) has shaken off a three-game losing streak and won four straight, including wins over Oakcrest, Absegami, Holy Spirit and Atlantic City, to jump back into the conversation of the CAL's elite teams along with the likes of Middle Township and Wildwood Catholic. The Mustangs have been getting solid contributions from another senior, Madi Hafetz, as well as some younger players, such as sophomores Kaitlyn Boggs and Cadence Fitzgerald.
"Those three losses in a row definitely weren't fun to be a part of, especially early in the season, but facing adversity definitely helped us find our team identity, in a sense, and now we're able to do the little things that can help us win games," Watson said.
Hot start: Mainland jumped out to an early 12-3 after Atlantic City — the first-place team in the CAL American Conference — began the game with a 3-pointer from Ciani Redd-Howard. Watson scored nine of those points, including a pair of threes, and after one quarter the Mustangs held a 13-7 lead.
But Atlantic City (7-2, 3-0 CAL American) came roaring back early in the second quarter, using pressure defense to force turnovers and convert on the other end. A baseline drive from senior point guard Madison Brestle cut Mainland's lead down to 13-11, but the Vikings weren't able to get the tying basket, and that's as close as they would get the rest of the game. A bucket by Boggs in transition pushed the lead to 19-13, then Fitzgerald scored off a feed from Watson to make it 21-14.
Fitgerald, a junior varsity player a year ago, came off the bench to chip in eight points, as well as some smart plays in the fourth quarter as Mainland was trying to eat some clock.
"I'm super proud of Cadence. This is by far the most minutes she's ever played in a varsity game — she was a JV kid last year — and I really think her finishes in transition were the difference in the game. And she pulled it out to the backcourt twice at the end of the game, so for a kid who is really inexperienced, for her to make decisions like that, I was proud of her," Betson said. "Other people have to step up and play. Kylee and I have talked about it, the injury to Cam is a big one because she's a special player, but it is what it is at this point and it's just going to give other kids a chance to play and have an opportunity to step up, and tonight was Cadence's night."
"Cadence played great today, just finishing, running the court," Watson added. "She works so hard in practice so we're really happy for her to have such a good game against a really good team."
Staying in the fight: Atlantic City hung around throughout the second half, due in large part to its swarming pressure defense that kept forcing turnovers. Brestle made a steal at midcourt and fed freshman Quanirah Montague, who converted a layup at the third-quarter buzzer to pull the Vikings within 36-30.
Atlantic City got the deficit down to 40-35 with less than four minutes to go when Montague scored on a putback, but then Hafetz found Fitzgerald in transition and Watson hit a pair of free throws with 2:16 left to give Mainland a 45-35 lead and effectively seal the win.
"Madi was another ball handler for us, she was getting us into our offense, talking through on defense and made a couple of free throws late. That's what you look for in seniors like Madi and Kylee," Betson said. "This is a big win. They are a good team and they're going to beat a lot of teams. It should be a nice power-point boost for us, and just confidence to know that we can play with some teams who pressure us, that we can play a couple different styles of basketball."
"Atlantic City is a very good team and we know coming into it this would be a very good game," Watson said. "Their guards were very good at making us help over and then finding a wide open teammate underneath the basket. I think that's why we played a zone defense, to pack the paint. They're a very well-rounded team."
On the brink of history: Last week, Watson became Mainland's all-time leading scorer in girls basketball when she passed former 1980s star Angela Evans, and with 20 more points she can become the overall basketball scoring leader at the school. She'll get her next chance on Friday when the Mustangs host Cedar Creek.
"I haven't really thought about it much," she said. "I honestly don't know how many more points I need, I'm just trying to help us win games and tonight was a really big one for us. I'm proud of the team."
What's next: Mainland hosts Cedar Creek on Friday at 5:30 p.m. Atlantic City hosts Vineland on Friday at 7 p.m.
Contact Dave O'Sullivan: sully@acglorydays.com; on Twitter @GDsullysays