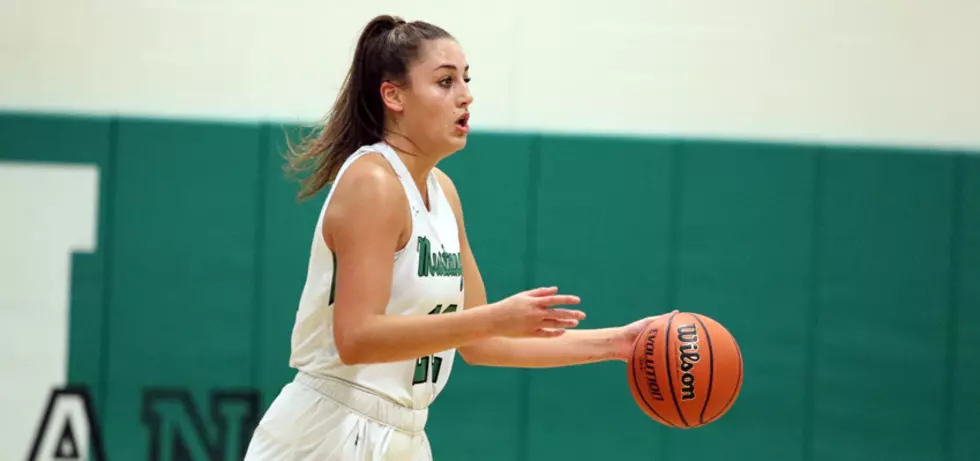 South Jersey Sports Report: Watson is Girls Athlete of the Year
Dave O'Sullivan, Glory Days
The best is most likely yet to come for Kylee Watson, and that's a scary thought.
Glory Days Magazine's Girls Sports Athlete of the Year had perhaps the greatest girls basketball career in South Jersey history, and her time at Mainland Regional High School could just be a stepping stone to a long basketball career. She was getting NCAA Division I offers before she even graduated from eighth grade. After her freshman year in high school she earned a place on USA Basketball's U16 national team and competed for her country in Brazil. As a senior she was set to show her skills at the Jordan showcase in Chicago before it was canceled, and was a McDonald's All-American — the first in school history.
Oh, and how about all those other firsts in Mainland history? She was the first girls player to record 2,000 career points and finished as the school's all-time leading scorer while also grabbing 1,000 rebounds. She also helped lead the Mustangs to the first overall state championship during her junior season. What makes what Watson — the daughter of former Cedar Creek football coach Tim Watson and Mainland girls basketball assistant coach Courtney Watson — did even more impressive is the fact that she faced double-team defenses her entire career, and sometimes teams threw three and four defenders at her.
She completely dominated South Jersey for four years, leading the Mustangs to four straight South Jersey championship game appearances, two appearances in the Cape-Atlantic League Tournament title game, a victory in the 2019 CAL final, a sectional championship and a state title. She was also one of the most recognizable and sought-after high school athletes in New Jersey throughout her career and was interviewed by media after nearly every game she played. Oh, and to top it all off, the University of Oregon recruit just happened to be named the New Jersey Gatorade Player of the Year in 2020.
"For my money, she's the best basketball player — male or female — who has attended Mainland Regional High School," said Mustangs coach Scott Betson. "The thing that anybody who knew her will walk away with is just how outstanding a kid she is to go along with all those accolades. Her humility, saying and doing the right things all the time with a huge target on her back all four years, that stuff never seemed to really affect her in any meaningful way. That's a testament to what a great kid she is. Everybody knows what a great basketball player she is, but she's such a great human being on top of that."
And it was directly because of Watson that Mainland got to play in so many big games the past four years. Mainland was invited to the Seagull Classic the past two seasons, one of only a few girls teams that got to play in that prestigious tournament hosted by Holy Spirit. As a junior, Watson guided her team in the Score at the Shore Tournament, and during her career Mainland played teams from Florida, Texas and New York, not to mention in-state powers such as Rancocas Valley, Gloucester Catholic, Manalapan, Notre Dame, Lenape and Toms River North.
During her career, the Mustangs went 99-19 overall and 46-2 in the Cape-Atlantic League National Conference. Their only two losses were to arch rival Ocean City, which seemed to be a thorn in Mainland's side every season. The Red Raiders beat the Stangs in three of the last four sectional championship games. But even still, Watson played very well in nearly all those games and it took huge efforts from Paul Baruffi's teams to pull out close wins.
"It was pretty cool seeing all that. There's a lot to that. Obviously, she's a presence unto herself, but one of the things I tried to drive home to all the girls during her career was that they were playing in games that not a lot of high school girls get to be around. Not only the championship games, but even the other ones we played in the regular season that were big-time matchups that had a lot of people there to watch," Betson said. "My point I was trying to drive home to them is that most girls play their high school careers and never get to be in an atmosphere like that. A lot of that is a testament to the program and having a lot of strong players around Ky, but obviously Ky was a huge part of that. And the kids really embraced that. Wins or losses, they knew they got to play in some special games that they might not have otherwise."
"I think numbers-wise, she understands all the records she broke and how huge that was, and being a McDonald's All-American, getting invited to the Jordan Brand Classic — she understands. But it was the little things she would do that made her such a great player," said lifelong friend and Stangs teammate Madi Hafetz, also a 2020 graduate. "People say your character shows on the court, and it definitely did with Kylee. We weren't the most-liked team and we kind of had a target on our back, Kylee especially, but the way she handled herself the past four years — I'll keep saying it, it was the little things, the little pep talks, that was big for me. She always gave me more confidence. She doesn't even know how impactful she has been."
Even opponents were left in awe — while they were playing against the 6-foot-4 forward.
"Kylee is such a great player and an even better person. Just to be able to play against her was something in itself. And being able to beat them was great because they are such a big rival. We split during the regular season, and to come back and beat them (in this year's South Jersey final) in their gym was awesome. Playing against Mainland in the South Jersey final, there's something special about that," said Ocean City senior guard Abbey Fenton.
"She's amazing. I've known her since fourth grade and we've played against each other and on the same team. We've always been good friends. The things she does are crazy, she's such a good athlete in all different types of ways. The way she passes the ball, the way she can score — she can do so much on the court. Playing against her, sometimes you find yourself watching her go to work and you're thinking, 'wow, she's a special basketball player.' I know her future is so bright at Oregon and I can't wait to see all the big things she does."
Watson could have had her pick of any number of highly touted private high schools to attend, but she chose to stay home and leave a legacy at Mainland.
"I don't feel like I deserved to have a player like her. There's nothing about my coaching acumen or background that demands a kid like that. It was just dumb luck, and I'm super fortunate and appreciative to coach a player like that," Betson said. "And I'm appreciative of her for making it such an enjoyable experience. I would think that when you're dealing with a player who is that talented that there would be a lot of headaches to go along with it, but Kylee was never a headache or a problem. I guess the best words are I'm appreciative to have had this opportunity."
When asked about what Watson has meant to Mainland basketball, Hafetz didn't have to struggle for words to describe her impact.
"Whenever people ask me about Ky, my go-to answer is she is so much more than basketball. I'm biased because I'm her friend and I've known her since before she was a big star. There were things she would do that were so subtle but so impactful. Little things here and there in practice. The biggest star on the team who gets the most hype, she gave us the most hype. She was always there for pep talks in the locker room. In the beginning of this season we had three tough games after Cam got hurt and Ky and I got together and we were like, 'what do we think the rest of the girls need to hear right now?' And Kylee was like, 'OK guys, we've got this. Let's play for one another and let's have fun.' It was the little things that made Kylee who she is," Hafetz said. "In 10 years I'll see her on TV or she'll be winning (an Olympic) gold medal, and I can be like, 'she's in my phone, I can call her right now.' All the work she puts in behind the scenes has always been so inspiring. She got the best gene pool she could have gotten, so she got lucky with that, but she has put in so many hours behind the scenes and that was so inspiring to watch. Some people walk the ball back after a rep, and there she is sprinting so she can get more reps in. It's been such an honor to watch her grow from us playing at Our Lady of Sorrows and me tripping over her feet when we were 8 years old, to being 18 and finishing our careers together."
Contact Dave O'Sullivan: sully@acglorydays.com; on Twitter @GDsullysays