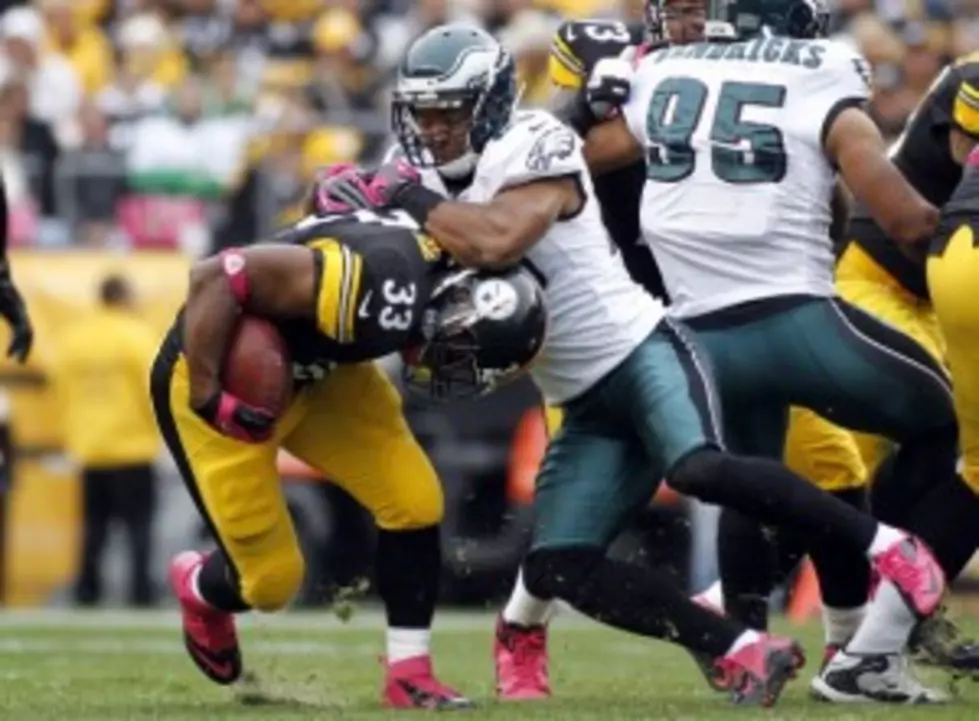 Still Plenty to be Sorted Out on Eagles' Defense
Nate Allen and Pat Chung opened as the Eagles' starting safeties. (Photo by Justin K. Aller/Getty Images)
The uncertainty is expected considering Philadelphia's defense will feature possibly seven new starters.
However, don't mistake new faces for stagnancy as the uncertainty of the pecking order for the Eagles defense might be one of the most intriguing things about training camp.
There's a pair of oft-injured safeties trying to make the decisions as difficult as possible for the coaches, two different players making the change from defensive end to linebacker, three players in the running to be Philadelphia's run-stuffing defensive end and a good possibility that there will be four new starters in the secondary.
That's quite a bit of drama for a defense that and is making the switch from the wide-nine look to more of a 3-4 base, and with Philadelphia playing its first preseason game on Friday against New England, let's sketch out the most compelling battles on the defensive depth chart:
Bradley Flecther and Cary Williams were listed as the starting pair of corners, but Brandon Boykin is making a compelling case to be a starter on the outside so far in camp.  Boykin along with Brandon Hughes, Curtis Marsh, Trevard Lindley and Jordon Poyer are battling to be the slot defensive back in Eagles's nickel defense. Boykin is reportedly having the best training camp of all the Eagles' corners.
Boykin is showing the playmaking ability that has inspired such high hopes for him in Philadelphia since the Eagles drafted him in the fourth round in 2012, when he was recognized as the nations most versatile player, winning the Paul Hornung Award. Last season he showed he belonged on the field as a nickle corner, breaking up seven passes as a rookie.
It's one thing for Boykin to play his way into a starting role, and another for Philadelphia to need him to be a starter after inking two corners this offseason. Cornerback is one position with a ton of competition on this team, and Williams has missed time with a hamstring strain, Fletcher has apparently failed to distinguish himself, but the competition for roles at the top of the depth chart may be even more compelling than the battle to be one of the cornerbacks on the 53-man roster.
The Eagles drafted Bennie Logan in the third round out of LSU because of his ability to be a three-down player, but Philadelphia also needs depth behind run-stuffing tackle Isaac Sopoaga and there aren't many candidates. The Eagles have veteran Antonio Dixon playing the nose, they signed rookie free agent Daryell Walker from Hampton with an eye for that opening, too..
Sopoaga has the most experience playing the position on the team, someone who can't help but stand out, he'll be the starter. After that, competition is still wide open.  Logan has a chance to make an impact as a rotational player this his rookie season, he has been used all over the field during, a defensive tackle when the Eagles are in a 4-3, a five-technique in their 3-4 and has also seen time as a down lineman next to a standing rusher.Then there's Dixon, whose 2012 season was pretty much a total wash and now he is playing a new position. Dixon was among the Eagles' final cuts last summer because he didn't fit the Wide-9 scheme, but there is time for him to make a move on the depth chart if he's going to claim a role.
No doubts about Seattle's starting middle linebackers. They are DeMeco Ryans and Mychael Kendricks. But behind them at safety? That's a good question. On one hand, there's last years pair, Kurt Coleman and Nate Allen. On the other, there's newcomers Kenny Phillips, who was signed from New York in the offseason and former Patriot Patrick Chung, both have had a history of injury problems.
Currently Allen and Chung are listed as the starters, but this could change daily. In scouting terms, Allen has the most upside, but he's going to have to show he's not a liability despite the fact he has disappointed in his two seasons with the team. He's someone to watch against New England because if he can show improvement, he's got the speed and size to be a star in the league.  Phillips is a wild-card, if he is healthy, he could be a big asset to the secondary, but knee injuries have been a major problem for him and he is currently listed behind Allen on the depth chart.
Then there is rookie Earl Wolff, he has impressed during camp and wrapped up OTAs running with the first-team defense.  Colt Anderson and David Sims are special team players who could be battling each other for a roster spot.