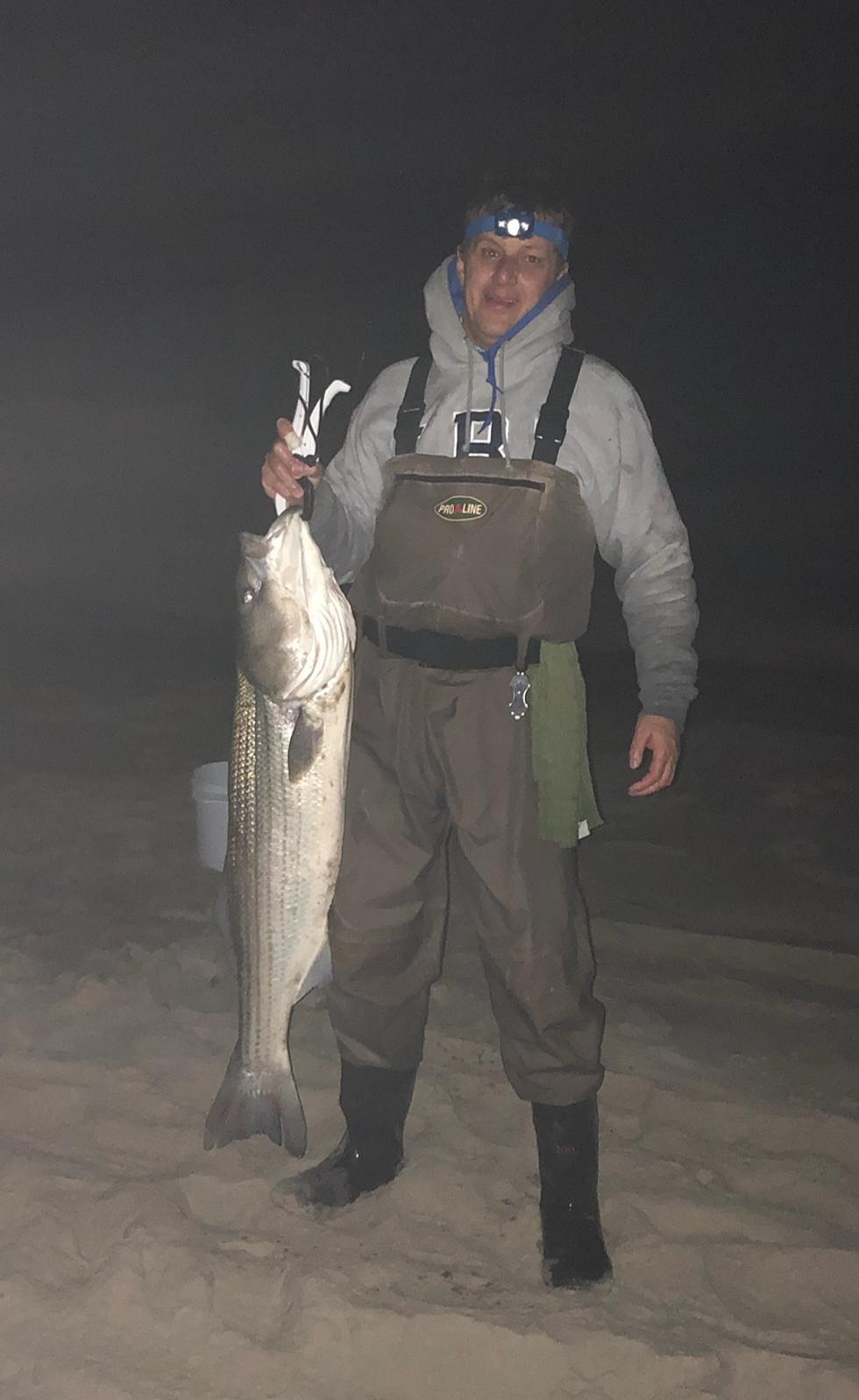 Striped Bass and Bluefish, Oh My!
Photo by Tom P
Okay! Enough "What the bleep!,"  e-mails and texts already!! Last week I stated that hanging bait in the surf is as exciting as watching paint dry.
Well, the way the newly arriving stripers and blues are savaging fresh bunker and fresh (and salted) clam baits in the suds as they trek northward along casting distance of the beaches, it's akin to an out-of-control jet sprayer.
Ditto their assaults to plugs and bucktails.
How long this furious dual bite will continue is anyone's guess. Suffice to forecast the next 2-3 weeks will be a The Hawk listening area's surf angler's Nirvana stretching from Atlantic City through Island Beach State Park. Tide does not seem to matter, as some of the best action occurs during dead low, then again at the top of the high, and then again in between. Simply put, it's being in the right place at the right time, and, as you read this, any time is the right time...but nighttime is the best time...at least when it comes to the stripers.
Plug It In: Those eschewing the bait 'n wait approach can walk the surf casting plugs and bucktails. High octane suds plugger Bobby Erikson, one of the young gun pro staffers in the supremely competitive surf fishing arena, recommends metal lip swimmers in the black/gold and bright yellow patterns, and the laser shiner Daiwa SP Minnow when it comes to plugs.
Bucktails? "White, white and white when it comes to the best color in the spring surf for striped bass," directs Stan Gola, boss man of S&S Rattlin' Bucktails. His mega-selling "Game On" series of surf-specific jigs is the deadliest ordnance since '17 via its striper and fluke-prolific catching bucktails along the mid-Atlantic up through the NY, CT, RI and MA coastlines.