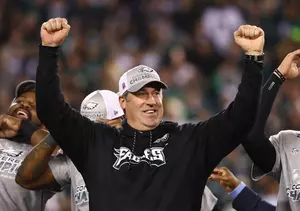 Time to Look Forward for Eagles
Al Bello/Getty Images
PHILADELPHIA (973espn.com) -  Friday, June 15th at 12:01 A.M.
That's when the Philadelphia Eagles will put their first Super Bowl championship in the rearview mirror and start officially looking ahead to the 2018 season and potential back-to-back championships, according to Doug Pederson.
The coach rattled off the date and time earlier this week for a reason.
When the Eagles wrapped up their mandatory minicamp on Thursday, there is one more thing they have to do before splitting off for summer vacation, pick up their championship rings for beating Tom Brady, Bill Belichick and the New England Patriots back in February.
Since the big win in the Bold North it's been a non-stop celebration in Philadelphia, starting with the million-plus lining up on Broad Street all the way down to the Art Museum to some of the players taking a bow at Kenny Chesney's latest concert at Lincoln Financial Field.
During a light practice Thursday, Pederson put the punctuation on a fun offseason for the organization by running a scaled-down version of the "Philly Special," with Greg Ward, the former University of Houston QB, subbing for the unavailable Trey Burton tossing it to Nick Foles.
"The guys have really handled [success' extremely well from the participation [in the spring]," Pederson said. "To have everybody at one time or another be here in the off-season and now have everybody here this week, it just shows the commitment the guys have. They understand what we did last year. We get a chance to celebrate that again tonight, and it's going to be exciting to be around that team again.
"But at the same time, I want them to remember, but we also are moving forward. We're moving towards 2018, and I really think they've handled this off-season with minimal distractions extremely well."
The next phase is training camp which is tentatively set to begin on July 26, a lull in the NFL calendar that is always of concern with coaches.
"The message from me to them and really to the whole team was about sacrifice; what are you willing to give up between now and camp to prove that we can make another run?" Pederson explained. "Again, nothing is ever handed to us. We have to go earn it. We faced adversity. The team was very resilient last year, but what are you willing to give up individually between now and camp to help this football team get back to that championship game again? Things aren't going to be handed to us. The target got a little bit bigger on our backs, and we embrace that.
"Moving forward, that's going to be our challenge. That's going to be our motivation."
-Pederson mentioned a host of young players when asked who has stood out this spring, including Ward and fellow receivers Shelton Gibson and Rashard Davis. Top rookie Dallas Goedert also got a shout out as did cornerback Rasul Douglas and defensive tackle Aziz Shittu.
"I went into this off-season wanting to look at a lot of our younger players, obviously, from a year ago. I think guys like [WR] Rashard Davis and [WR] Greg Ward come to mind, [WR] Shelton Gibson come to mind, that have had really good springs. Even on the defensive side, [CB] Rasul Douglas, who played some last year but has sort of emerged himself this spring, has done a really nice job.
"You look at some of the draft picks, [TE] Dallas [Goedert], obviously, is going to be a nice fit for us as a tight end. I think these guys have really sort of embraced what we're teaching [and] what we're coaching. They have to get used to it. It's a little different for a lot of these guys.
"I'm thinking of -- even [DT Aziz] Shittu, who came back from an injury a year ago, has had a really nice spring."
- The Eagles healthy QBs -- Foles, Nate Sudfeld and Joe Callahan -- ended minicamp with a little competition by trying to hit the crossbar between the goalposts. Callahan won from the 5-yard line, hitting the target on the second try. From the 10 Sudfeld was the winner needing two tries. Foles hit from the 15 right away and no one connected from the 20 before practice ended.
-Rookie fourth-round pick Avonte Maddox got his opportunity with the first-team in the nickel for a few snaps.
-Chris Long was awarded the PFWA Good Guy Award today for his willingness to work with the media.
-Frank Reich, John DeFilippo, and Mychal Kendricks are among those heading back in town to get their Super Bowl rings.
-John McMullen covers the Eagles and the NFL for 973espn.com. You can reach him at jmcmullen44@gmail.com or on Twitter @JFMcMullen
Want more NFL? Check out John's piece on why the Colts putting all their eggs in the Andrew Luck basket at GetMoreSports.com