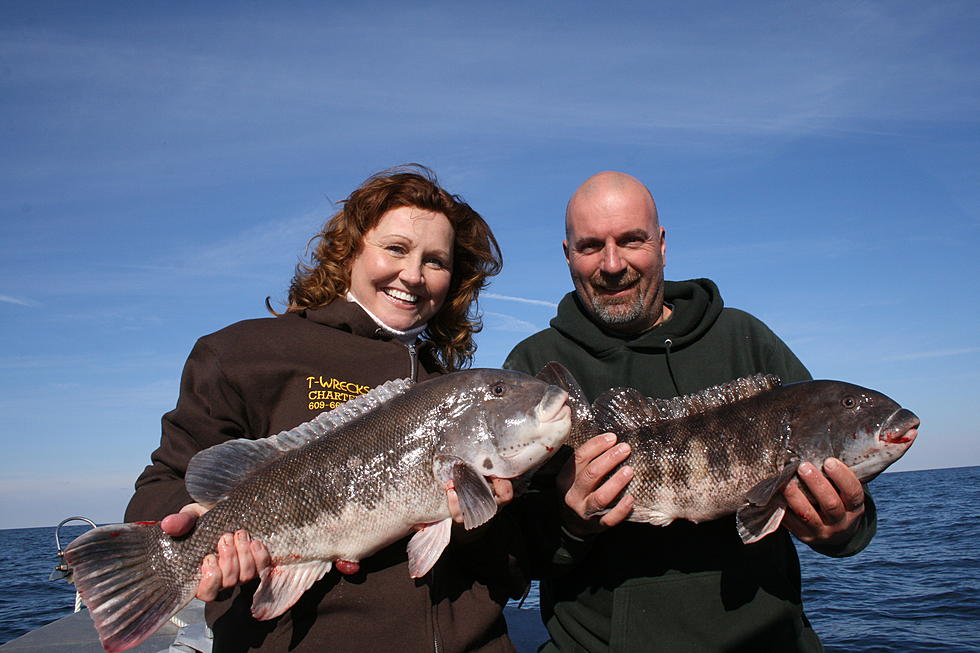 Tog Limit Goes To Five Tomorrow
TSM, Tom P.
Oh, yeah, it's time.
Tog anglers have been waiting patiently for the possession limit to bump to the five mark from the one fish limit. It starts tomorrow, November 16, and will continue through December 31.
It drops to four starting January 1, 2022.
To date, the tog bite has been torrid not only over wrecks and reef structures, but also from jetties, be they along the beach or bordering the inlets. Along with the latter, while the majority of the fish had been under the 15-inch minimum length during most of October, more and bigger fish appeared, and catching a keeper has been commonplace the past few weeks. In fact, owing to the tog's toughness and tenacity of life, culling has been taking place wherein a keeper is kept in a bucket or cooler, and if a bigger one is caught, the former is released alive and well...in most instances.
Both specialized tog jigs, and one and two hook bait rigs, armed with a chunk(s) of green crab or sand flea (mole crab), are being chomped with gusto. If you can procure them, hermit, fiddler, and white legger crabs will prove the ultimate blackfish entrees.
Tog is recognized as one of the finest tasting inshore saltwater gamefish, and rightfully so. It's the diet of crustaceans and mollusks that makes for sweet, light-colored meat. Opt to go a step farther and bleed the tog before putting it on ice. This will result in snow-white fillets that will taste even better, if you can imagine that.
***
The pheasant stocking numbers for Saturday, Nov. 20 are as follows on our Rack & Fin Radio "Lucky 13" WMAs in the central and southern regions.
Central: Colliers Mills- 200; Howardsville- 50; Manahawkin- 50; Medford- 80; Stafford Forge- 160.
South: Dix- 130; Nantuxent- 110; Millville- 340; Port Republic- 50; Glassboro- 100; Tuckahoe- 110; Mad Horse- 90; and Winslow- 140.
Bobwhites release numbers for the Greenwood and Peaslee WMAs for Nov. are 280 and 400 respectively for each.
7 reasons why you need to kill the spotted lanternflies infesting NJ
LOOK: Here are the pets banned in each state
Because the regulation of exotic animals is left to states, some organizations, including The Humane Society of the United States, advocate for federal, standardized legislation that would ban owning large cats, bears, primates, and large poisonous snakes as pets.
Read on to see which pets are banned in your home state, as well as across the nation.