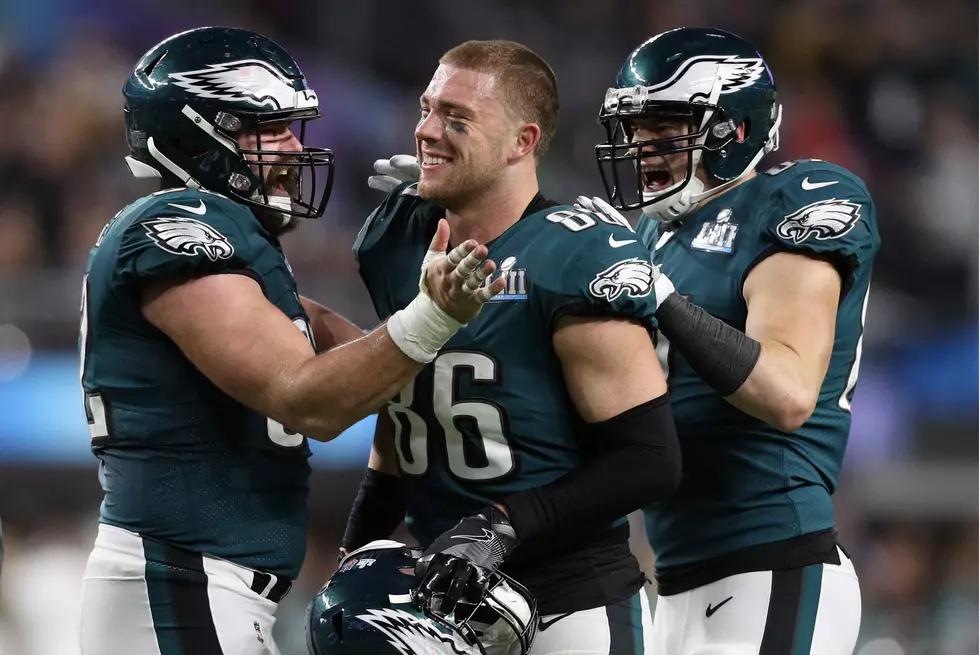 Vance: Eagles Are Definitely The Class Of The NFC East
Photo by Patrick Smith/Getty Images
The 2018 Eagles report for Training Camp on Wednesday as the team prepares for a season with the target on their back of Defending Super Bowl Champions.  Last year, the Eagles finished the 2017 season ranked in the Top Five in the NFL in Offense (28.6 Points Per Game) and Defense (18.4 PPG Against).  Now that Carson Wentz, Darren Sproles, and Jordan Hicks are returning from injuries combined with the additions of Michael Bennett, Haloti Ngata, and Mike Wallace, the Eagles present the rest of the NFL a new set of challenges in stopping the them this season.
NFL Network Contributor Lloyd Vance joined Rich Quinones on Tuesday discussing if the Eagles are the team to beat in the NFC in 2018:
"Right now I'd say (the Eagles) are definitely the class of the NFC East, but they are going to have a fight on their hands (for the NFC) - You look at the Rams, they've added so many pieces, I know everybody talks about the 'Dream Team' reference and all these free agents coming in like it's a basketball team, but right now the Rams are pretty high up there as well. The Eagles are the champs but...I want to see their quarterback position, how that's going to play out. Everybody I talk to says Carson Wentz should be ready in terms of at least middle of pre-season to be out there and ready for the full amount of reps. So you want to see where Wentz is; Foles is he able to continue that great level of play?"
Checkout what Vance had to say about the Giants offense with the addition of Saquon Barkley, perspective on the Cowboys heading into the 2018 season, and more NFL talk