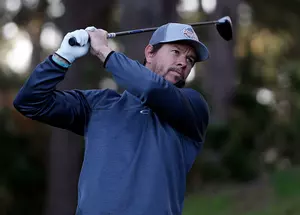 [VIDEO] Here's Mark (Marky) Wahlberg Barely Missing a Hole-In-One at Pro Am
Getty Images
The AT&T Pebble Beach Pro Am is happening right now at the famed Pebble Beach Golf Lonks in California this weekend.
That's right, some of the richest golfers in the world will be paired with some of the richest celebrities in the world all for bragging rights.
Celebrities such as Bill Murray, Justin Timberlake and Toby Keith are on the links this weekend with some of their golfing idols such as Bubba Watson, Justin Rose and Steve Stricker.
Here is actor Mark Wahlberg, who is paired with Watson this weekend barely missing a hole-in-one shot on the third hole on Saturday afternoon. He had a beautiful curve as it hit the green only to miss the hole by inches.
Wahlberg is a staple at the Pro Am each year and is an avid golfer.