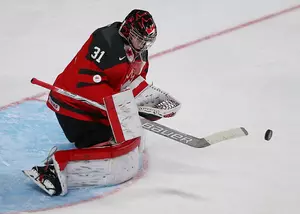 Who Makes the NHL First, Carter Hart or Felix Sandstrom?
Carter Hart, the Flyers second round pick in 2016. (Photo by Yelena RuskoTASS via Getty Images)
VOORHEES — Carter Hart thought he might've made his pro debut in the spring.
The Lehigh Valley Phantoms had recalled him after his season with the Everett Silvertips had ended and Anthony Stolarz was already on the shelf, needing season-ending knee surgery.
Then Alex Lyon got hurt, too.
"One minute I was in the stands that one game and five minutes later I was in my gear ready to go on the bench," Hart recalled. "It was pretty hectic there."
He ended up not seeing any action. The Phantoms ultimately rode Martin Ouellette the rest of the way.
Vaughn goalie pads were on quick order in orange and white for Hart, but they didn't come in until after the Phantoms were eliminated by the Hershey Bears so it wasn't until Flyers development camp that Hart got to try them out.
In his second such camp, Hart has come a long way even from last summer when the Flyers took him as the first goalie in the 2016 draft. He was named the best goalie in all of the Canadian Hockey League and had even better numbers this season but didn't retain his title. He did, however repeat as the best goalie in the Western Hockey League.
"Going into next year I don't know what's going to happen," Hart said. "My goal is to make the team next year here. Obviously it doesn't happen often with 19-year-old goalies, but it's something that I really want. It's something that I'm working for. I'm coming here to try to make the team in the fall."