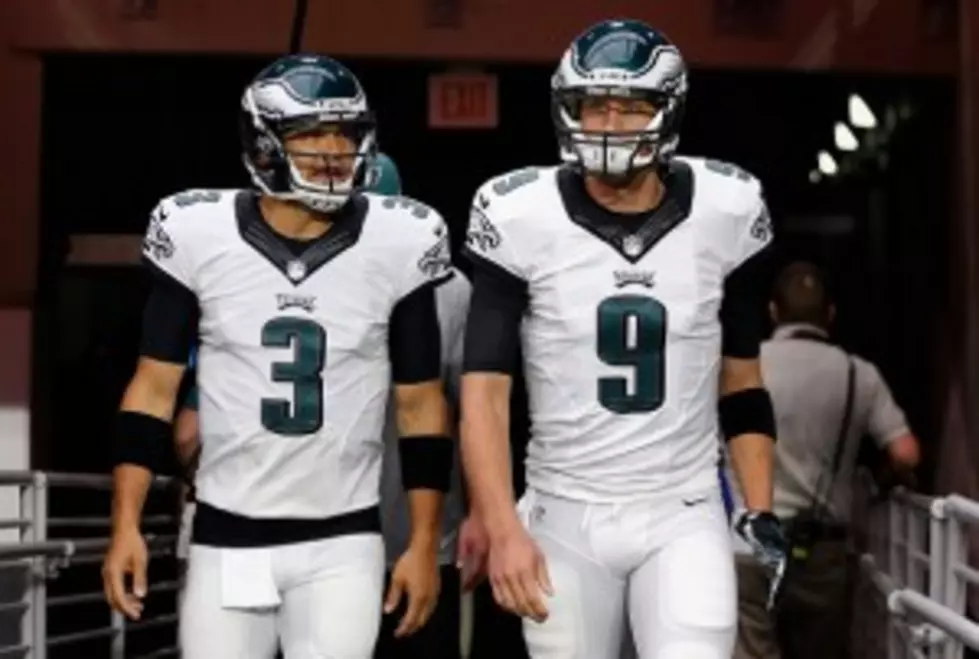 Who Will be the Eagles Starting Quarterback in 2015? Here are Some Options
Will either Nick Foles or Mark Sanchez be the quarterback of the Philadelphia Eagles in 2015? (Photo by Christian Petersen/Getty Images)
One of the biggest conundrums the Eagles will face this offseason will be deciding who their starting quarterback will be in 2015.
While many signs point to Nick Foles, his $660,000 salary makes him very affordable to bring back. Eagles coach Chip Kelly didn't go out of his way to make that clear when asked about the position next season.
"To say I've made my full evaluation of a quarterback, it's not fair to anybody," Kelly said.  "We have a process that we go through.  I'll watch every single game, every single throw, every single decision that everybody made in every position before we make legitimate decisions in terms of what we do.  I don't think it's fair to any player or anything to say, 'Yeah, I saw enough.  Let's sit down tonight and make a decision on what we're going to do the rest of the year.'  That's just not the way we do it.  We have a process that we go through and the process takes a while."
So during that process how much will Foles 14-4 record as a starting quarterback, and memories of his special 2013 season under Chip Kelly give him an advantage over any option in the 2015 crop?
Foles was handed the starting job entering this training camp following his well documented season where he threw 27 touchdowns and just two interceptions.  He was the MVP of the pro bowl  and many fans felt the Eagles had finally had found their man.
"I think he's continuing to grow as a quarterback," Kelly stated.  "And that's part of the maturation process in this league.  Very rarely do you come in early and just light it up.  I think you need to kind of almost do something and make that mistake and learn from that mistake.  I think that is one thing I admire about Nick is he processes things out well.  When he does make a mistake, very rarely does he make that same mistake twice.  I think he needs to continue on the trajectory that he's headed on right now."
However, Kelly refused to fully endorse Foles as "the guy" in 2015, could be because he was shaky this season, turning the ball over 13 times in just over seven games and completing 59.8 percent of his passes.  Some would say he was playing hurt, some would attribute his shaky play to a banged up offensive line, but what ever the problem was - it has turned many Foles fans into doubters.
"I think Nick needs to just continue to work," Kelly explained.  "The one thing I do not fault Nick is a work ethic. He's been outstanding in that. I watch how he attacked his rehabilitation in terms of his shoulder injury and what he did every day.  I think he's been outstanding from that standpoint."
One major issue in replacing Foles will be who will they replace him with?   The problem for the Eagles is that they're unlikely to find serious competition for Foles unless they mortgage their future to move up in the draft for a guy like Marcus Mariota of Oregon.
The 2015 free agent class has some interesting names, but no clear-cut starter in the lot. Either way the team will almost certainly provide insurance by bringing in one of the veteran signal-callers in free agency or drafting one early.
Looking for high ceiling, but first round failure?
The free agent class is littered with former first-round failures like Christian Ponder, Blaine Gabbert, and Jake Locker.
Want someone with some starting experience, thats still young?
There's former Browns starter Brian Hoyer who's 30, former Patriots draft pick Ryan Mallett who is just 27 or maybe 26-year old Austin Davis is what you're looking for.
Looking for a quarterback with more mobility than Foles?
Mike Vick, Tarvaris Jackson or Terrelle Pryor might be more your style.
Looking for a veteran journeyman to push Foles?
Maybe Matt Flynn, Matt Moore, Shaun Hill or Colt McCoy excited you.
There is always Mark Sanchez....
Excited yet?  I didn't think so.
Of the names on this list, one guy I might not be surprised if Chip Kelly, who is calling all the shots now, might take a swing on is Locker.
Locker started the year on a high note and looked to be turning the corner finally in his fourth NFL season.  The eighth overall pick in the 2011 draft from the University of Washington ended the season on injured reserve with a dislocated shoulder and suffered from a variety of injuries that limited him to just seven games.
In four seasons, Locker has started 23 games, going 9-14 with the Titans.  His 27 touchdowns and 22 interceptions are not horrible for a guy with not a lot of game experience.
One intriguing part about Locker is his mobility.
In his 23 starts and 30 games total, Locker has 644 yards rushing and five touchdowns - he entered the league with impressive athletic ability, but some injury concerns due to his style of play.
NFL.com described him like this prior to the 2011 draft:
An extremely gifted athlete, Locker's production does not match his talent. He possesses a cannon for an arm, but he is not an efficient passer. At this point, his greatest asset is his athleticism and it is unclear if he will ever be a starting quarterback at the next level. Also, Locker has a history of injuries due to his aggressive style of play. Overall, Locker has all the physical tools and a team will likely take a chance on him in the first round despite his inconsistent production.
He was also described as: "Extremely mobile and can make plays with his feet. Fierce competitor and leader."
On the negative side NFL.com described Locker like this:  "Does not show the ability to consistently make his progressions and find the open man. Misses on too many throws and his accuracy can be erratic at times. Abandons the pass early and relies too much on his feet. Plays a bit recklessly and has missed a lot of games due to injury."
Anytime a team lets a former first round pick walk, you know something isn't right, just about every team is looking for their franchise guy.  Locker is a guy who I might be interested to see in Kelly's system, it just might be a better fit for his skill set then the one he played in while in Tennessee.
I'm not suggesting Locker is the savior and franchise guy, but he is an intriguing prospect who is still young and definitely is the kind of quarterback that fits this system.
While I was high on seeing what Chip could do with Mark Sanchez, it simply didn't work as well as I had hoped, but lets be honest, Sanchez was horrid either.   His play was up-and-down - but in the end he lacked some of the intangibles that make good players great in this system.
Adding mobility to the quarterback spot could be a huge boost to this offense. Im not looking for a run first type of guy, but a guy more like Russell Wilson, who can run, is mobile, but uses those traits to extend plays and only uses his feet when its absolutely needed - thats why he stays healthy.
Where can Chip get his hands on this type of player?
He just might have to go to the used car lot this offseason rather than picking a shiny new quarterback in the draft.  The Eagles select 20th in the draft and really don't have the ability to move up to select one of the top quarterbacks Marcus Mariota or Jameis Winston.
Possible draft options with the 20th pick would be UCLA's Brett Hundley or Connor Cook of Michigan State.
Another possibility is pulling off a trade.  Names like EJ Manuel, Sam Bradford, Jay Cutler, Chase Daniels, Robert Griffith III and Kirk Cousins have been floated around
So there are some of the options, it's either one of the above mentioned guys or stay with Nick Foles.
My guess is Foles is back, one of the above mentioned guys is brought in to compete and Kelly takes a guy in the second or third round of the draft who has more of the skill set to run his offense - similar to what the 49ers did when they draft a little known guy names Colin Kaepernick in the second round of the 2011 draft.
Speaking of Kaepernick...
What about him?  Could he be a viable trade option for the Eagles?  That's a tough question to answer without knowing who the coach will be in San Francisco.  The question here should be would Eagles fans even pick Kaepernick over Foles?
My guess is Foles is back, with another weapon to replace the one he lost last offseason. I think the Eagles could target a guy like Kevin White  - a guy who has been compared to Larry Fitzgerald.
Draftcountdown.com describes White as a big, physical wideout who knows how to use that size and strength to his advantage, White has great hands along with terrific ball skills and body control plus enough speed to make plays down the field.
If you can't find the quarterback you want, find as many weapons to surround your good, not great quarterback with.  Foles has proven he can win games and put up some very good numbers - but he needs help, an offense with Maclin, McCoy, Ertz, Matthews and adding White should be the remedy Foles needs to win back some of the doubters.