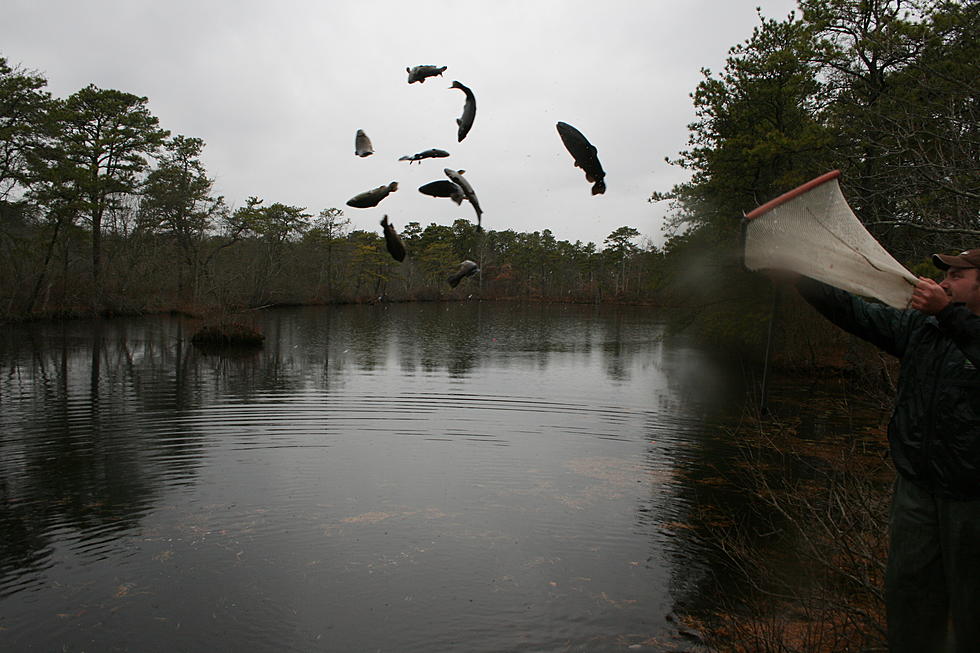 Winter Trout Stocking Today and Tomorrow
TSM, Tom P.
The NJ Division of Fish & Wildlife's third round of trout releases, the "Winter Stocking", takes place today and tomorrow in 19 select lakes and ponds in the northern, central and southern regions of the state.
This is the annual trout stocking wrap-up that includes the April/May spring season and the October fall season.
The Pequest Trout Hatchery stocking crews will have all of the venues dosed by 4 pm Tuesday, with a total of 4730 sassy and robust two-year-old rainbows in the 14-16 inch class ready to wreak ultra-light tackle havoc.
Said Pequest Trout Hatchery superintendent during last Saturday's interview on Rack & Fin Radio, "The trout are in great shape, have beautiful color, and are averaging about 1-1/2 pounds each."
The winter program, started in 2000 and tweaked to its present status, is wildly popular and occurs at a great time: Thanksgiving Week. It's an ideal opportunity for families especially to get out and enjoy not only the crisp late Indian Summer weather, but some hot trout fishing as well.
It's legal to fish even as the trout are being stocked. Top baits include Berkley's PowerBait and Gulp! Dough baits, salmon eggs, kernel corn, garden worms, mealworms, and the M&M (mealworm/mini marshmallow) combo.
Those who don't like the bait 'n wait game will score on rainbows with Trout Magnets, spinners (Mepps, Rooster Tails, Panther Martins), and miniature plugs such as the Yo-Zuri Pins Minnows and the Rapala and Rebel Minnows.
South Jersey waters that will be stocked (numbers in parenthesis) include Birch Grove Park Ponds (the first two:190), Haddon Lake (210), Lake Shenandoah (240), Rowands Pond (100), Shaws Mill Pond (210), South Vineland Park Lake (190) and Ponderlodge Pond (170).
The daily limit is four trout.
***
The pheasant stocking numbers for Thanksgiving Day are as follows on our Rack & Fin Radio "Lucky 13" WMAs in the central and southern regions.
Central: Colliers Mills- 300; Howardsville- 70; Manahawkin- 70; Medford- 130; Stafford Forge- 240.
South: Dix- 190; Nantuxent- 170; Millville- 510; Port Republic- 70; Glassboro- 150; Tuckahoe- 160; Mad Horse- 140; and Winslow- 210.
Bobwhites release numbers for the Greenwood and Peaslee WMAs for Nov. 23 are 600 each.
7 reasons why you need to kill the spotted lanternflies infesting NJ
LOOK: Here are the pets banned in each state
Because the regulation of exotic animals is left to states, some organizations, including The Humane Society of the United States, advocate for federal, standardized legislation that would ban owning large cats, bears, primates, and large poisonous snakes as pets.
Read on to see which pets are banned in your home state, as well as across the nation.