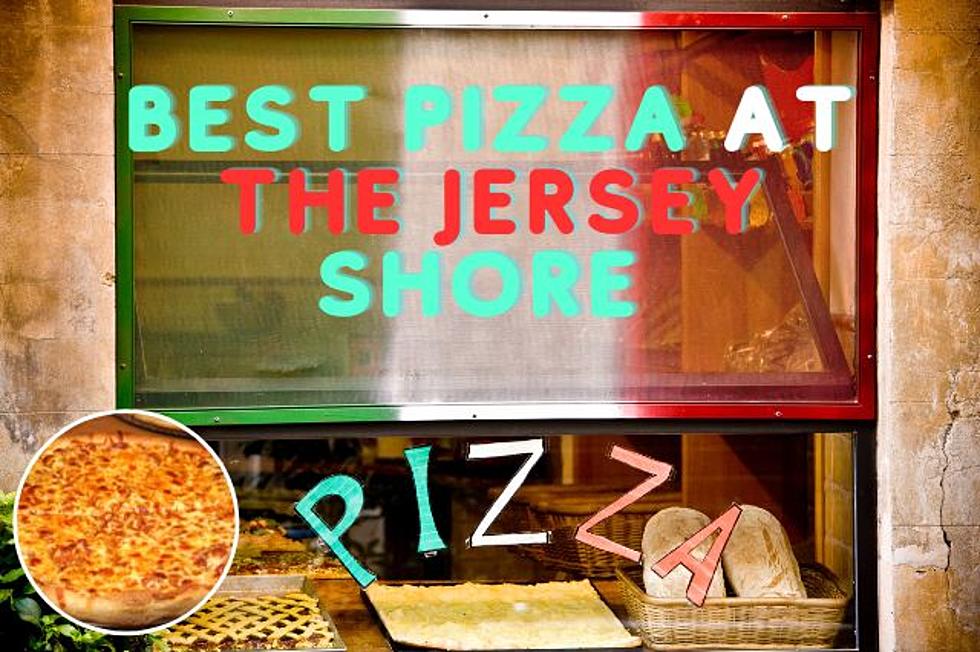 11 Atlantic and Cape May County Pizzerias Ranked Among Top 44 at the Jersey Shore
Canva.com
Where are the best pizza shops to grab a pie at the Jersey Shore?
NJ.com writer Pete Genovese ranked the Jersey Shore's 44 best pizzerias in the state with multiple pizza shops down the shore in Atlantic and Cape May counties making the list.
Up first, down in Wildwood is a boardwalk classic, Mack's Pizza coming in at No. 40 on the list.
There are two locations on the Wildwood boardwalk. The plain slice, nicely seasoned and sauced, has what most boardwalk pizza lacks — personality. The white is one of the three or four best on any boardwalk.
Since 1953 Mack's has been a staple on the Wildwood board and now has two locations at 3218 and 4200 Boardwalk.  I have had a great slice of Mack's plenty of times during my stops down in Wildwood, if anything it's too low on the list.
Further down in Cape May County in the remote town of West Cape May is one of the best pizza shops in the state, coming in at No. 36 is Panico's.
...Panico's is housed in a restored church on Broadway...I took an immediate liking to both pizzas: the lardo (pancetta, sweet sopressata, sausage) and pomodoro (plum tomato sauce, fresh garlic, oregano, basil) pizzas.
You can try out this Brick-oven style pizza, which is located in an old church at 422 Broadway in West Cape May.  That Pomodoro is one of my favorite pies.  When I used to do my show weekly down in Cape May, I stopped here and brought one home with me many times.
Back in North Wildwood, where Dolce Italia is located, and comes in at No. 35 on the list.
I've never seen the words "Sicilian tomato pie" together, but the pizza by that name at Dolce Italia is a saucy success. It's not as thick as your usual Sicilian, and the sauce is slightly sweet and majorly tasty...
Since 1996 they have been serving some great pies at 210 New Jersey Ave.  I can say I have not been here, but I have heard some really good things and will definitely be making it a point to try a pie from here.
Still in Cape May County, over in Ocean City is Primavera Brick Oven Pizza at No. 33 on the list.
"Largest slice of pizza on the boardwalk" is the claim at Primavera...Thick and saucy, it's a shining star in a murky, muddled pizza universe. Primavera ended up 5 on my list of the 54 best boardwalk pizzerias ranked.
Primavera is located at 1102 on the boardwalk in Ocean City and if you like a big slice, you should definitely stop by.  I have had a slice or two from Primavera and it is routinely discussed as the must-try pizza shop up on the boards.
Another spot in Ocean City, GiGi New York Pizza which is in the Promenade Food Court on the boardwalk.
...GiGi New York Pizza stands out...The plain slice is spryly seasoned (amazing what a sprinkling of herbs can do), and the Sicilian is the second-best on any boardwalk.
I have stopped by GiGi's plenty of times over the years and have always left thinking, this place is underrated, well apparently not, it's No. 21 on the list.
The first pizzeria in Atlantic County comes in at No. 19 on the list, Valentina's Trattoria Italiana in Northfield.
If there was more burrata in the world, or at least on Jersey pizza, this would be a wonderful world. The uber-creamy cheese, with an outer shell of mozzarella and an inner one of stracciatella and cream, is the headliner of the burrata pizza at Valentina's...
Located at 200 Tilton Road in Northfield, they have a Neapolitan pizza that is made in their wood-fired oven. We do "pizza Fridays" in our house and Valentina's has made the list for us numerous times.
Next up is one of the more popular spots in Atlantic City, coming in at No. 17 Tony Baloney's.
No one pushes the pizza envelope quite like Tony Boloney's. This was the joint, after all, that unleashed the taco pizza on the world. Two dozen meat-stuffed tacos, a lake of guacamole and sour cream, house-made queso, regular cheese, thick pizza crust; in all, a hulking 30-pound behemoth. Eater called it the craziest pizza in America...
Tony Baloney is known for its over-the-top pies, but the cheese pizza is just fine for me, located in the inlet at 300 Oriental Avenue, this is a must-stop if you are in AC this summer.  I'm always tempted to do one of their specialty pizzas, but in the end, I'm a sucker for the classic cheese slice.
Back in Cape May County, we have Poppi's Brick Oven Pizza & Kitchen in Wildwood
You can't go wrong with any of the pizzas; the margherita and the Calabrese (San Marzano tomato sauce, sausage, homemade sausage, Parmesan, mushrooms, bell peppers and onions) are recommended.
They came in at No. 14 in the state, serving some great hand-crafted Neapolitan-style and oven-fired pizzas. Another shop I have not tried but will be making a point to check out when I am down in Wildwood.
At. 13 on the list is an Atlantic City icon, Tony's Baltimore Grill.
Tony's Baltimore Grill is one of New Jersey's greatest old-school restaurants...The 12-inch thin-crust pizza is among the state's best...
The charm of Tony's as it's known to the locals, is the atmosphere. The old white brick look and the inside looks like it is right out of The Sopranos, with jukeboxes on the table. The pizza is small enough for one, but biggest enough to make the entire table happy.  I grew up on Tony's pizza and still pick one up whenever I am in the city.
Back in Cape May County, is Piccini's of Ocean City, which came in at No. 10 on the list.
Tomato pies are not just a Trenton thing...The one at Piccini is packed with tomatoey goodness; I could happily sip the slightly sweet sauce with a straw...
There are many Friday nights that I have made the drive into Ocean City to grab a Brick Oven Pizza Pizza at Piccini's over at 1260 West Ave.
The highest-rated local pizzeria? De Nunzio's Brick Oven Pizza in Sea Isle City came in at No. 3 overall on the list.
...What separated De Nunzio's from the often-sorry pack? Sauce. There was more sauce on the plain slice than all the 100-plus slices sampled combined..
This Tuscan-style parlor is located at 3500 Boardwalk at the Shoppes at Spinnaker.  I have to say, it is not a surprise to me that it's this high on the list, I'm a huge can of De Nunzio's pizza.
There you have it, over 2,000 pizzerias in the state of New Jersey and these are part of the Top 44 overall at the Jersey Shore.  Who should be on the list?  What's your favorite Jersey Shore pizza shop?
The Ultimate South Jersey Pizza Guide