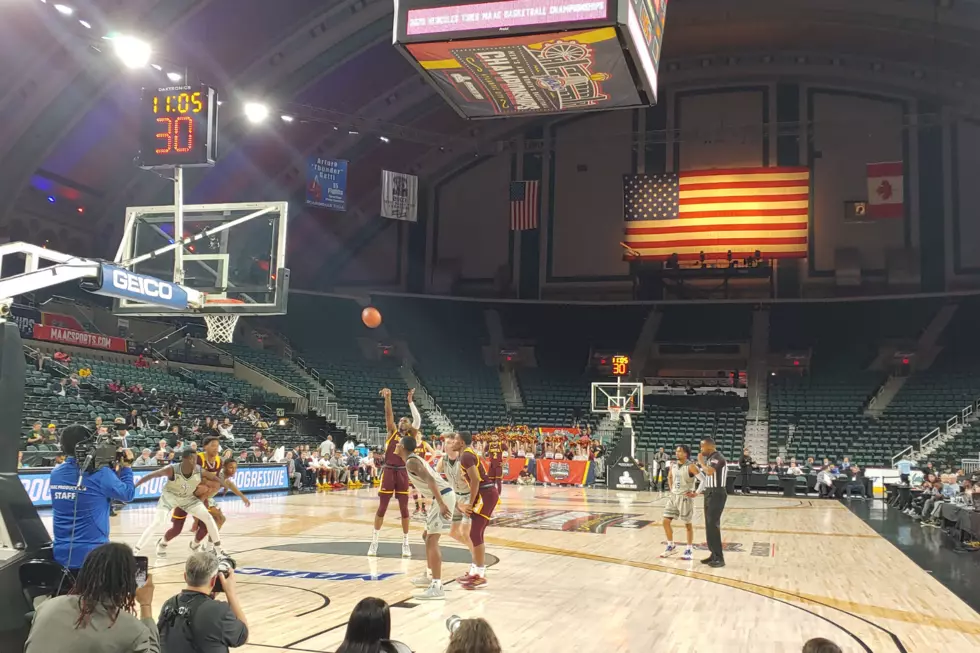 2020 MAAC Men's Tournament Day Two In Atlantic City
2020 MAAC Tournament - Iona vs Saint Peter's: Photo by Josh Hennig/Townsquare Media
Day Two at the 2020 Metro Atlantic Athletic Conference (MAAC) Tournament involved two teams who won on Tuesday Night facing off against two teams that had first round byes.  MAAC Regular season Champion and Tournament Number 1 seed Siena features MAAC Player of the Year Jalen Pickett matching up with No. 9 seed Manhattan who won in Game One on Tuesday.  No. 2 seed Saint Peter's is coached by Former Seton Hall Star and 2020 MAAC Coach of the Year Shaheen Holloway.  In Game Two on Wednesday, Saint Peter's plays No. 7 Seed and defending MAAC Tournament Champion Iona.
-The two things Manhattan needed to accomplish in order to defeat this 20-win Siena squad was to limit Jalen Pickett's impact on the game and hit their three point shots like they did on Day One.  Manhattan did limit the MAAC Player of the Year to only 9 Points while Pickett had a rough shooting night going 4-13; But Manhattan struggled shooting  from Three Point Range only hitting on 22.2% of their long range shots (4-18).
-Senior Sammy Friday IV was a big factor coming off the bench for Siena, compiling 12 Points and 6 Rebounds, making up for Pickett's struggles to score.  Siena's leading scorer in the win was Manny Camper (Junior, Guard) who posted 15 Points while shooting 2-2 on Three Point Shots along with grabbing 9 Rebounds and 6 Assists.
-Senior Forward Pauly Paulicap did everything he could to help Manhattan stay in the game as he tallied 12 Points, 12 rebounds, and 2 Blocks in the loss as Siena pulled away in the second half  to seal their win.
Saint Peter's 56, Iona 54
-Tajuan Agee didn't just lead Iona in scoring on Wednesday night, he played like the best player on the floor.  The two most important players for Iona on Tuesday Night, EJ Crawford and Isaiah Washington, had trouble finding offensive consistency on Day Two, but thanks to Agee continuing to be assertive  offense, he tallied 20 Points while keeping Iona in the game and grabbing the lead in the second half.
-Senior Quinn Taylor was the de facto Leader-By-Example for Saint Peter's on Wednesday night, leading his team with 13 Points, 11 Rebounds, 2 Blocks, and made clutch Free Throws in the Second Half to keep Saint Peter's in the game.
-Most important moment in the game occurred when Saint Peter's players scrambled for a defensive rebound and Head Coach Shaheen Holloway wisely called timeout with 16 seconds left in regulation.  That allowed Saint Peter's to setup their offense and Aaron Estrada to win the game on a pull up jumper from the left side of the Free Throw stripe.
Coming Up on Day Three of the 2020 MAAC Men's Basketball Tournament:
-No.  3 Seed Rider versus No. 6 Seed Niagra at 7pm
-No. 4 Seed Monmouth versus No. 5 Seed Quinnipiac at 930pm
**The Metro Atlantic Athletic Conference (MAAC) announced on Wednesday night that beginning Thursday, March 12, 2020, attendance at all MAAC Men's and Women's Basketball, and Esports games will be limited to student-athletes, coaches, event staff, essential team and Conference staff, TV network partners, credentialed media, and immediate family members of the participating teams.