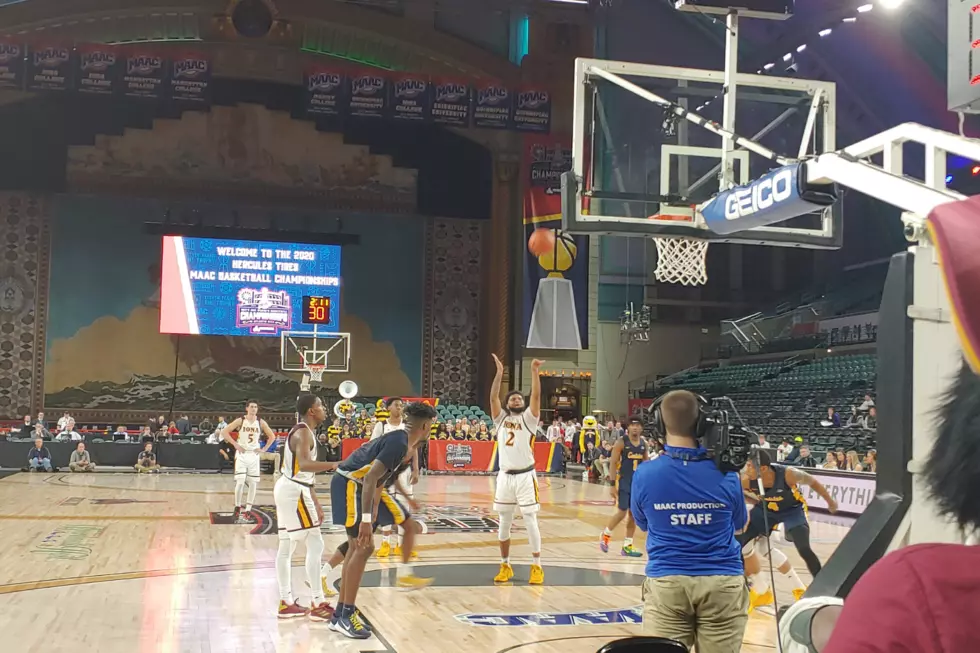 2020 MAAC Men's Tournament In AC: Day One Recap
2020 MAAC Tournament - Iona vs Canisius: Photo by Josh Hennig/Townsquare Media
The 2020 Metro Atlantic Athletic Conference Men's Basketball Tournament made their debut at Jim Whelan Boardwalk Hall on Tuesday.  Here are the results from the three games that opened the tournament:
Manhattan 61, Fairfield 43
-The key for Manhattan coming into this matchup was to shoot the three and look for offensive rebounds.  The Jaspers compiled 15 Offensive Rebounds along with shooting 8-17 from Three Point Range as they pulled away in the second half.
-Senior Pauly Paulicap, All-MAAC Third Team selection, led Manhattan with 18 Points and 12 Rebounds (5 Offensive Rebounds), allowing Tyler Reynolds (3-4 on three pointers) and Christian Hinckson (2-3 on three pointers) the space to shoot from the outside.
-Fairfield shot poorly all game with a miserable 11-44 (25 Percent Field Goals) while their best three point shooter, Landon Taliaferro, was 0-4 on three point shots. First year Head Coach Jay Young deserves credit for getting Fairfield into the MAAC Tournament along with improving the team's win percentage from .290 last season to .387 this season with only a couple upper classmen on the roster.
-Iona came into the tournament looking for their 5th consecutive MAAC Championship and their upperclassmen were key to pulling out the victory.  Seniors EJ Crawford and Tajuan Agee each grabbed seven rebounds while Junior Isaiah Washington was the team's second leading scorer with 24 points while he played all 40 minutes of the game.
-Canisius made it a close game for the initial 37 minutes thanks to 15 Offensive Rebounds and 19 Second Chance Points.  Senior Malik Johnson, All-MAAC Third Team selection, lead his team with 6 Assists and 2 Steals; his all around play was a catalyst in forcing Iona into 14 Turnovers.
-Key to Iona's win was finishing the game 25-27 from the Free Throw line; Crawford (10-10 on Free Throws) and Washington (9-9) were clutch for their team in the second half.  Iona's experience in Tournament play really showed as they handled and endured everything Canisius threw at them and pulled away in the final minutes to seal the win.
-Sophmores Marcus Hammond and Shandon Brown were the major catalysts for Niagra keep it a close game from beginning to end. Hammond, All-MAAC First team selection, led the team with 20 points and he assisted on what would be the game winning basket by Raheem Solomon.  Brown did all the "dirty work" leading the team with 6 Rebounds and 4 Assists in the Niagra win.
-Marist, the lowest seeded team in the 2020 MAAC Tournament, had defeated Niagra twice during the regular season by a combined score of 41 points.  Again on Tuesday night, Marist showed why they were a difficult matchup with their physical play, aggressive defense, and Rebounding aptitude.  Marist out-rebounded Niagra 35 to 24 along with getting 6 Steals.
-Key to the Niagra win was that they committed fewer turnovers than Marist; with just seven turnovers allowed the Purple Eagles to generate more productive offensive possessions.  Niagra finised the game shooting 7-19 from three point range (36.8%) and 11-14 from the Free Throw Line (78.6%).
Coming up on Wednesday at the 2020 MAAC Men's Basketball Tournament:
No. 1 Siena vs No. 9 Manhattan - 7:00 p.m.
No. 2 Saint Peter's vs No. 7 Iona - 9:30 p.m.