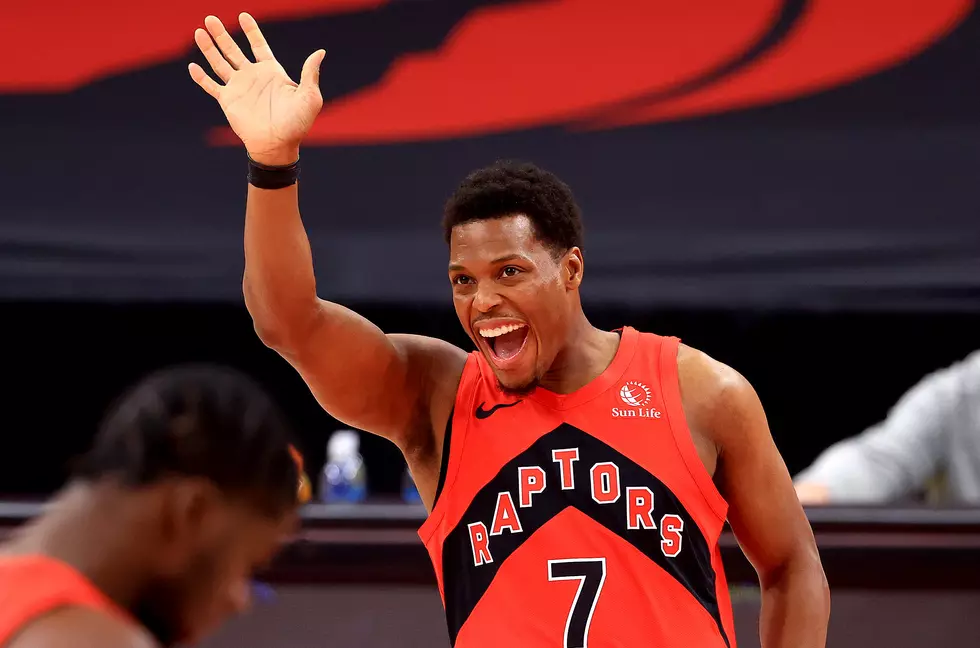 9 Trade Targets for the Sixers
Mike Ehrmann, Getty Images
Saturday was somewhat of a big day on the NBA calendar. It's the first day players that were signed this past offseason could be traded.
The Sixers own the best record in the Eastern Conference but still have a few holes in their roster. Could they acquire another shot creator? Upgrade at the backup four? Maybe eye a backup stretch five?
Sixers insiders Jason Blevins, Kevin McCormick, and Paul Hudrick each provide three targets and break down the case for a possible trade.
(Note: Bradley Beal has not been included since reports indicate he will not be moved ahead of the trade deadline.)
Blevins
Lauri Markkanen
Markkanen is a 7-foot stretch big who would fit a current need for the 76ers. Markkanen is shooting 39% from three this season and scoring 19 points per game on a Bulls team that has not trusted him to stay healthy enough to invest in him long term. Not quite a rim protector and not quite a perimeter defender, Markkanen has been deemed expendable by the Chicago Bulls, who drafted him No. 7 in 2017. It is a surprise that the Bulls decided not to extend a qualifying offer. Markkanen's rookie contract will expire at the end of the season, making him an unrestricted free agent.
Markkanen's size and shooting ability make him very attractive to a team lacking spacing from the PF position when Mike Scott and Tobias Harris are off the floor. Markkanen would immediately walk into the lineup as the best shooting option on the bench and legitimately play with the starting unit.
Salary: $6.73 million in 2020-21; free agent in 2021-22
Trade Cost: Making Markkanen's salary work in trade is straightforward. Terrance Ferguson and Vincent Poirier make the trade work financially. The Bulls would likely want something involving Matisse Thybulle, given Marc Eversley's history in the draft process with Thybulle. Swap Ferguson for Thybulle, and the money still works.
If T-Ferg and Poirier were the returning salaries, likely the 76ers 2021 first would need to be included. Daryl Morey would probably argue that Thybulle's asset valuation is higher than Markkanen's due to team control. It's unclear what the market for Markkanen will be, but it's an excellent theoretical fit.
JJ Redick
Seth Curry's recent struggles aside, this season has displayed just how valuable an off-ball shooter is to the 76ers offense. Redick and Joel Embiid had excellent on-court chemistry in Redick's time in Philadelphia. Redick, 36, is shooting a paltry 32% from three this season. But he has been as elite a shooter as the league has seen in his time in the NBA.
The Sixers must determine how much of Redick's struggles are related to the Pelicans scheme versus father time's inevitable creep. If they think Redick can still play at a high level in a smaller role with the kind of shots Embiid and Simmons can create for him; he's worth a gamble.
Salary: $13.1 million in 2020-21; free agent in 2021-22
Trade Cost: Redick is a buy-out candidate, so the cost of acquisition could be meager. However, he has complained about the commute to Philadelphia from his home in Brooklyn. On balance, the 76ers must assess the risk of him signing with the Nets (do they have minutes?) or even the Knicks, for who he has expressed an interest in playing.
If the Pelicans decide to recoup some asset for Redick, some combination of matching salaries and second-round picks will get it done. Matching Redick's salary would require Poirier, Mike Scott, and Ferguson.
Robert Covington
The Trail Blazers walked into Wells Fargo and blew the doors off the 76ers Thursday night. They did so without C.J. McCollum and Damian Lillard. Robert Covington, long a divisive figure for the 76ers fanbase, can space the floor and defend at a high level. He has flaws and is not the ball handler the 76ers might need, but defensively and schematically, he brings a lot to the table, especially at his salary.
Salary: $12.1 million in 2020-21; $12.9 million in 2021-22
Trade Cost: Portland is in contention for a playoff spot, so they are unlikely to want to move on from one of their best defensive players. If the Trail Blazers fall out of contention over the next few weeks, a likely cost would be at least one first-round pick.
Salary matching involves a package of Scott, Poirier, and Ferguson. This trade has many things working against it, but when looking at targets, there is something to be said for familiarity with your stars.
McCormick
P.J. Tucker
One type of player the Sixers should be in the market for is a stretch big. With Mike Scott having a hard time staying on the floor this season, it is questionable how reliable he will be when the team is gearing for a deep playoff run.
A stretch big who would fit this team seamlessly is Houston's P.J. Tucker. He is currently averaging 4.9 PPG and 4.8 RPG while shooting just under league average from three at 35%.
Tucker is a player who would fit nicely with the Sixers on both sides of the ball. He is a hard-nosed defender which fits the team's identity and is a big who can spot up and space the floor on offense.
Last season Tucker showed some potential as a small-ball center for Houston, which should interest the Sixers. With the Ben Simmons and Dwight Howard pairing struggling at times, Tucker could be a big who can help open up the lane for Simmons to attack.
Salary: $7.9 million in 2020-2021; free agent in 2021-2022
Trade cost: The reported asking price for Tucker has been multiple second-round picks. The Sixers also have an $8-million trade exception from the Al Horford deal that could absorb Tucker's contract.
Thaddeus Young
Another big the Sixers should keep an eye on is Chicago's Thaddeus Young. This would be a homecoming for both sides as Young spent the first seven seasons of his career in Philadelphia.
Young is currently averaging 11.1 PPG, 5.3 RPG, and 4.3 APG for the Bulls this season. He is not as reliable a floor spacer as Tucker but has stepped out and taken 19 threes this season and made five.
Something that Young brings that Tucker does not is ball-handling and passing in small samples. Young's ability to put the ball on the floor and pass makes him an interesting weapon in the pick-and-roll game.
The addition of Young could give the Sixers an option of a small-ball center at times, not to mention add another secondary ball-handler for the second unit. His mid-range game can also open up driving lanes to attack the rim.
Salary: $13.5 million in 2020-2021; free agent in 2021-2022
Trade cost: A package for Young would likely involve the contracts of Scott, Ferguson, and Poirier along with draft compensation.
Zach Lavine
Now it is unclear if the Sixers are still in the mix to trade for an All-Star level player, but LaVine is a fascinating name to keep an eye on. With the Bulls continuing to struggle, they could embrace the future and look to move their star player.
LaVine is currently putting on a career year for the Bulls. He is averaging 27 points, 5.3 rebounds, and 5.3 assists per game. Along with those incredible numbers he is also doing it with great efficiency. If the season were to end right now, he would finish just shy of a 50/40/90 season. LaVine is currently shooting 51.2% from the floor, 41% from three, and 87.2% from the foul line.
The addition of LaVine would give the Sixers one of the best groups of talent in the league right now. It would also add a guard who can create their own shot on the perimeter, something that could come in handy late in games down the road.
Chicago has yet to put LaVine on the trading block. But if they do, I would expect Daryl Morey to be in the mix of GMs inquiring about him.
Salary: $19.5 million in 2020-2021; free agent in 2021-2022
Trade cost: With LaVine playing at an All-Star level, it is going to take a bigger trade package to acquire him. One potential package could be Green, Tyrese Maxey, Ferguson, and multiple draft picks and/or swaps. The Sixers might have to part ways with Matisse Thybulle to get a deal like this done as well.
Hudrick
Kyle Lowry
Lowry will turn 35 next month and is in the last year of his contract. He's also a franchise icon and still playing at a fairly high level. He's averaging 17.4 points, 7.1 assists, 6.2 rebounds, and 1.1 steals. He's hitting 36.2 percent from three – roughly league average – but doing so on a high volume (7.8 attempts a game). It should come as no surprise that Lowry also leads the league in charges drawn.
The Villanova alum and Philly native would give the Sixers a true point guard for their starting unit to play alongside Ben Simmons. He also brings a championship pedigree and bulldog mentality that the Sixers could certainly use. The issue would be the size of the team's backcourt with Lowry (6-foot) and Seth Curry (6-foot-2). When you consider the size of the rest of the Sixers' starting five and the fact that Lowry plays much bigger than his actual size, it would seem to be a risk worth taking.
Salary: $30 million in 2020-21; free agent in 2021-22
Trade cost: Lowry's salary could make a deal tricky. Danny Green, Scott, Ferguson, and Bradley would get it done. Because of those required salaries, the Sixers could really only include draft compensation and not a young player on the roster. Does a first-round pick get it done? If the Raptors would be willing to move on from Lowry, it would behoove the Sixers to make a phone call and find out.
Victor Oladipo
Oladipo was just traded to the Rockets as part of the James Harden deal, but according to ESPN's Tim Bontemps, Houston could be willing to deal the pending free agent. The two-time All-Star is still just 28 but has had his injury issues. With that said, he would represent an upgrade on both ends of the floor over Green and offer the ability to make plays off the dribble. Like Lowry, he could also take pressure off Simmons as a primary ball handler at times.
Since returning from a ruptured quad tendon, Oladipo hasn't quite been the same player. He seems to be regaining some of his explosiveness, but his three-point shooting hasn't made it all the way back. He's hit just 32.9 percent from beyond the arc in the 36 games since his return. So, you're gambling a bit, but it could be a bet worth making for a guy that could take your starting lineup to another level.
Salary: $21 million in 2020-21; free agent in 2021-22
Trade cost: This is tough to call. His money is much easier to match than Lowry's – Green and Scott would make it work financially. The Pacers basically got Caris LeVert and a second-round pick for Oladipo. What would be the equivalent of that from the Sixers' perspective? Likely a controllable, young player and a second-rounder.
Patty Mills
Mills, 32, is enjoying a career year so far. He's averaging 13.8 points a game and shooting over 40 percent from three. He's a legitimate Sixth Man of the Year candidate for the surprising Spurs. Mills is just a smart player that can play on or off the ball, start or come off the bench. He could be an upgrade in either case with his ability to make plays off the dribble and hit catch-and-shoot threes.
If he starts, he could also add supplemental ball handling for Simmons – there's a theme here! If he comes off the bench, he could bring more stability and consistency than Shake Milton and Tyrese Maxey. He has championship experience and is considered an outstanding teammate and human. The Australian connection with Simmons certainly doesn't hurt.
Salary: $13.2 million in 2020-21. Free agent in 2021-22
Trade cost: The Sixers could very easily make this work financially. They could hang on to Green and use a combination of Scott, Ferguson and Vincent Poirier. Given Mills' age and pending free agency, maybe a second-rounder or two could get it done. San Antonio's surprising start – and Gregg Popovich's love for Mills – could keep Mills with the Spurs as they try to make a playoff push.
Sixers First-Round Picks Since 2000