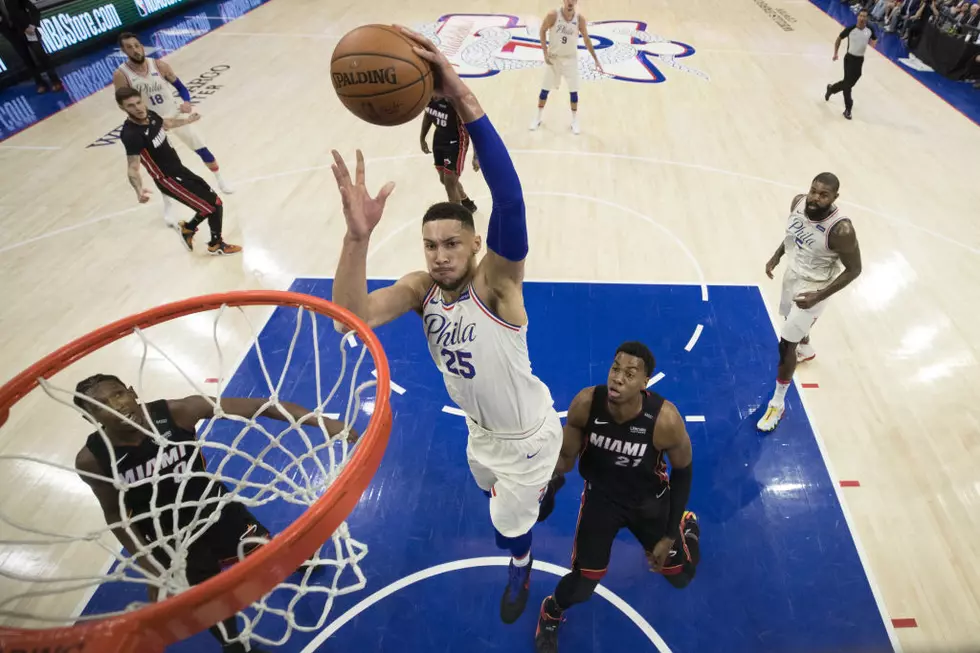 Ben Simmons and Josh Richardson's Chemistry Will Go a Long Way
Mitchell Leff, Getty Images
PHILADELPHIA, PA (973espn.com) -- When the Philadelphia 76ers inked fourth-year guard, Ben Simmons to a long-term, maximum extension, they essentially let the Sixers guard know that he is one of the most critical factors on the team.
As a veteran point guard, Simmons has no choice but to lead the Sixers and build up a chemistry with the other four guys on the court with him. Last season, it seemed like further down the stretch, Simmons and former Sixers guard Jimmy Butler didn't gel as much as many desired.
This year though, Butler is out of the picture. Instead, the Sixers filled that void with former Miami Heat guard, Josh Richardson. And so far, Richardson and Simmons have established a chemistry that can do wonders for them during the 2019 season.
On Monday, the Sixers wrapped up their final practice before their NBA Preseason officially began. Concluding the afternoon workout, Ben Simmons and Josh Richardson decided to do a joint-interview during their media availability -- practically sharing the spotlight after practice answering the same questions.
Then, on Tuesday, they took the court together against a non-Sixers opponent for the first time -- and offered up an exciting sample of what's to come in the future. With 21 minutes apiece, Simmons and Richardson combined for 37 points, ten assists, and three steals. Richardson shined from long range on offense, draining three of his five attempted shots from beyond the arc.
With Richardson posing a threat around the perimeter, he believes their offensive styles can balance out in quite a positive way. "I know Ben is a very downhill guard," Richardson said, following Tuesday night's preseason opener. "He's very aggressive, just trying to find holes in the defense, [I'm] trying to move around the perimeter for him, and keep the lanes open."
Offensive contributions will go a long way for these two, but we all know that Sixers basketball in 2019 is more defensively-focused. Brett Brown embedded that mentality in Ben Simmons last season. Now coach Brown wasted no time getting that point across to Richardson as well, who came into Philly already enjoying that part of the game.
"A lot of it starts on the defensive end," says Richardson, who is under the belief that he and Simmons match up perfectly on that side of the ball. "We're two great defensive guards, and I know he likes to run, so I'm just trying to make sure I'm one of the guys that can keep up with him."
Ben Simmons seems to agree with Richardson's mindset in this case. "He's a dog," Simmons says. "Defensively, he's amazing, and offensively he's athletic and knocking down shots -- I love playing with him."
Richardson has only practiced with the Sixers for two weeks at this point, but his excitement for the upcoming season is beyond evident. As he continues to get to know his teammates on and off the court, the former Heat guard is off to a promising start with the Sixers as he acknowledges that the chemistry is all coming together.
Justin Grasso covers the Philadelphia 76ers for South Jersey's 97.3 ESPN. You can follow Justin on Twitter: @JGrasso_