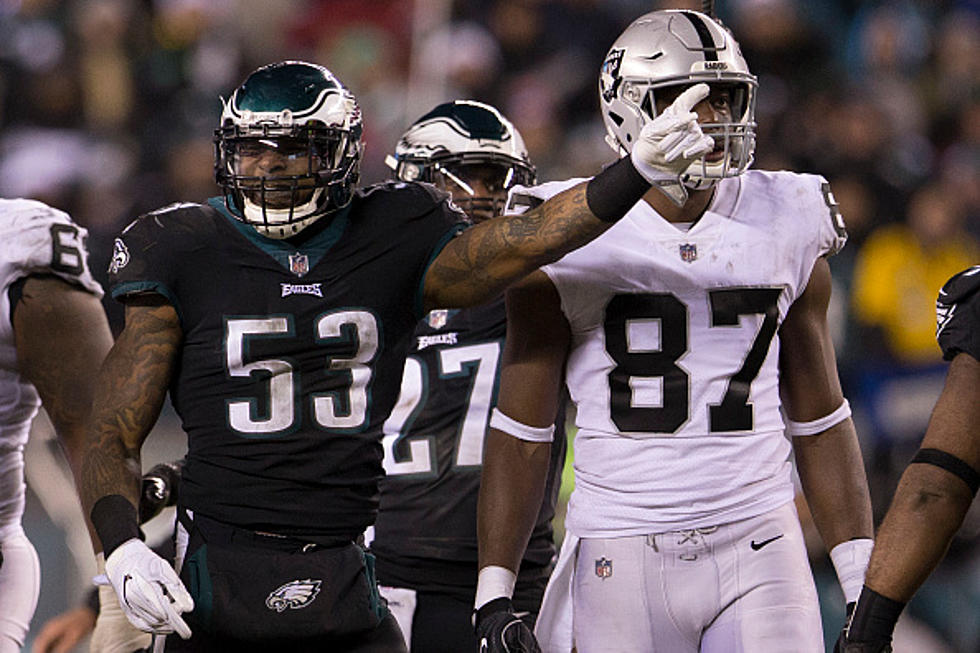 (Photo by Mitchell Leff/Getty Images)
PHILADELPHIA (973espn.com) - The Eagles have persevered without Nigel Bradham for the past four games but could be on the verge of getting back their lone, proven producer at linebacker.
"Hopefully," is all the Bradham would say about potentially returning Sunday for the Seattle Seahawks and MVP candidate Russell Wilson when talking at his locker on Tuesday.
The fact that Bradham was speaking to the media was a positive development and another followed Wednesday morning when Doug Pederson said the Florida State product would return to practice after missing over a month with an ankle injury.
"I can't force it," Bradham explained. "It's been difficult not being out there contributing to the team. I mean, it's obviously tough, but I think our young guys are doing well. We just keep motivating them and keep it going until the time I can come back."
Nate Gerry has handled the Mike duties in Bradham's absence while Kamu Grugier-Hill has stepped up into the second nickel linebacker role. When Jim Schwartz has gone to base, undrafted rookie T.J. Edwards fills out the lineup card and even the recently-acquired Duke Riley has seen some action in both the red-zone and in four LB sets when Buffalo went with heavy personnel. The always vertsatile Malcolm Jenkins has also played a LB role in some dime packages as well so it's taken a village to duplicate what Bradham typically gives the Philadelphia defense.
How things change when Bradham is back is to be determined, according to Schwartz.
"We'll have to get to that when we get there. You guys know I never like to get too far ahead," Schwartz said. "Let's get him back on the practice field first and then see where it takes us. Nigel has been valuable and has been a key part of our defenses over the years, and if he is able to get back on the field for us, it'll be a good boost for us."
With Seattle on deck and Wilson having the most productive year of his brilliant career any boost Schwartz can get will be a welcome addition, especially a veteran who understands the dual-threat Wilson brings to the table.
"Obviously, he's a great quarterback, a guy who is a dual threat," Bradham said of Wilson, who leads the NFL with 23 touchdown passes and a 114.9 passer rating but can also kill you with his legs, amassing 256 yards on the ground at 5.6 yards-per-clip. "We've got to keep him contained, but we can't just let him sit in the pocket, either, because he's really good at both. That's going to be the key for us this week."
And something accomplished easier if Bradham is available.
"We'll see how it goes this week," Bradham said. "I would love to be back out there. I'm trying to be patient and do the right things so that when I'm back, I'm all the way back."
-John McMullen covers the Eagles and the NFL for 973espn.com. You can reach him at jmcmullen44@gmail.com or on Twitter @JFMcMullen