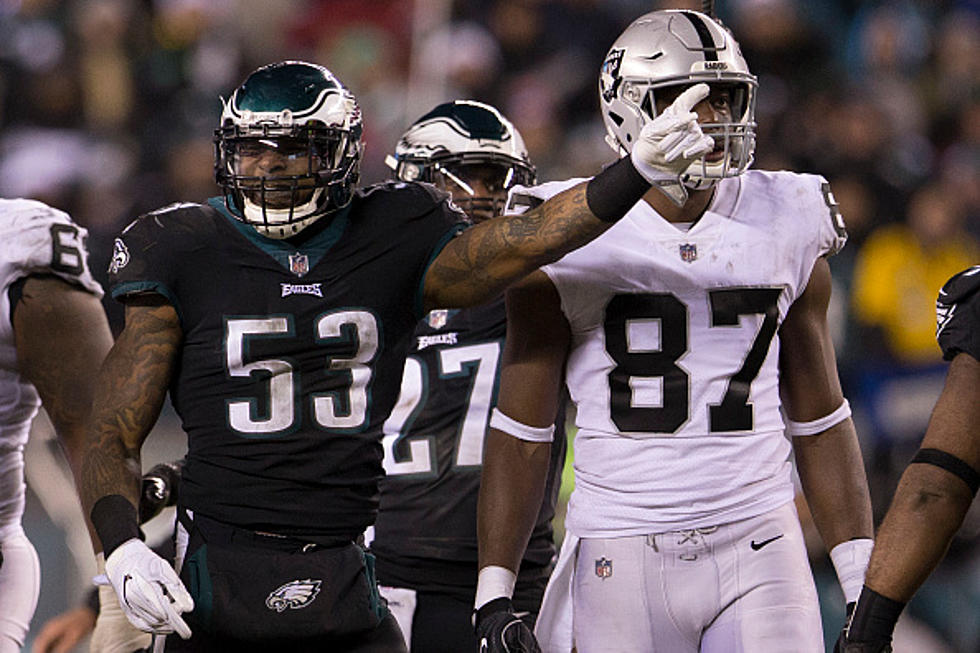 Bradham Addresses Preseason Absence
(Photo by Mitchell Leff/Getty Images)
PHILADELPHIA (973espn.com) — Out of sight, out of mind might apply when it comes to fans and NFL players but employers tend to notice an absence.
Veteran linebacker Nigel Bradham, expected to be the starting MIKE for Jim Schwartz and the only three-down LB on the defense, sat out the entire preseason while rehabbing from surgery after a toe injury suffered in the NFC Divisional Round playoff loss to the New Orleans Saints.
Bradham, like every other Eagles starter, was going to be put in mothballs for the preseason finale against the New York Jets. The difference is everyone else was there to watch their fledgling teammates while Bradham bowed out because he was ill.
Perhaps that was a legitimate excuse for not heading up the Jersey Turnpike but Bradham failed to communicate his situation to the Eagles, who has no idea why the veteran didn't show.
Bradham admitted he needed to communicate better while talking to reporters at his locker after practice on Thursday.
"I wasn't feeling well, so I wasn't really concerned about my phone and trying to reach out," Bradham explained. "That's all it was."
Bradham, who turned 30 on Wednesday, did say he was taken to the principal's office with Doug Pederson telling him that the communication needs to improve. Bradham is expecting some punishment, likely in the form of a fine.
"This is the NFL," Bradham said.
As for what happened Bradham was at Wednesday's walkthrough and "ate something that didn't settle."
"So it wasn't really going to work for me to take that ride," Bradham said.
Bradham has had two other off-the-field incidents while with the Eagles, a somewhat high-profile alleged assault of a cabana boy at a Miami-area hotel back in 2017, which resulted in a one-game suspension negotiated down from six. He also left a loaded gun in a travel bag he brought to the airport.
Generally, a very engaing personality Bradham has been around long enough to understand he can't just miss a game, even one he's not playing in, without alerting someone in the organization so the excuse doesn't hold water.
Nor does the Eagles reaction, which according to the Philadelphia Inquirer's Jeff McLane, had team employees looking into whether Bradham was back in South Florida.
Clearly more is going on here and that's not necessarily serious but presumably, the Eagles had cause for their reaction and concern over why Bradham would miss a short trip with no excuse.
Bradham is scheduled to play Sunday and he plans for business as usual.
"I'm a full go," he said. "I'm going to play the whole game."
Ironically, Jim Schwartz began his press conference Thursday with a joke.
"OK, what can I be evasive on?" the defensive coordinator deadpanned, a nod toward the obfuscation of a game week.
When Bradham came up, however, Schwartz dis get evasive.
"I'll just let Doug handle that," Schwartz said. "That's a head-coaching thing."
Pederson will indeed have to handle it at his next press conference on Friday morning.
-John McMullen covers the Eagles and the NFL for 973espn.com. You can reach him at jmcmullen44@gmail.com or on Twitter @JFMcMullen