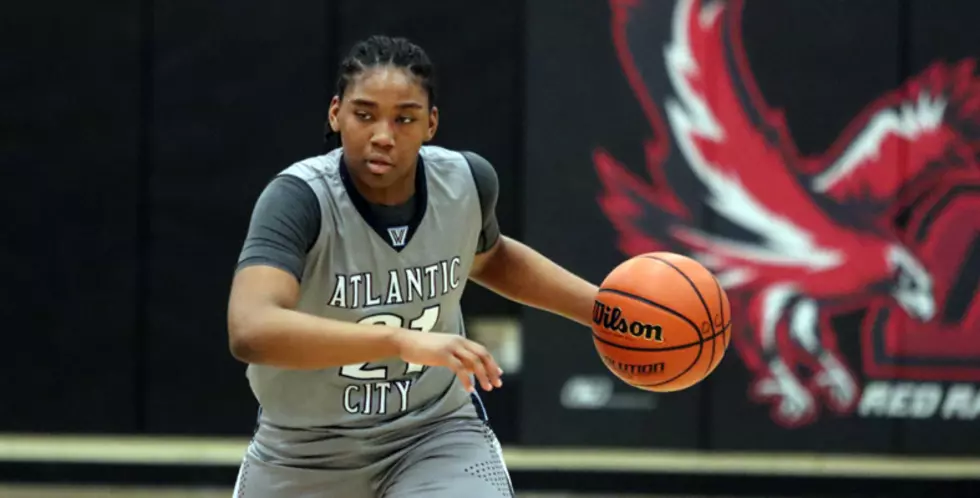 CAL Playoffs: AC Girls Advance to First CAL Final in 10 Years
(Glory Days photo/Dave O'Sullivan)
OCEAN CITY — The last time the Atlantic City girls basketball appeared in a Cape-Atlantic League championship game, the players on this year's roster were grade-schoolers and Tiana Cannon was dropping 26 points in a 53-50 win over Holy Spirit.
Ten years later, on Saturday at noon at Stockton University, the Vikings will once again have the chance to bring home a title, although they nearly blew a 12-point halftime lead along the way on Thursday night against Ocean City, the tournament's No. 2 seed.
Atlantic City was leading 24-12 at the break but then scored just five points in the first 12 minutes of the second half, the Red Raiders stormed back to tie the game at 29 early in the fourth quarter, but in the end the Vikings' height inside and some solid leadership from senior Ciani Redd-Howard propelled A.C. to a 40-33 victory and a date with 2018 champion Mainland Regional, which edged Wildwood Catholic, 42-40, in a thrilling second half of the CAL semifinal double-header at Ocean City High School.
"We weren't nervous. We've been through that before; adversity has hit us hard throughout this season. We take that adversity and turn it into something positive," Redd-Howard said.
Atlantic City (18-8) had it rolling in the first half, outscoring the Red Raiders 14-6 in the opening quarter before carrying a 12-point advantage into the second half. But Paul Baruffi-coached teams are notorious for making halftime adjustments, and Ocean City (18-7) came out with new life in the third quarter and outscored the Vikings 15-5 to cut the deficit to 29-27. Abbey Fenton hit a big 3-pointer to shave the Vikings' lead to 27-25 with 48 seconds left in the third, and early in the fourth Marin Panico scored on a driving layup, tying the game at 29-all.
"I feel like every team around here is a second-half team and gets their energy level up. We came out (in the second half) slow and our offense wasn't moving. It felt like everyone was stuck in place, but we came back and hustled. I feel like we weren't moving enough on offense. We were too stagnant. We just had to get the ball moving and attack the rim more. And we did that in the fourth quarter," said Atlantic City senior guard Madison Brestle. "It's nice to have Ciani on the team, we can always rely on her for big buckets."
Redd-Howard scored off a pass from Naysha Suarez-Rivera with 3:10 left to give the Vikings a 31-29 lead, and Atlantic City never trailed again. Ocean City, the defending tournament champion, got to within 35-33 on a jumper from Fenton with 1:43 remaining, but Redd-Howard scored an inside bucket and then freshman Quan Cherry-Montague put back her own miss to stretch Atlantic City's lead to 39-33 and effectively seal the win.
"We were very stagnant in the third quarter. Us standing around the perimeter wasn't working, so we had to go to the basket and get some buckets. Rebounds are very important and that did a lot for us," said Redd-Howard, who finished with a team-high 12 points while adding six rebounds. "My shot wasn't going in, it was close but kept rimming out. I figured if I couldn't get it to go from the three-point line I had to go inside."
Rebounding was huge for the Vikings, as Cherry-Montague racked up 11 boards and Cornysha Davis added six to go along with six points. Brestled finished with nine points, seven rebounds, two assists and three steals. Panico led the Red Raiders with 14 points while Emma Finnegan chipped in six points and six boards. Atlantic City outrebounded Ocean City 46-24 and scored 24 points in the paint to just 10 for the Red Raiders.
"This is the first time we've been in the final in 10 years, so this is fun. I'm excited about Saturday. I'm ready to play," Brestle said.
Added Redd-Howard, "This is very exciting. In the gym at Atlantic City they put the banners up and the last time we won was 2010. We're about to have a 10-year anniversary."
Contact Dave O'Sullivan: sully@acglorydays.com; on Twitter @GDsullysays