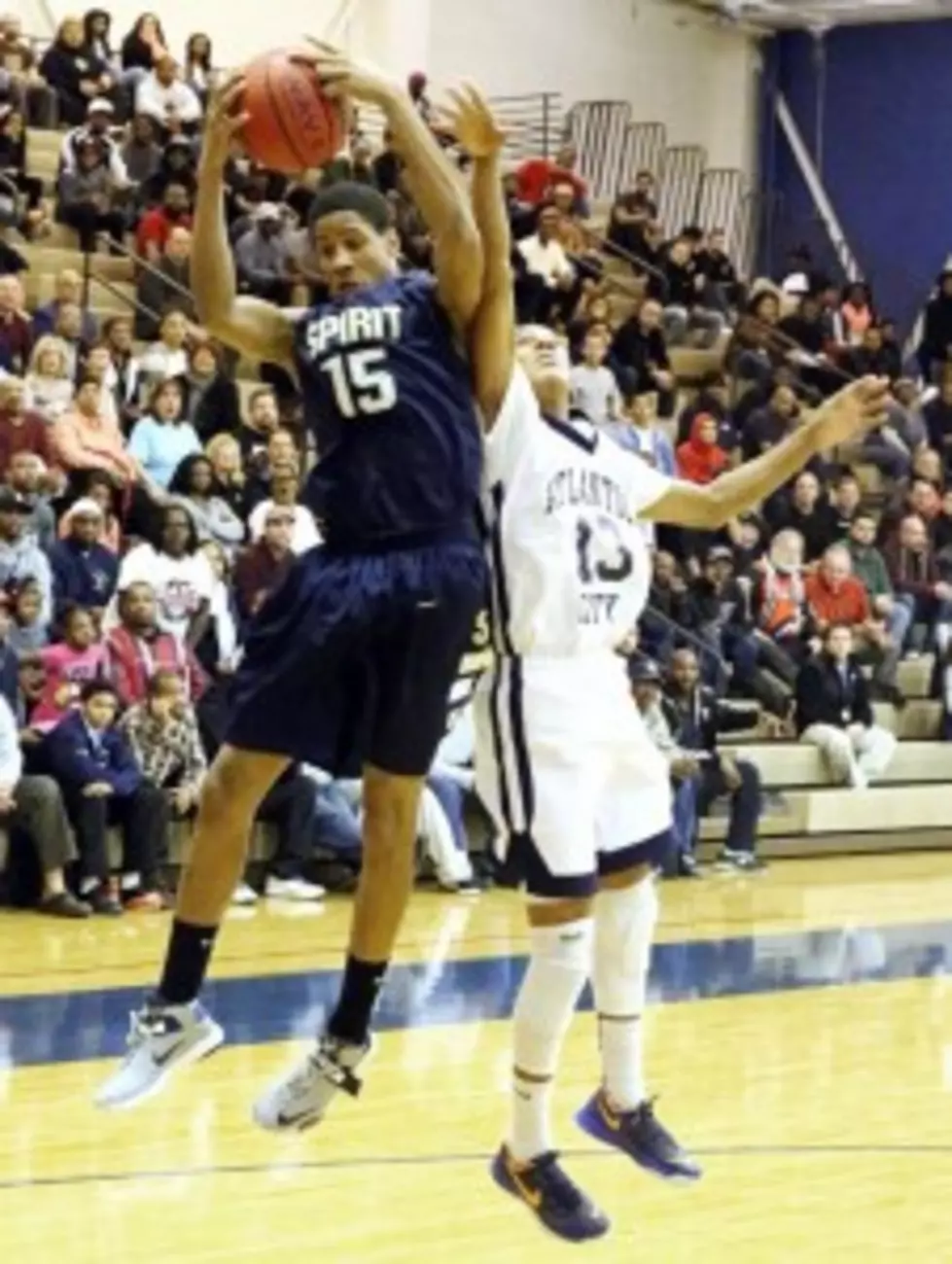 Cape-Atlantic League contenders ready for conference tournament
Photo courtesy: Edward Lea, The Press of Atlantic City
It's the calm before the storm this weekend, just days away from the start of the Cape-Atlantic League boys basketball tournament.
The Atlantic City Vikings have defeated the Middle Township Panthers in each of the past two C.A.L. title games, on their way to winning consecutive state championships. This year's tournament features much more intrigue, especially with some recent Vikings losses and the absence of Middle Township.
The defending conference champions open this year's tournament against an underdog that's hungry to make a title run. Leading the charge for the St. Joseph Wildcats is senior forward LaQuay Brown; we asked him about the upcoming matchup with Atlantic City, what's next in his future academic and athletic plans, and which local athletes continue to inspire his game.
Brown and the rest of the Wildcats will visit the Vikings in the quarterfinal round on February 24.
The CAL tournament begins on Monday, with exclusive coverage on 97.3 ESPN-FM and 973espn.com all the way through the Championship Game at Stockton College on March 1.
Here's a preview of some of the other interviews from this week's edition of the South Jersey Sports Report:
Press of Atlantic City sports reporter Mike McGarry explains why Atlantic City's defense could propel them to another Cape-Atlantic League title, and which other local teams have the best chance to become champions next month
The Cedar Creek Lady Pirates have captured the C.A.L. regular-season title, and they're hoping to take advantage of their top seed heading into the conference tournament. Find out what their head coach expects against their first-round opponent, and hear some of her favorite memories from coaching the school's first "true-senior class" led team
Tickets are going fast for one of Holy Spirit High School's most premier events: the annual "Salute to the Spartans Bash". Find out all the details in our interview with girls basketball coach Dennis Smith, including how some of the new hall of fame inductees achieved international success
Courier-Post sports writer Kevin Minnick explains some of the parody heading into the Cape-Atlantic League basketball tournament, and updates his list of the top-ranked teams in South Jersey
Press of Atlantic City sports reporter John O'Kane explains how some local high school wrestlers came up just short against one of the most historic programs in the state, plus his thoughts on a national controversy surrounding one New Jersey high school team
Listen to this week's show:
Fran Raph, Cedar Creek Lady Pirates head basketball coach
Kevin Minnick, Courier-Post sports reporter
Dennis Smith, Holy Spirit Lady Spartans head basketball coach
John O'Kane, Press of Atlantic City sports reporter
LaQuay Brown, St. Joseph Wildcats senior forward
Mike McGarry, Press of Atlantic City sports reporter
We'd also like to congratulate the South Jersey Athlete of the Week:
Keith Braxton
Basketball, Delsea Regional
The junior poured in 31 points and pulled down 16 rebounds in a victory over division rival Kingsway.
It's all right here, on The South Jersey Sports Report. Listen every Saturday, 9 a.m. – 12 p.m. on 97.3 ESPN-FM or 973espn.com, and catch the expanded edition every Thursday night from 6-7 p.m.
Follow Tyler Donohue on Twitter @TDsTake