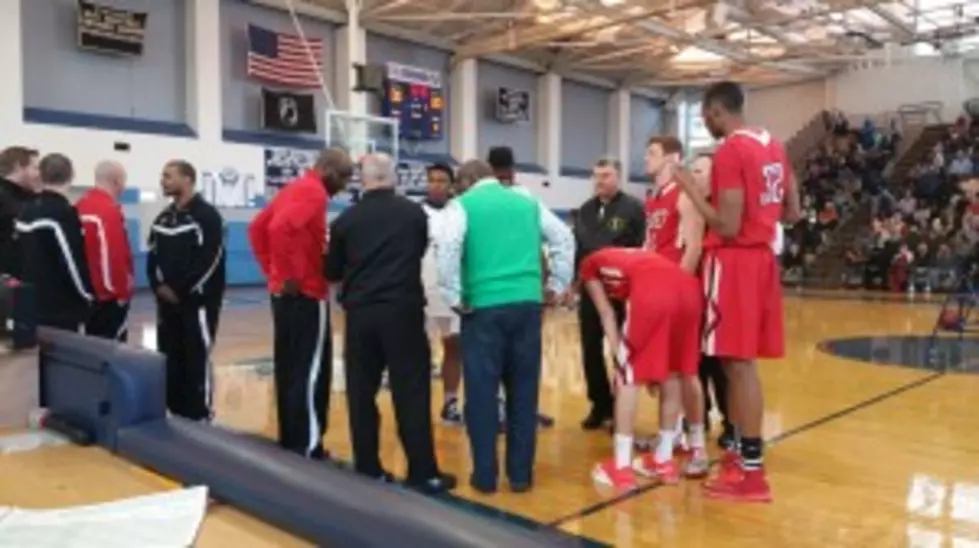 Cherry Hill East Advances to Group IV Final With Win Over Atlantic city
Cherry Hill advanced with a win over Atlantic City on Saturday. (Photo: Mike Gill)
The third seeded Cherry Hill East Cougars wanted this to feel like a home game.  So they sent two bus loads of students who helped fill the Atlantic City gym, but made it feel like a Cougars home game.
The booed the home team Vikings when they entered the court, but had plenty to cheer about the rest of the way.  Senior guard Jake Silpe, who is headed to University of Penn, scored 20 points and teammate Tim Perry added 19 to hold off second seeded Atlantic City 66-56 on Saturday.
"Atlantic City is a great program, Gene Allen does such a good job with these teams, we feel like we played a great team and won today," Cougars head coach Dave Allen said after the game on 97.3 ESPN.
The Cougars placed four players in double figures and were able to hold of the relentless pressure of Atlantic City.
"I think we handled their pressure the best we could, Allen said.  "That's why we won the game."
Leon Daniels led Atlantic City with 17 points, including 14 in the second half, Lamar Thomas added 15, hitting five three-point shots but it wasn't enough to advance.
Atlantic City trailed throughout the game, but used a 12-2 run to cut the lead to just six point with 4:01 left in the game, but that's as close as the Vikings would get.
It was a tough game for Atlantic City who got out of the gates slow, and could never get back into the game with some early foul trouble to Daniels, he sat the entire second quarter.  Kevin Allen, who has been sick, had to leave the game after vomiting on the floor, gave a gutsy effort, but it just wasn't enough.
Atlantic City ends its season at 21-6, Cherry Hill improves to 24-5.
(Watch the final seconds of the Cherry Hill win over AC)