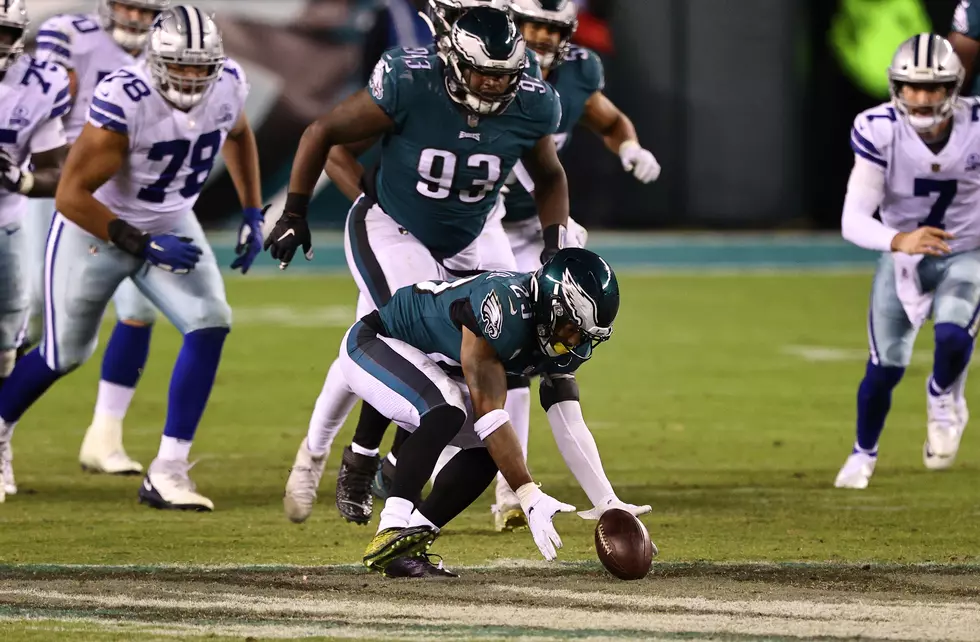 Dave Weinberg's Cowboys-Eagles 2-Minute Drill
Getty Images
Here is a quick look from Dave Weinberg at the Eagles win over the Cowboys on Sunday night.
Eagles' best number: 0 (points allowed in second half)
Eagles' worst number: 4 (Carson Wentz turnovers)
View from my living room:
It was tough to hear the TV with the wind howling outside.
Enter your number to get our free mobile app
Three stars
1. Eagles defensive end Brandon Graham (best player on the field)
2. Cowboys cornerback Trevon Diggs (2 interceptions)
3. Cowboys place-kicker Greg Zuerlein (3 field goals, including a 59-yarder)
Turning point
The Eagles were clinging to a 15-9 lead and the Cowboys were driving when saftey Rodney McLeod picked up a controversial fumble and returned it 53 yards for a touchdown in the fourth quarter. Eagles defensive end Vinny Curry appeared to down by contact after initially recovering the fumble.
Eagles' best play
The Cowboys led 3-0 and had reached the Eagles' 7-yard line when Graham stormed into the backfield and registered a strip sack against DiNucci to end the scoring threat.
Eagles' worst play
Any of Wentz's four turnovers qualify. We'll go with the first interception, a poorly thrown pass toward rookie Jalen Reagor that Diggs picked off.
Did you notice?
Reagor, tight end Dallas Goedert, left tackle Jason Peters and cornerback Avonte Maddox all played. ... Right tackle Lane Johnson was inactive, forcing Jordan Mailata to play there. ... Reagor scored his first NFL touchdown. ... Wentz now leads the league with 12 interceptions and 16 turnovers. ... Wide receiver Travis Fulgham led the Eagles with six receptions for 78 yards. ... Cowboys wide receiver Amari Cooper had just 1 reception for 5 yards. ... Eagles linebacker Duke Riley jumped offsides before McLeod's fumble return, but it wasn't called. ... Eagles were 3-for-8 on third-down conversions and 0-for-3 on fourth down.
Parting shots
Eagles coach Doug Pederson on the turnovers: "We can't do the things that we're doing in order to really survive in this league."
Cowboys quarterback Ben DiNucci: "This NFL thing. ... It's hard."