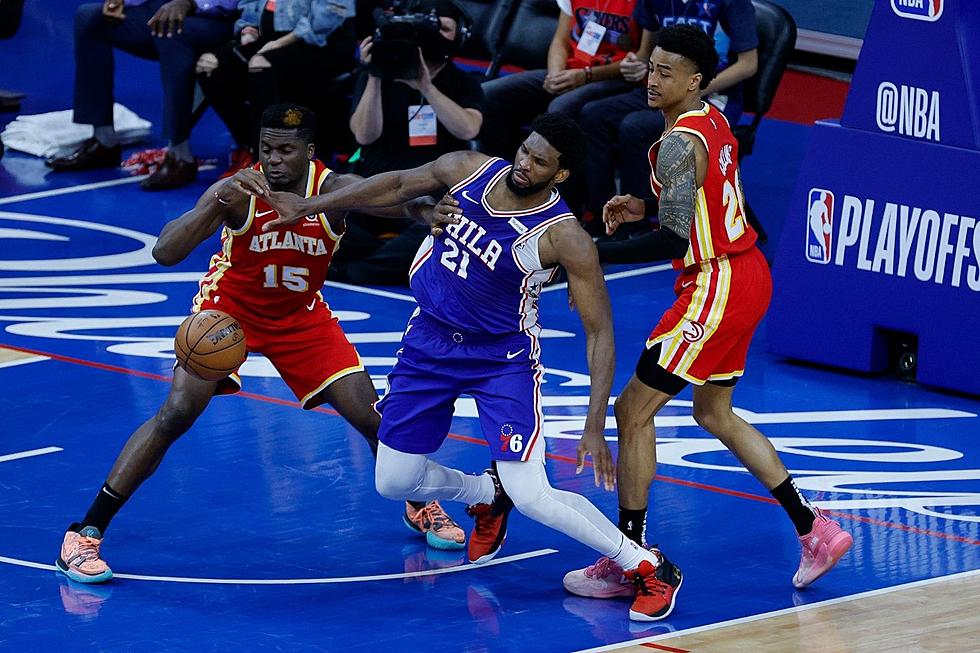 Do or Die for Sixers Friday Night!
(Photo by Tim Nwachukwu/Getty Images)
Our Philadelphia 76ers play a huge game Friday in Atlanta against the Trae Young led Hawks.  A basketball team that has taken advantage of the Sixers deficiencies and overcome double digit deficits to take a 3-2 lead in the best-of-seven series.  Ben Simmons, Tobias Harris and Joel Embiid are the big three stars of the 76ers have failed in the fourth quarter in back-to-back games to put away the Hawks by missing foul shots, dunks and not playing smart basketball.  It's very frustrating to watch the Sixers take a commanding lead only to give it away!  For the Sixers to lose the way they have dropped the last two games in heartbreaking fashion might be too much of a mountain to climb and overcome.  Frustration, confidence, blame and character will all play a pivotal role in the outcome of Friday Night's Game 6 in Atlanta which you can listen to at 730pm with Tom McGinnis on the call on 973 ESPN Atlantic City. 
Even though the Phillies are 7-3 in their last 10 games they head to San Francisco starting Friday Night to face the NL West First Place Giants. The Giants, led by former Phillies manager Gabe Kapler, are playing great baseball with the best record in the majors at 44-25.  But if you want to watch the games this weekend, you have to stream it on the Peacock App!?! 
We will react to all the weeks hot sports topics this weekend in The Locker Room with Billy Schweim:  
On Saturday's show, Scott McKay is back with me as we recap all the Sixers and Phillies action.  We will talk with Ed Barkowitz from the Philadelphia Daily News about either a Sixers win or what went wrong for a team with high expectations.  Hour Two don't miss this week's Beach Patrol Report.  This Saturday we will head to Wildwood and talk with the Captain of the Wildwood Beach Patrol Ed Schneider.  Ed will tell us what to expect from Wildwood this Summer. Plus we will recap Friday Night's Phillies versus Giants game.
On Sunday in The Locker Room with Billy Schweim, the PT, Pete Thompson sits in with me and we will talk with Keith Pompey from the Philadelphia Daily News about the Sixers Postseason run.  The U.S. Open continues this weekend at Torrey Pines in San Diego.  We will hear from Gil Capps who is working his 22nd U.S. Open as an Editorial adviser for NBC Sports Golf broadcasts will give us insight into the final round of play.  Then finally we will talk with the Head coach of the Pitman boys Basketball team, Ron Myers and question his undying support for Ben Simmons. Plus Phillies recap and more!!
All the action starts every Saturday and Sunday at 10am to 12 noon on 97.3 ESPN radio. 
Plus don't forget to visit me at All Campus on the Boardwalk in Ocean City for the Rant Booth at 1028 boardwalk from 6-9pm Saturday Night.
Sixers First-Round Picks Since 2000
These Beautiful South Jersey Sunsets Will Take Your Breath Away