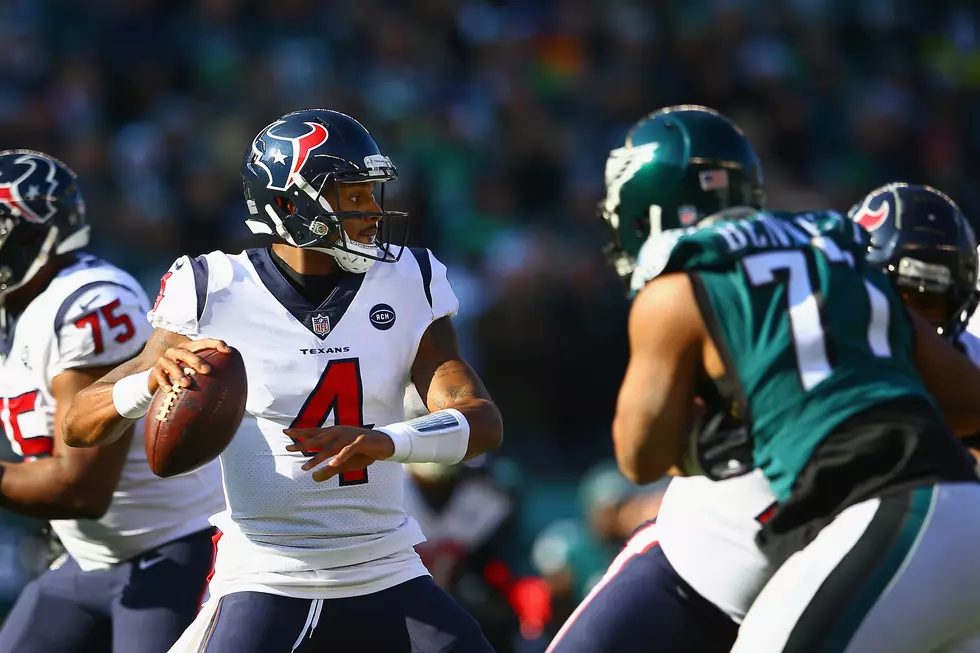 Do the Eagles Have Their Eyes on Deshaun Watson?
Getty Images
Could the Eagles have their eyes on a big prize?
'Do not discount it' says CBS Sports NFL insider Jason La Confora in his latest edition of 'NFL Insider Notes' at CBS Sports. The report suggests the Eagles could be looking to made a trade to land Texans quarterback Deshaun Watson, who wants out of Houston. 
Too many sources with ties to ownership have whispered that sentiment my way for me to ignore.
This report of course adds to the craziness that has surrounded the Eagles quarterback position since the benching of Carson Wentz during a Week 13 game against the Packers.
Jalen Hurts would take over the position for the remaining four games.
The team would then part ways with head coach Doug Pederson, before finally trading Wentz to Indianapolis.
Since Wentz was traded, there have been conflicting reports about what the Eagles might do at the position moving forward.  Right after the Wentz deal, reports surfaced that the team wanted to bring in a veteran quarterback to compete with hurts for the job. Meanwhile, veteran NFL reporter Chris Mortensen recently reported that owner Jeffrey Lurie "instructed his group to prioritize making Hurts successful in 2021 as opposed to creating a true competition."
So mixed signals for sure.
Now La Confora suggests that the team could have their eye on Watson.
The Eagles are always among the most aggressive exploring trades, and general manager Howie Roseman is as willing a dealmaker as there is in the NFL. Blockbuster trades are a particular specialty, including unconventional deals (i.e. the Carson Wentz trades they have pulled off). Some in the Eagles brass would try to poo-poo the idea of their interest by noting there must be about 30 teams paying close attention to this situation, but my sense is this is much more than an idea on the periphery; I get the sense this is something ownership and management would very much like to make happen.

"I hear that it is very much at the ownership level," as one league source put it.

"No action for the Eagles," one GM said. "It has to be killing them."

Another GM said: "Would Howie trading for Watson surprise me? No. Now that you mention it."
While the Eagles have been quite in free agency, a time when we typically hear their name involved, it appears they have dipped their toe in to the trade waters with one of the biggest fishes in their sights.
KEEP READING: Eagles Quarterbacks With the Most Wins Since 1980