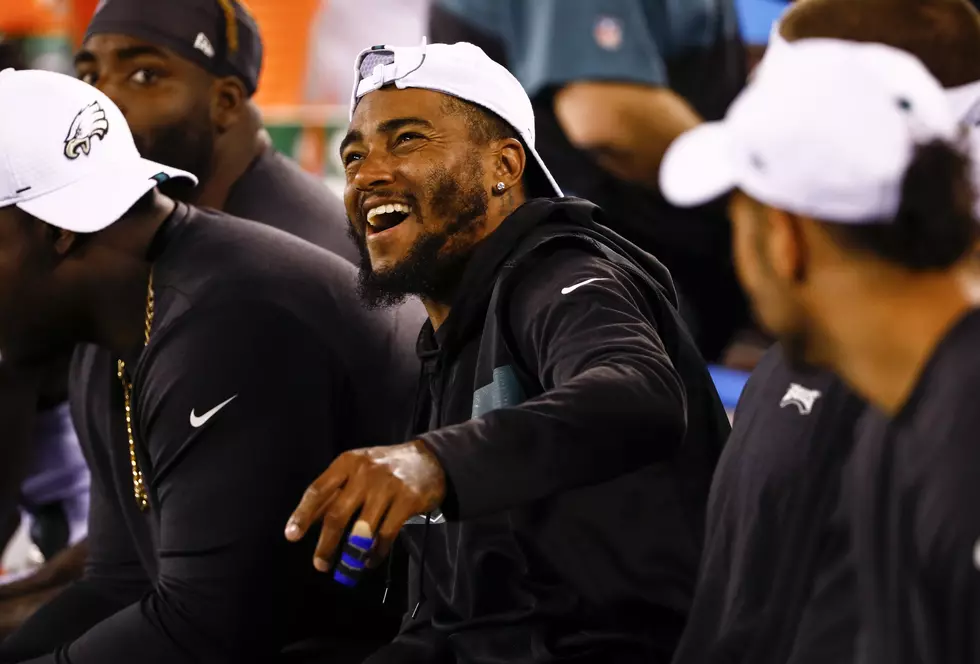 Eagles Finish Preseason with Listless Performance Against Jets
EAST RUTHERFORD, NJ - AUGUST 29: DeSean Jackson #10 of the Philadelphia Eagles sits on the bench during the preseason game against the New York Jets at MetLife Stadium on August 29, 2019 in East Rutherford, New Jersey. (Photo by Jeff Zelevansky/Getty Images)
EAST RUTHERFORD, NJ (973espn.com) — The annual dreck-filled preseason finale between the Eagles and the New York Jets served as a poorly-attended backdrop to the real story coming over the next 48 hours, the cutdown to 53 players by Saturday.
Not much was going to change on Thursday where virtually all of Philadelphia's starters and perceived key contributors got the night off as is standard procedure around the NFL.
The Eagles fell to the New York Jets 6-0 in which most of the interesting news came during the pre-game.
Former Philadelphia vice president of player personnel Joe Douglas, the Jets' current GM, reminisced with Howie Roseman and Jeffrey Lurie during warm-ups while Eagles.com confirmed that DeSean Jackson's broken left ring finger is not expected to keep him out of the Week 1 game against Washington.
With nary an option available the Eagles' offensive and defensive captains were practice-squad veteran Greg Ward and undrafted rookie T.J. Edwards, two bubble players facing tough numbers games.
The star for Philadelphia was again defensive end Daeshon Hall, who finished one of the better summers in recent history, adding another strip-sack to his 30 days of dominance.
Rookie quarterback Clayton Thorson started and finished but struggled mightily as he has most of training camp, completing just 12-of-26 passes for 84 yards and an interception.
"It felt good. It felt like I was playing well," Thorson said. "It felt like I could make a couple more throws. We just got behind the sticks a lot."
Fighting for a roster spot veteran running back Wendell Smallwood carried it seven times for 23 yards but one of the totes was for 18, meaning the other six were for just five yards and included a fumble.
The top receiver was Marken Michel, who caught two passes for 30 yards.
-Defensive tackle Aziz Shittu was carted off with a possible concussion. Hall was also checked for a concussion at one point but was able to return.
-With Jason Peters, Lane Johnson and Andre Dillard given the day off and Jordan Mailata dealing with a back injury, the starting left tackle was Matt Pryor and the recently-signed Brett Toth handled the other side.
-Edwards and Alex Singleton started at linebacker and saw a ton of traffic with Singleton having 12 tackles and Edwards chipping in with 10.
-The Philadelphia defense came up with its only two interceptions of the preseason tonight, one by Josh Hawkins and another by Chris Worley. Both players victimized Davis Webb.
In (3): Carson Wentz, Josh McCown, Nate Sudfeld
OUT: Cody Kessler, Clayton Kessler
-The only question is whether Howie Roseman moves Sudfeld to say Indianapolis if the Colts get desperate for a backup in order to clear a place for a fifth-round pick in Thorson. Otherwise, Thorson will easily clear waivers and probably head to the practice squad even though there really isn't enough work for four quarterbacks.
In (4): Jordan Howard, Miles Sanders, Darren Sproles, Corey Clement
Cut: Josh Adams, Wendell Smallwood, Donnel Pumphrey, Boston Scott
-The real decision here is do you keep four or five. If it's the latter Adams gets the nod because the Eagles understand Howard is likely a one-and-done player. If Howard plays well on the final year of his seal, the organization doesn't value the position unless you're a three-down option so it won't pay him. If he plays poorly, the Eagles will not want him and Adams offers similar traits moving forward as a big back. If they only keep four Adams might not make it through waivers with Houston looking.
In (5): Alshon Jeffery, DeSean Jackson, Nelson Agholor, J.J. Arcega-Whiteside, Mack Hollins
Out: Greg Ward, Marken Michel, Carlton Agudosi, DeAndre Thompkins
-Hollins shouldn't be given the benefit of the doubt at this stage but he is still getting it with the narrative pointing toward his special teams work. Ward has outplayed him at receiver and is likely headed back to the PS.
In (4): Zach Ertz, Dallas Goedert, Richard Rodgers, Joshua Perkins
Out: Will Tye, Alex Ellis
The Eagles plan to use even more 12 personnel this season because of the talent of Ertz and Goedert and if that's the case you almost need to carry four tight ends. Rodgers' foot injury doesn't appear to be as serious as first thought and the Eagles really like him with Perkins serving as the backup flex tight end, although Perkins needs to catch the football more consistently.
In: (10): Jason Peters, Jason Kelce, Lane Johnson, Brandon Brooks, Isaac Seumalo, Halapoulivaati Vaitai, Andre Dillard, Matt Pryor, Jordan Mailata, Nate Herbig
Out: Stefen Wisniewski, Brett Toth, Anthony Fabiano, Keegan Render, Sua Opeta, Riley Mayfield
Maybe if Brooks was cleared this reverts to nine but for now the Eagles will go heavy on both lines because that's what they value. Jeff Stoutalnd is seemingly always looking for a more athletic option than Wiz and may have found it with Herbig. Pryor has struggled with penalties but the organization still values his versatility.
In (10): Brandon Graham, Fletcher Cox, Malik Jackson, Derek Barnett, Vinny Curry, Tim Jernigan, Daeshon Hall, Josh Sweat, Shareef Miller, Hassan Ridgeway

Injured reserve: Joe Ostman
Out: Eli Harold, Kasim Edebali, Treyvon Hester, Aziz Shittu, Kevin Wilkins
Hall played himself on the team with a strong summer and should be the fourth DE in the rotation. The Eagles will go heavy at the position and essentially chose both Sweat and Miller over a fifth defensive tackle. Ridgeway has been in the lead but Hester's value on special teams and ability to block kicks, could give him a photo-finish win. For now we will stick with Ridgeway because he's a trade pickup.
In (5): Nigel Bradham, Kamu-Grugier-Hill, Nate Gerry, Zach Brown, L.J. Fort
Out: T.J. Edwards, Alex Singleton, Chris Worley, Hayes Pullard
Grugier-Hill will miss a few weeks in the regular season but you have to carry him and the numbers game isn't there for Edwards and Singleton, who have both proven to be NFL players.
In (9): Ronald Darby, Sidney Jones, Avonte Maddox, Malcolm Jenkins, Rodney McLeod, Rasul Souglas, Cre'Von LeBlanc, Andrew Sendejo, Rudy Ford
Physically unable to perform (PUP) list: Jalen Mills.
Out: Orlando Scandrick, Josh Hawkins, Jeremiah McKinnon, Ajene Harris, Sojourn Shelton, Johnathan Cyprien, Deiondre' Hall, Tra Elston, Jason Thompson
As vested veterans Roseman may want to play some roster tricks with Cyprien and Scandrick, releasing them so their salaries are not guaranteed for the entire season and trying to bring them back by Week 2. It's just a guess on Ford because he hasn't been there but he's got a reputation as a good special teams player and Dave Fipp may have pushed there. LeBlanc insists he should be ready relative early so the guess is he makes the first 53 and then is placed on IR with the plan to bring him back, opening the door for Scandrick.
Specialists (3): Jake Elliott, Cameron Johnston, Rick Lovato
Elliott hasn't been consistent enough but the Eagles decided against camp competition and that's probably the right path. The last thing you want to do is mess with a kicker's psyche.
Practice Squad: Josh Adams, Greg Ward, Carlton Agudosi, Alex Ellis, Sua Opeta, Brett Toth, T.J. Edwards, Kevin Wilkins, Josh Hawkins, Deiondre' Hall