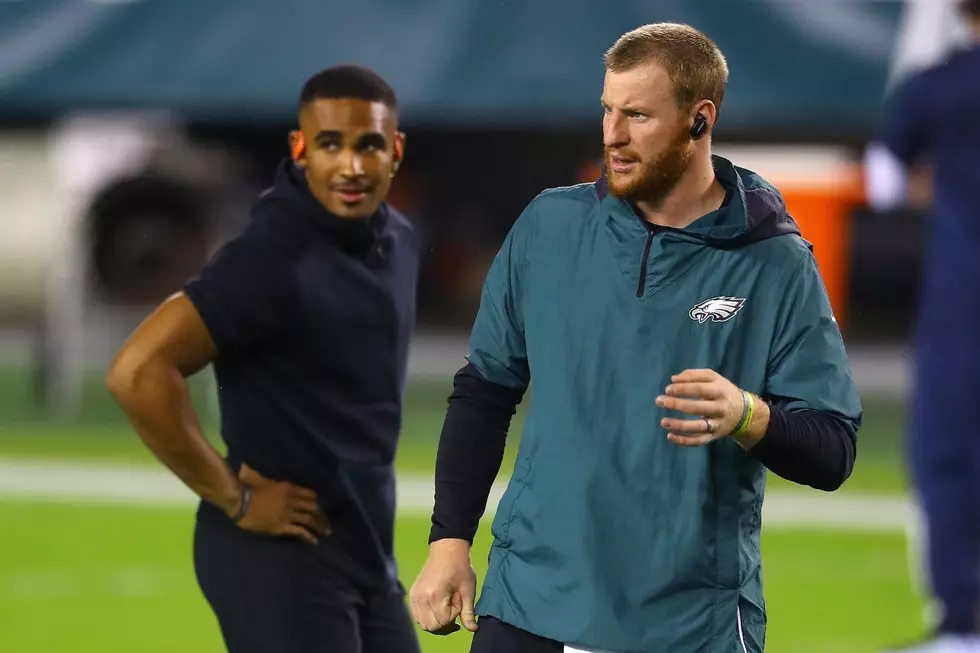 Eagles Head Coach Touching Base with Players on Roster
(Photo by Mitchell Leff/Getty Images)
New Eagles head coach Nick Sirianni has a big decision to make in his first attempt at leading an NFL franchise.
Who will his quarterback be for the 2021 season.
By most accounts the Eagles would like to keep Carson Wentz and have Sirianni work with him.  He has been a quarterback coach in the league and has worked with guys like Andrew Luck and Phillip Rivers during his coaching career.
Now he has both Wentz and Jalen Hurts at his disposal, and is focusing on which one should be his starter in 2021, along with filling at his coaching staff during his first week on the job.
"One player he has already touched base with is Carson Wentz," explained Mike Garafolo on the NFL Network.
Garafolo reported that during the Eagles coaching search, the front office told candidates that they believe that Wentz can be salvaged, and they want him to continue being the teams quarterback moving forward.
"As of this morning, no trade request from Carson Wentz," Garafolo stated.
Enter your number to get our free mobile app
The feeling here is that Wentz feels comfortable with the decision to hire Sirianni, who spent the past three years working with Frank Reich in Indianapolis.  They also brought in Colts passing game specialist Kevin Patullo as passing game coordinator.
The Colts finished 11th in passing yards per game and ninth in yards per attempt last year.
Its hard to believe that Wentz went from leading the Eagles to the playoffs for three straight seasons to leading the league in interceptions (15) and sacks(50) while playing in just 12 games this season, completing just 57.4% of his passes.
However the Eagles feel Sirianni is the guy that can get him back to the player he once was.
Eagles Head Coaching Wins All-Time