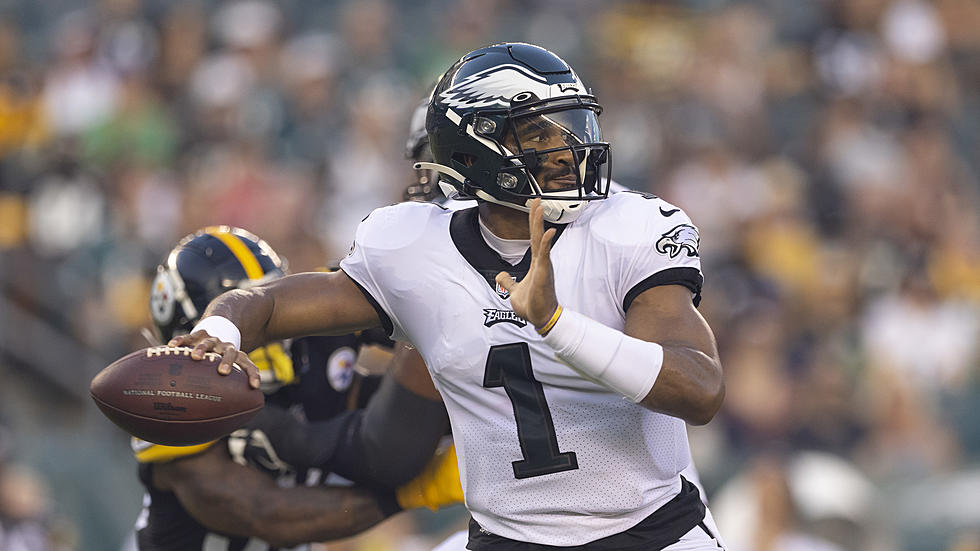 Eagles Noncommittal on Jalen Hurts Playing in Preseason Finale
Getty Images
Philadelphia Eagles head coach Nick Sirianni wouldn't say whether or not quarterback Jalen Hurts would play in the team's preseason finale against the Jets on Friday.
"That's going to be something we evaluate every day," Sirianni said when asked of Hurts availability "We're going to get two – we had a great practice today, a very high-energy, competitive practice today in our indoor facility that we just got out of."
The quarterback missed Thursday night's 35-0 loss to the New England Patriots after feeling pain in his abdomen prior to the start of the preseason game.
Hurts was 3-for-7 for 54 yards in the air and had four yards on the ground via one rush in the Eagles preseason opener against Pittsburgh.
In his absence, the Eagles managed to get shutout in their preseason game against New England with Joe Flacco going 10-for-17 for 83 yards and one interception. Nick Mullens didn't fare much better, going 5-of-10 for 27 yards and a pick.
While the Eagles have yet to name Hurts their official starter for their Week 1 game against the Atlanta Falcons, it is pretty apparent that he will be their signal-caller when the regular season gets underway.
"We get two practices against the Jets," Sirianni said when asked if he had seen enough from Hurts without him playing in that final game.
"I've said before, those are like games. Those intersquad practices are like games, so he is going to be able to get two more there. I'm pretty confident that we'll get a lot of good work against the Jets."
Look Back at Past Philadelphia Eagles' Uniforms
We have your look back over the decades of Eagles' uniforms.