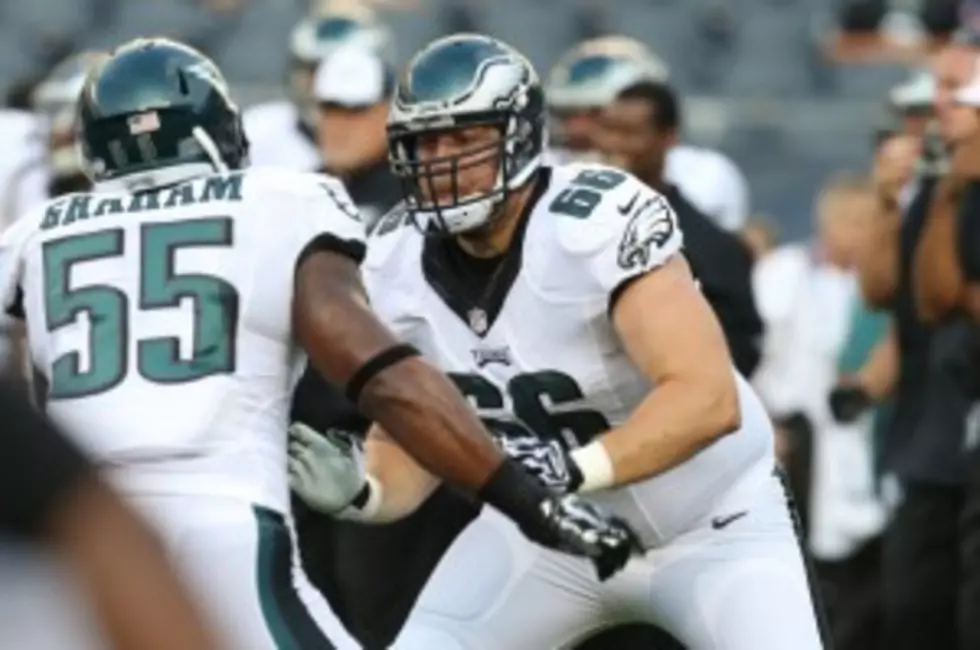 Eagles Place Andrew Gardner on I.R.
Andrew Gardner #66 of the Philadelphia Eagles warms up prior to a preseason game. (Photo by John Konstantaras/Getty Images)
Yesterday when asked about the injury to starting right guard Andrew Gardner, Chip Kelly offered virtually nothing on the extent of his foot that left him walking out of MetLife Stadium on crutches following the Week 3 win over the Jets.
"I'll go meet with the trainer after this," is all Kelly offered when asked about the extent of Gardner's injury.  "I know he went out of the game, and we'll see what happens when I get back and meet with Chris [Director of Sports Medicine/Head Athletic Trainer Chris Peduzzi] and Doc [Head Team Physician/Head Orthopedic Surgeon Dr. Peter DeLuca, M.D.] after this."
Today, the Eagles placed Gardner of the injured reserve, with a Lisfranc injury in his foot, ending his season.
Julian Vandervelde was signed in a corresponding move and Matt Tobin replaced him in the lineup on Sunday.  But will he be the new starting right tackle?  Again Kelly offered very little on the subject.
"We haven't discussed anything because we don't know what Gardner's status is," Kelly said on Monday.
Gardner just signed a three-year contract extension during the preseason where he seemingly won the starting right guard position with ease over Tobin, who will now have to prove he can be a capable NFL guard.  On Sunday, when left tackle Jason Peters left the game, it was Tobin who swung out to left tackle instead of locking him in at right guard - where Dennis Kelly replaced him.