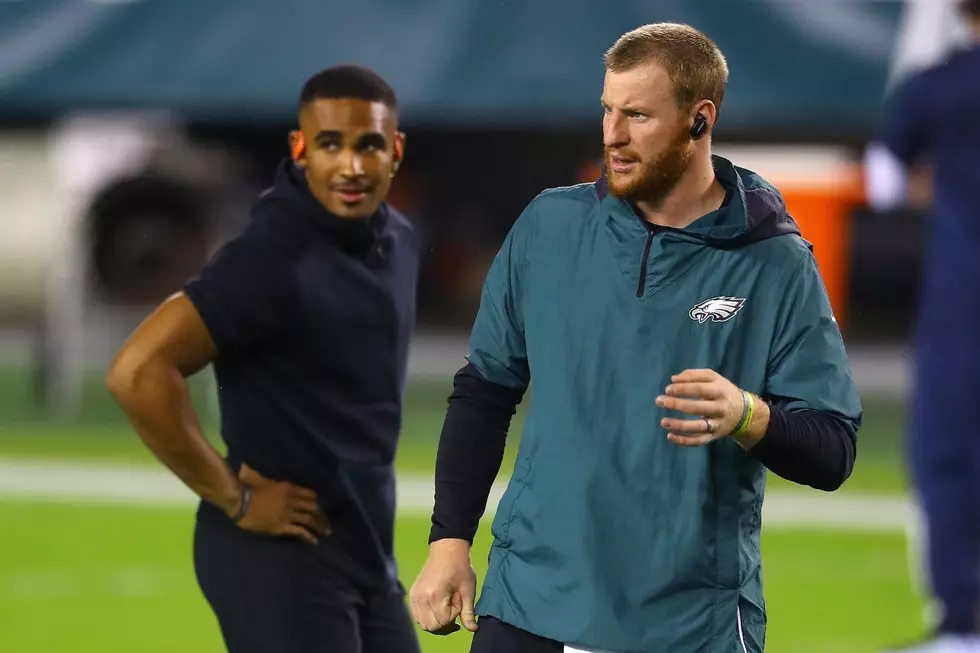 Eagles' Still have Belief in Carson Wentz
(Photo by Mitchell Leff/Getty Images)
While Carson Wentz won't be the Eagles start this Sunday, he might lead them once the 2021 season opens according to multiple reports. Rookie Jalen Hurts will start today, but the team is not closing the door on Wentz returning to that role next season.
While Wentz is being replaced as starter in favor of Hurts by head coach Doug Pederson this week, there are many strong voices in the organization who believe Wentz can still be a very good quarterback in the NFL. They have invested so much in him -- two massive trades, a No. 2 pick, a four-year, $128 million extension -- and don't think he's nearly done being a starter.
Those people in the building believe that Carson simply needs a deep breath, a reboot and a little time to get back to what he was. They anticipate Wentz returning to the forefront. They believe he's fixable.
Doug Pederson turned to Hurts with his offense looking for a spark.  When the team turned to him last week in Green Bay, Hurts provide that. The second-round pick completed 5-of-12 passes for 109 yards, one touchdown and an interception, adding five carries for 29 additional yards.
But that spark used to come from Wentz, who has provided plenty of big plays during his time as the Eagles starting signal-caller, and there are many inside the NovaCare Center that believe he can get back to being that player.
Despite his struggles throughout this season, the Eagles still believe in Wentz, 27, as a player and a person, and they think he can return as the type of standout quarterback he once was, according to team sources.

"None of this changes the belief that people have in Carson," one team source insisted to ESPN this weekend.
So while Hurts will get the start today, and if he plays well enough, its likely he will get the call to start the final four weeks of this season.
What happens next is anyone's guess, but the Eagles have limited options due to Wentz exorbitant cap-hit, and they need to make that decision fairly soon after this season ends.
"The Eagles intend on keeping Carson Wentz, but they are on the clock," Schefter said on NFL Countdown. "There are some decisions that loom in the future, they plan on keeping him."
If Wentz is on the roster on the third day of the 2021 league year -- his $22 million base salary for 2022 becomes fully guaranteed and his 2021 roster bonus of $10 million also is paid out.
Regardless of what happens the Eagles have put themselves into this position.  It could play out a variety of ways, but none of them seem to be enviable at this stage.
Sometimes you reap what you sow.
While Carson Wentz won't be the
#Eagles
starter today, he could lead them once the 2021 season opens according to reports.
While rookie Jalen Hurts will start today, then team is not closing the door on Wentz returning to that role next season.
Eagles QBs Drafted Outisde Of The First Round Since 2000