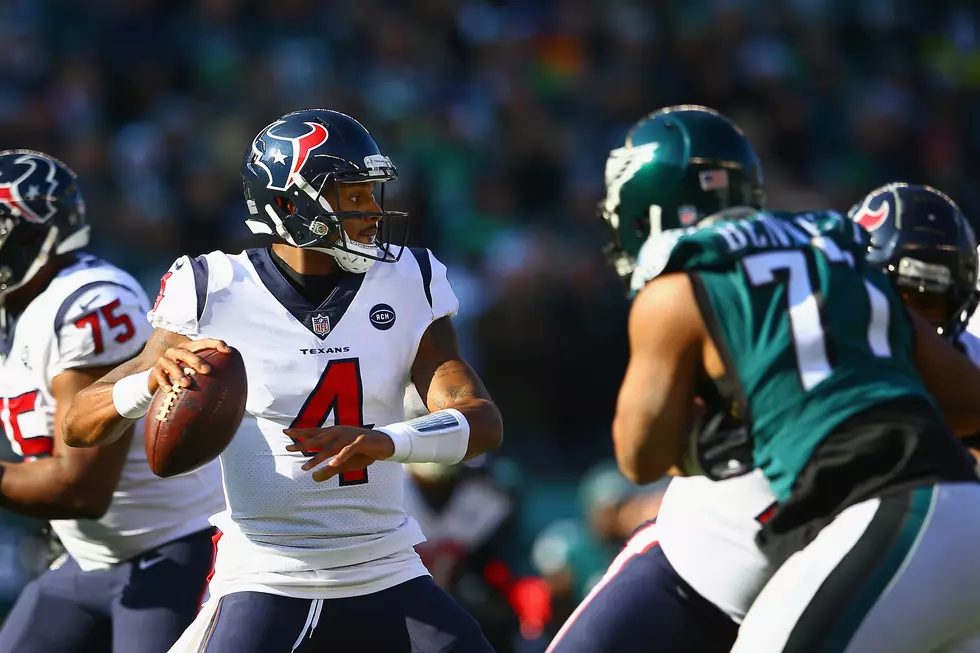 Eagles Still in Play for Deshaun Watson?
Getty Images
While the Eagles appear to be ready to move forward with Jalen Hurts under-center in 2021, there is still the possibility they could go in another direction before he start of the season.
According to Pro Football Talk, the Eagles are a team to keep an eye on when it comes to a Deshaun Watson trade.
there's one team to watch closely as a potential destination.

The Eagles.

Yes, the Eagles. They have Jalen Hurts and Joe Flacco, but Deshaun Watson has proven that he's a franchise quarterback, and one of the best players in the NFL. As one league source explains it, the Eagles are sufficiently determined to upgrade the team that they would pursue Watson, if the window opens for doing so.
Watson, of course, is in the middle of some major hot water with 22 women suing Watson for sexual assault.  While Watson has denied all the allegations, the Houston Police Department has opened an investigation into the allegations against the Houston quarterback, so this situation is far from over.
Two of the 22 women suing Deshaun Watson for sexual assault went public on Tuesday. On Friday, per multiple reports, a judge ordered that the name of one of the 22 women who have filed lawsuits must be made public.
Acquiring Watson would be a public relations nightmare for the Eagles but they have been through something like this before, when they signed Mike Vick before the 2009 season. Vick had spent time in prison for his role in a dog fighting ring.
Watson has stated he will never play again for the Texans, but as of now, its very unclear if he will ever play again - anywhere.
Then comes the question of where he plays next. Whenever that happens, the Eagles could emerge as a real possibility.
However it appears if he is cleared to play, the Eagles will be a suitor.
Eagles QBs Drafted Outisde Of The First Round Since 2000
Eagles Head Coaching Wins All-Time