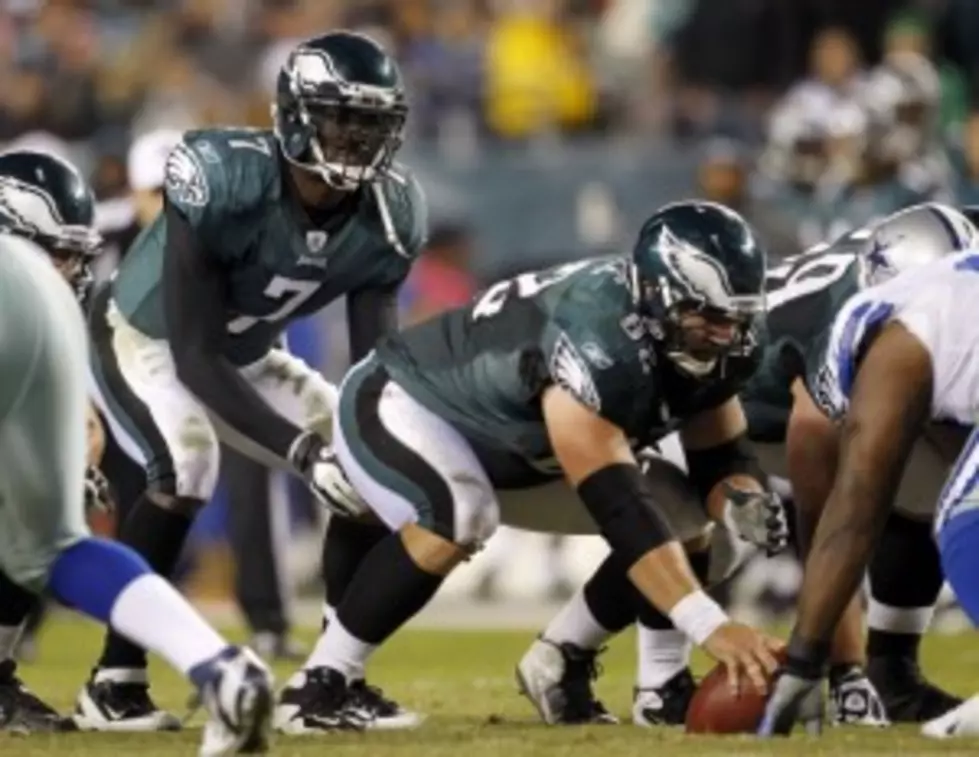 Eagles Win Game; Lose Jason Kelce, King Dunlap
Jason Kelce left Sunday's game against the Ravens with a knee sprain and did not return - chances are he might not return for awhile if at all.
Today it was reveled that Kelce sustained a partial ACL tear and full MCL tear.  Kelce was blocking Terrence Cody during the third quarter of Sunday's win over the Ravens when Ed Reed ran into his right knee
"Yeah, I don't know who it was, but whoever it was, [RB LeSean McCoy] made him miss and it just so happened that right when I was putting my foot down and planting, they were going headfirst into my knee," Kelce explained about the play that took him out of action.
Losing Kelce would be a huge loss, the center is the anchor of the offensive line, making all the line calls.
Kelce made his 18th consecutive start against the Ravens and had been one of the Eagles most reliable linemen until he got hurt.
He'll have an MRI exam on Monday and that hope is that it won't reveal a torn anterior cruciate ligament in his knee. It's an injury that sometimes takes a full year for recovery, so Kelce would pretty much miss the rest of the season.
The Eagles have not ruled Kelce out for the season just yet. He plans to get a scope and see if his knee will be ready for action in 4-6 weeks. In the meantime, inexperienced Dallas Reynolds will be making the calls from the pivot spot.
"Dallas [Reynolds] stepped in and did a great job," Mike Vick said.
"He did well," Kelce said about Reynolds.  "It didn't seem like he got pushed back very much and it seemed like he was making the right calls. Dallas is a very good player. He was good for us in training camp and he'll get a good opportunity here, hopefully barring how serious the injury is for me, to prove himself."
Reynolds, a third-year pro, replaced Kelce at center, and free agent pick-up Demetress bell took King Dunlap's spot at left tackle. The Eagles finished the game with just five healthy offensive linemen.
"I actually went over and talked to the defensive line about that," admitted Andy Reid.  "I was going to pick one of those guys. I would have started with the oldest and the heaviest one."
"It says a lot for the guys coming off the sideline and goes to show that they've been doing a great job during the week of studying and paying attention and understand the concept that at any given moment you can be out on the field and they stepped in," Vick added.
Reynolds appeared in zero career games before today, presumably becomes the starting center. Bell will start if Dunlap can't go with Dennis Kelly probably being activated for the game though both have been inactive one game each this season.
Dunlap is not expected to play in Week three.
Both Reynolds and Bell played well in relief today.
"I have to go back and look at the film and obviously there are things that we're going to have to correct but those guys did a tremendous job out there for us today," said Vick.
Reynolds  should benefit from working with Vick all week in practice. The Eagles (2-0) visit Arizona (2-0) on Sunday with the NFC conference standings and early factor.
Injuries have plagued the Eagles' already during this young sseason. The team lost not only Kelce and Dunlap during the game, but also wide out Jeremy Maclin.
Philadelphia returned basically the same offensive line from 2011. Jason Peters, a five-time Pro Bowler and four time all-pro left tackle, was lost during the off-season when he sustained an Achilles injury.
The Eagles acquired left tackle Bell as a free agent from Buffalo to replace Peters. Bell started slow and struggled in camp and was inactive in week one, but played well in relief of Dunlap.
Judging by the sound of things Kelce doesn't sound very optimistic about a quick return.
"It doesn't hurt that much right now, but it doesn't feel like I can go out and play a game today; I'll say that, Kelce said.  I mean, that's what most of the rolling around and everything was. Not even so much of it was pain as it is just shock and fear that something serious is wrong."
The 24-year-old Kelce was drafted by the Eagles in 2011 draft in the sixth round and started every game as a rookie out of Cincinnati. He became a starter right away beating out Jamal Jackson last season.