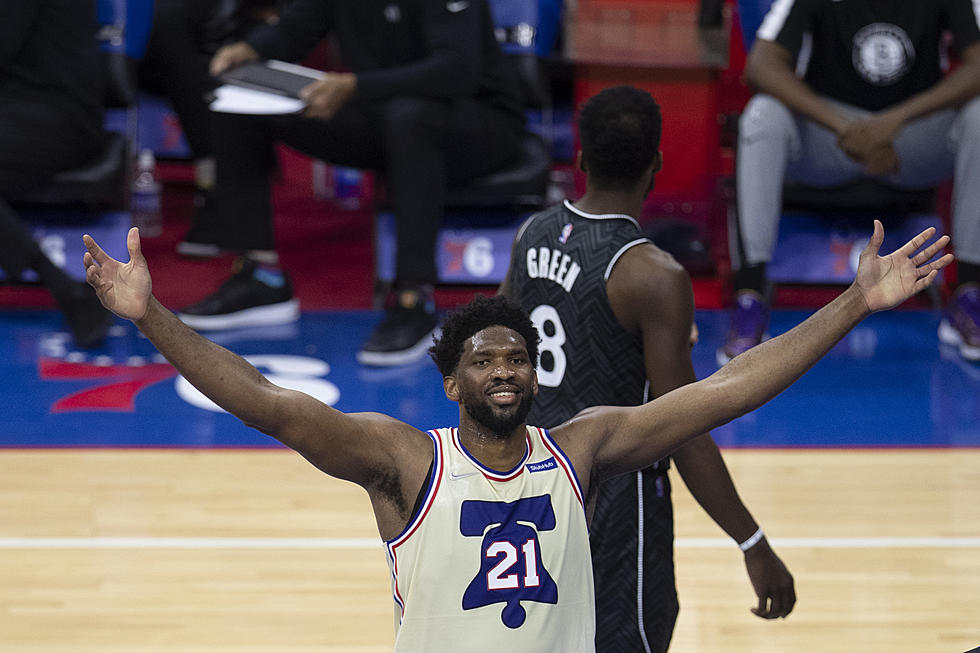 Embiid Dominating, Harris' Knee, More Takeaways from Win vs. Nets
Mitchell Leff, Getty Images
What many thought would be a marquee matchup turned out to be a dud as the Brooklyn Nets were without All-Stars James Harden, Kevin Durant, LaMarcus Aldridge (who abruptly retired Thursday because of a heart condition), and Blake Griffin.
Still, the Sixers beat the Nets Wednesday, winning the season series against Brooklyn and pulling ahead by a full game for the top spot in the East. The ending wasn't pretty, but you don't get style points in the NBA.
Here are a few takeaways from Wednesday night's win.
Embiid … Embiiding
Joel Embiid looked a little off in the first half. Early on, it appeared a couple calls didn't go his way against DeAndre Jordan. Embiid also didn't look like he was moving that well – possibly because of the bulky brace he's still wearing on his left knee.
With that said, Embiid still managed to record 21 points before halftime. He's recorded 14 20-point first halves this season, tops in the NBA. He seemed to get in a groove late in the second quarter, finally baiting Jordan into three fouls in quick succession.
He carried that over into the third where he looked his MVP self. Head coach Steve Nash opted to keep allowing Jordan to play Embiid 1-on-1 and the results were what you'd expect. Embiid poured in 16 of his 39 points in the period. It culminated with Embiid hitting an absolute circus shot for an and-one against Jordan.
Embiid did his usual celebratory gyration and gestured to the crowd to get louder. It was clear Embiid was feeling much better.
"Everything I was throwing up [in the first half] just felt slow – no motion or no rhythm in it," Embiid said. "That start of the third was huge for me. Just like the Dallas game, just coming out and doing everything to try to put them away. But as the game went on, especially in that third quarter, I felt a little better."
While Embiid and the Sixers managed to build a lead as large as 22, they clearly took their foot off the gas far too early. With Embiid and the rest of the starters sitting comfortably, Brooklyn's bench managed to make serious inroads.
Doc Rivers was forced to go back to his starters late in the game and the results weren't pretty. The Nets' all-hustle lineup was full of life and the Sixers' starting unit was flat. They aggressively double teamed Embiid and the Sixers weren't up for the challenge.
Both Rivers and Embiid didn't take much from the "weird" ending and were just happy to come away with a win.
"I'm not going to overanalyze this game," Rivers said. "We've been unbelievable against double teams all year. We had been great [before for the fourth quarter] tonight when they did it.
"But when you take guys out like Joel and Ben [Simmons], they think that they're not going to play anymore – and they should not have to – it was hard for those guys to get it going. You could see that. It was just one of those games."
Why did Tobias Harris sit to close the game?
While Brooklyn ate away at the Sixers' lead, Tobias Harris did not join the starting unit in crunch time. Harris, who missed Saturday night's win in Oklahoma City, is still dealing with an issue in his right knee.
Rivers didn't think it was worth chancing further injury.
"He was limping around," Rivers said. "I felt we could win the game without him, didn't want to take a chance – and we did."
Harris didn't seem overly concerned after the game. He's hoping a little rest and treatment will help the pain subside.
"I've been having a little aching in my knee," Harris said, "so that limited me in the fourth quarter. Just kind of a day-by-day thing. I'll give myself as much rest and take proper care of my knee treatment-wise so I can feel better.
"But even going into today's game it was pretty much 50-50 if I was going to be able to go."
The injury puts a slight damper on what was an excellent night for Harris. While Embiid and Kyrie Irving stole the show, Harris was a tough guard for the Nets for most of the night. Harris scored 17 of his 26 points in the first half as Brooklyn struggled to find the right matchup against him.
Harris has a chance to be a real X-factor for the Sixers in the playoffs, especially against Brooklyn. Harris has scored 20-plus points 29 times this season and the Sixers are 23-6 in those games, per StatHead.
Corralling Kyrie; Transition D
Speaking of Irving, he was spectacular as the only Nets All-Star on the floor. Both Ben Simmons and Matisse Thybulle struggled against Irving's deft ball handling and ridiculous shot-making ability. Irving had 23 points and seven assists in the first half, keeping the Nets in the game early.
Simmons was better – as was the team's help defense – against Irving in the second half, but the explosive nature in which he can score is scary. Now, add Harden and Durant to that mix. If these teams meet in the postseason, Rivers will be in for a sleepless night or two.
While the Sixers as a team have been excellent defensively (second in the NBA in defensive rating), most of that is a result of being stingy in the half-court. For whatever reasons, the Sixers have been abysmal in transition. They're giving up 15.3 fast break points a game. The only team worse is the 14-41 Rockets at 15.4.
Rivers harped on that postgame and offered a little insight into why teams seem to be attacking them so much in transition.
"I don't know that I've ever seen anyone second in defense and 29th and 30th all year in transition D," Rivers said. "The two don't really even go together. It's funny, [DeAndre Jordan] mentioned, 'Man, your guys' half-court defense is amazing. We got to score quick.' And that's what teams think so we have to get better at it."
You're going to give up points to a team like the Nets with all their firepower, but you have to at least make them earn it. Giving up easy points, especially in a playoff series, could have disastrous results.
Sixers First-Round Picks Since 2000