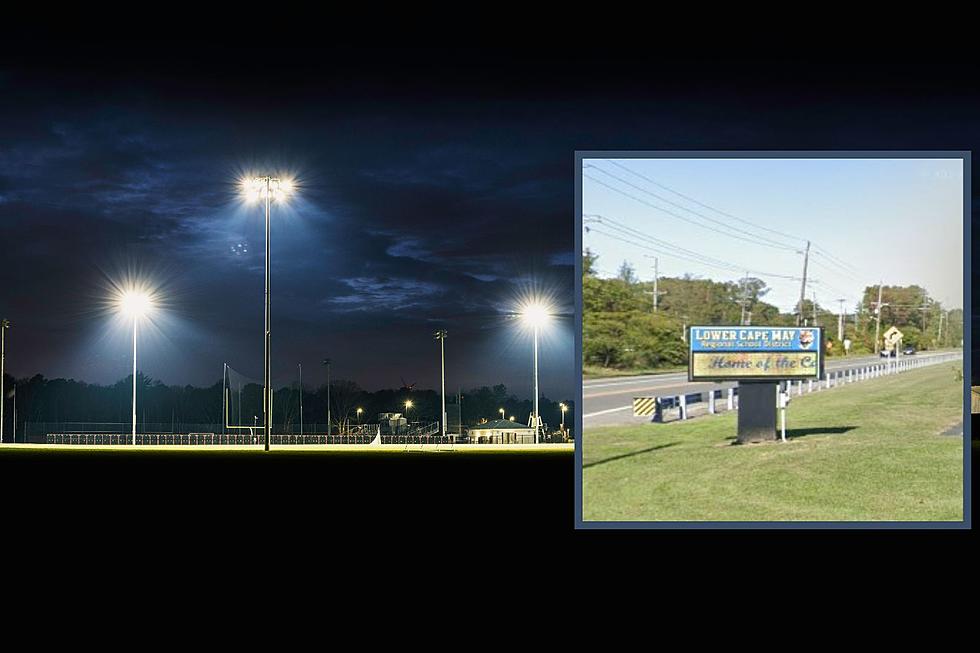 Extra Points: High School Playoff System Needs Revamping
Photos from Canva and Google Maps
y DAVID WEINBERG
LOWER TOWNSHIP - Lower Cape May Regional High School's football team gathered under the scoreboard at Steve Steger Memorial Field last Saturday and celebrated the program's first championship in 41 years.
A 48-2 victory over Gateway Regional left the Caper Tigers with a 7-1 record that included a 4-0 mark in the West Jersey Football League's Royal Division.  It was team's first title since it won the Cape-Atlantic League in 1982 under coach Bill Garrison with standouts such as Bob Bonner (wide receiver), the late Bob Chadwick (quarterback), David Craig (running back), the late Will Mendo (defensive back), Ed Sherretta, Jr. (wide receiver) and others.
"I couldn't be prouder of them," Lower coach Lance Bailey told CapeAtlanticLive.com. "This is a great moment for us, especially the seniors. We had a vision together. We asked a lot of them and they've done it and they've done it above and beyond. They're a great group of leaders and they deserve it."
What a difference a decade makes - Ten years ago, Lower Cape May's football team was on the verge of collapse.  A lack of depth and size, some coaching troubles, and a dearth of talent had wreaked havoc on the program.  From 2012-15, Lower went a combined 3-36.  The low point came in 2013, when the Caper Tigers went 0-9, were outscored by a combined 245-32, and had to forfeit its last four games because of safety concerns.
They were one of the programs that benefited greatly from the creation of the West Jersey Football League in 2018, a massive super conference that currently consists of 94 teams throughout South Jersey.  There is realignment every two years, with divisions rearranged to include schools with similar enrollment sizes and abilities.
Lower went 6-4 in 2018, its first winning record since 2010.  It struggled for a few seasons before hitting its stride last year with a 7-3 mark.
This year's team has been impressive.  Senior two-way standouts Isiah Carr-Wing (running back/linebacker), Hunter Ray (quarterback/defensive back), and Junior FBS recruit Braswell Thomas (wide receiver/defensive back) helped the Caper Tigers outscore their opponents 321-63.  They scored 40 or more points five times while posting three shutouts plus allowing seven points or less in three other games.
With the success has come controversy.
Despite its impressive record and division title, Lower Cape May was not one of the 16 teams to qualify for the South Jersey Group II playoffs, according to the United Power Ranking system used by the New Jersey State Interscholastic Athletic Association, the state's governing body for high school sports.
Under the system, the Opponent Strength Index (OPI) accounts for 60 percent of a school's UPR while traditional power points are used for the other 40 percent.  Won/loss records apparently carry little value in the complex formula.  For example, Salem (2-7), Raritan (2-6) and Wall Township (2-6) are among the 16 playoff teams in their respective groups.  Raritan is a Group II school like Lower Cape May.
The caveat is that undefeated teams with at least eight wins automatically qualify. Lower would have been 8-0 if not for a 26-21 loss to Clayton, a game in which the Caper Tigers led 21-6 at halftime.
The system needs to be tweaked. Teams should be required to have at least a .500 record to qualify. Additionally, division champions should be guaranteed playoff berths.
Also,  the WJFL needs to give more weight to geography when realigning the divisions. For example, Lower and Middle should be in the same division every season.  That would eliminate the issues that prevented the two teams from playing the Anchor Bowl this season.
Personally, I wouldn't mind if local football teams recreated the Cape-Atlantic League. The WJFL has been a great help for Lower and a number of other programs to regain respectability, but many games lack the excitement that a local rivalry offers.
"The whole process has been frustrating and disappointing," Bailey said. "It's a shame we didn't win that game (against Clayton), but one bad half of football the entire season shouldn't cost us a playoff spot. I'm hurt that this is the way it turned out. The kids worked too hard this season."
With a playoff berth no longer possible, Lower will focus on other goals.  For some ridiculous reason, the Caper Tigers are required to make a two-and-a-half hour drive to face Roselle Park (3-5) in a meaningless, Group II consolation game on Saturday.
Bailey indicated that he would like to play one or even two more games after that one in an effort to break the school record for wins in a season.  The current record is nine, which was set by the 1980 team.
"I'm leaving it up to the seniors," Bailey said. "If they want to be done after Saturday, we'll be done. If they want to keep playing, we'll keep playing."
If they keep playing, one of the games could be against Middle Township.  The teams were unable to reach an agreement to play during the regular season.  Opinions vary as to which school was at fault, but regardless, it would be a shame to see one of South Jersey's biggest rivalries fall by the wayside.
Of course, Middle Township is more focused on making waves in the playoffs.  The Panthers (7-2) are in the Group II field as the No. 6 seed and will face third-seeded Gloucester this weekend.  They are among 11 local teams in the playoffs, along with Atlantic City, Cedar Creek, Hammonton, Holy Spirit, Mainland Regional, Millville, Oakcrest, Ocean City, Pleasantville, and St. Augustine Prep.
Middle, led by coach Frank Riggitano, running backs Remi Rodriguez and Shaun Watkins, quarterback Mark Oliver, and wide receiver Mark Zarfati, qualified for the playoffs for the seventh straight year and have an excellent chance of winning the first playoff game in program history this weekend.
Should the Panthers come up short in the next few weeks, however, maybe the Anchor Bowl could still be played.  Thanksgiving Day would be perfect.
Most Accomplished South Jersey Male Athletes From Each High School