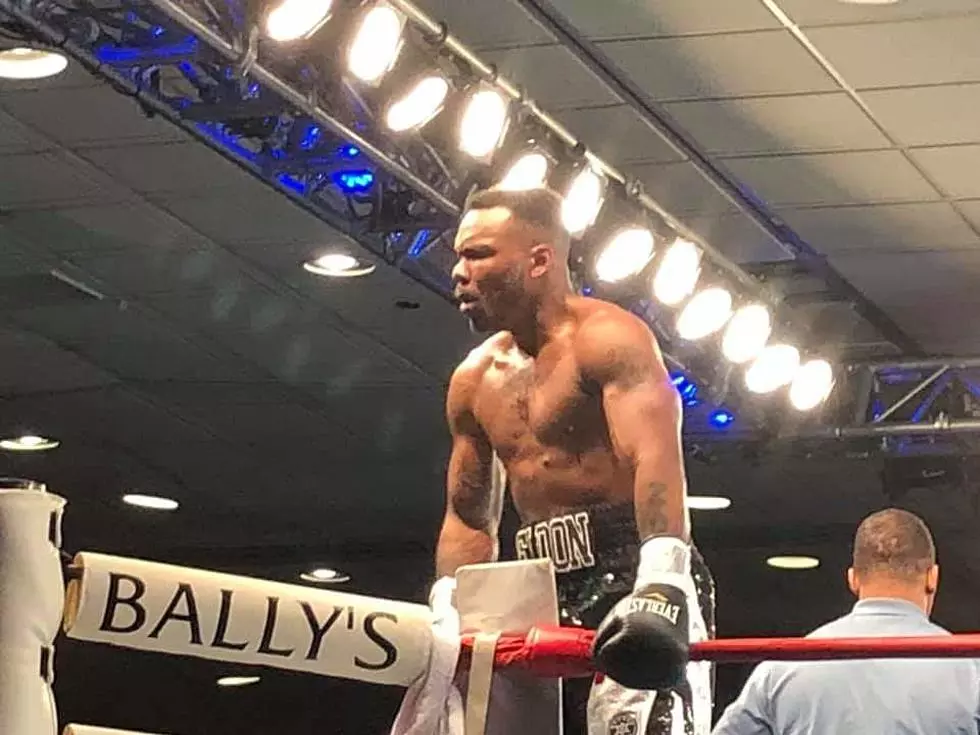 Extra Points: Local Boxer Isiah Seldon Primed for Big Fight Saturday
photo: Dave Weinberg
Atlantic City middleweight Isiah Seldon trained in Philadelphia for six weeks in preparation for Saturday's nationally televised fight against unbeaten prospect Joey Spencer at the Shrine Exposition Center in Los Angeles.
At the end of his camp, the 32-year-old celebrated by running up the "Rocky" steps of the Philadelphia Museum of Art, thrust his fists in the air and hummed, "Gonna Fly Now."
"I had my best training camp, by far," Seldon said. "I pushed myself to the absolute limit and I'm hoping it pays off on Saturday night. It has to. I'm 32 years old and there aren't going to be any more chances like this for me."
Enter your number to get our free mobile app
Seldon, the son of former WBA heavyweight champion Bruce Seldon, came up short in two other similar opportunities. He suffered a first-round knockout against Tyler Howard (19-0, 11 KOs) in 2018 and lost a controversial fight to Nikita Ababiy (10-0, 6 KOs) a year later.
Now comes an eight-round bout against Spencer (11-0, 8 KOs), a 20-year-old from Linden, Michigan who was in the fourth grade when Seldon made his professional debut in 2010 with a victory at Merighi's Savoy Inn in Buena Vista Township.
"Spencer is a good fighter," said Jim Kurtz, one of Seldon's co-managers. "But Isiah's the best opponent he's faced, by far. Isiah is ready for this moment. We left no stone unturned to get him ready for this and we're excited to see all his hard work come to fruition."
Seldon (14-3-1, 5 KOs) normally trains at the Atlantic City PAL with veteran trainer Bill Johnson, but it's been closed since last March due to Covid-19.
Kurtz, who serves as co-manager with David Dubinsky and Joe Thompson, set Seldon up with Philadelphia trainer Danny Davis, who previously worked with Philly boxers such as Hall of Famer Bernard Hopkins. Seldon, a 2006 Mainland Regional High School graduate from Somers Point, moved to Cherry Hill to be closer to the gym.
Intense, grueling workouts were followed by trips to Restore Hyper Wellness in Marlton, where he used cryotherapy, a hyperbaric chamber and compression therapy to recuperate.
He also visited with a sports psychologist in Philadelphia for help in dealing with the mental and emotional aspects of competing on a national stage, plus the extra pressure that comes with competing amidst Covid-19 restrictions.
"It helped me a lot," Seldon said.
Seldon flew to Los Angeles Wednesday and will be confined to his hotel room until Friday's weigh-in and Saturday's fight. Instead of being restricted to the food offered to the hotel, Dubinsky hired a chef to create freeze-packed menus that include steak, chicken and fish that can be heated in a microwave.
Only two people are permitted in a fighter's corner, so Dubinsky and Davis accompanied him to Los Angeles.
Compared to the challenges he's already faced and conquered, however, those should be a freeze-packed piece of cake.
Seldon has essentially been on his own since he was a teenager. During his junior and senior years at Mainland, he lived at Covenant House in Atlantic City, which is a shelter for homeless youth. Later, there were times when he sold drugs in order to make enough money to pay for a $60-a-night room at a budget motel on the Black Horse Pike. When that money ran out, he slept in abandoned cars or underneath the Atlantic City Boardwalk.
"It was a tough few years," Seldon said in an earlier interview. "I went through a lot of adversity."
Through the adversity, however, he demonstrated an ability to keep punching, both in and out of the ring.
About five years ago, his life and boxing career started to turn around.
He's 7-2-1 in his last 10 fights during that span, including a second-round TKO over Daryl Bunting in his most recent bout last March 7 at Bally's Atlantic City, a week before the coronavirus pandemic shut down the boxing industry in A.C.
Seldon has also been working as an electrician so he'll have a career after he leaves the ring.
Once in a while, he chats with his father, who moved from Atlantic City to Trenton a few months ago.
Saturday will be Bruce Seldon's 54th birthday.
"Winning on Saturday would be a nice birthday present for him," Isiah said.
It would even more for Isiah, however. He's been fighting for 11 years now and is due for a career-defining win.
If it happens, he might even run up the "Rocky" steps again.
PUNCHLINES: Seldon-Spencer is part of an eight-fight card promoted by Premier Boxing Champions. It will be the first of four fights televised on Fox, starting at 8 p.m. In the main event, IBF super-middleweight champion Caleb Plant (20-0, 12 KOs) will defend his title against former champ Caleb Truax (31-4-2, 19 KOs).
KEEP READING: Greater Atlantic City Area Athletes Who Played Games In NFL