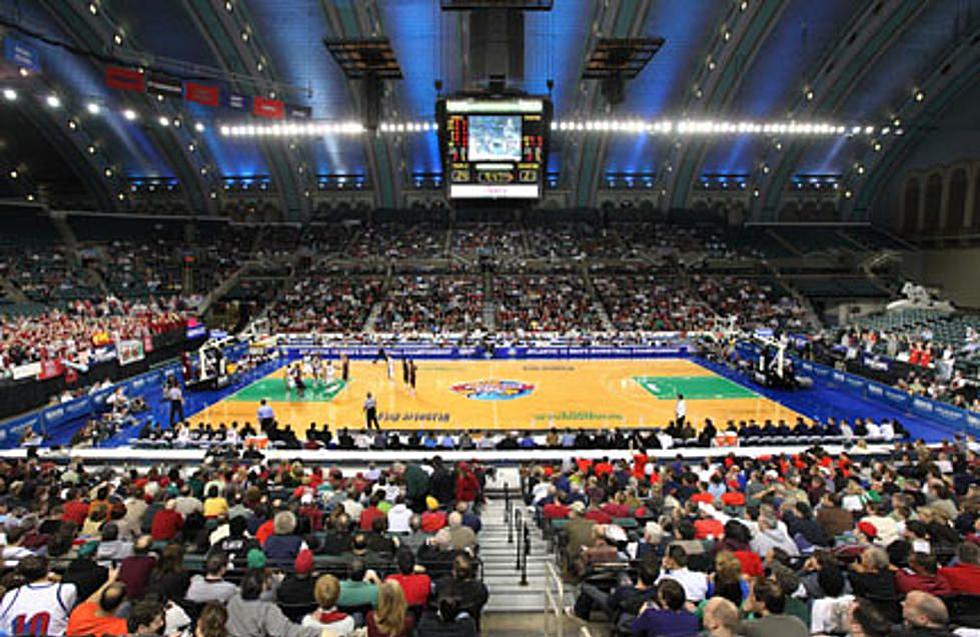 Extra Points: Local Sports Fill March Calendar in Atlantic City, NJ
Boardwalkhall.com
Thursday's first round of the New Jersey boys state wrestling championships marks the start of an exciting string of sports events in the area.
The three-day tournament at Jim Whelan Boardwalk Hall is part of a terrific schedule that also includes the first two rounds of the NCAA Division III men's basketball tournament at Stockton University on Friday and Saturday, followed by the MAAC men's and women's basketball tourney's at Boardwalk Hall next week.
Later this month, boxing returns to Boardwalk Hall for the first time in three years when Millville-based Rising Star Promotions holds a card at the Hall's Adrian Phillips Ballroom.
The state wrestling championships rank as one of my favorite events. Very few sports can match it in terms of drama, tension and excitement. Over 10,000 fans attend each of the sessions, filling the arena with cheers, screams and sometimes even boos over a controversial call while watching some of the best high school wrestlers in the country vie for victories.
Over the years, the tournament has featured legendary performances. In 2006, Delbarton's Mike Grey became New Jersey's first four-time state champion, a feat that earned him an induction into the Boardwalk Hall Hall of Fame. Two years later, Jackson Memorial's Scott Winston received a standing ovation from the crowd of 10,844 when the three-time state champ - he missed the tournament as a freshman because of an injury - became the first New Jersey grappler to go undefeated in his career (137-0) with at least 100 victories.
In 2013, South Plainfield's Anthony Ashnault joined Grey in the Hall of Fame. He became the state's first four-time undefeated state champion there, capping a 170-0 career with a win in the 135-pound state final. Bergen Catholic's Nick Suriano became the second wrestler to accomplish the feat, going 159-0 and winning four state titles in 2016.
Local college basketball fans can see some of the top Division III programs in the country by heading over to Stockton on Friday and Saturday for the first two rounds of the tournament. Stockton (24-4) will face Wilson (18-7)as part of a doubleheader Friday that also features Johns Hopkins (22-3) vs. Yeshiva (25-3). Johns Hopkins (10th), Yeshiva (19th) and Stockton (23rd) are all ranked in the top 25.
Stockton, coached by Scott Bittner, is making its first tournament appearance since 2016. The Ospreys feature a talented lineup that includes NJAC Player of the Year D.J. Campbell (Vineland), the conference's leading scorer at 19.5 points per game, and Defensive Player of the Year Kyion Flanders (Wildwood).
The MAAC tournament finally gets a chance to shine in Atlantic City on March 10-14. The tournament was first held on the Boardwalk in 2020, only to see it halted during the quarterfinals by the Covid-19 pandemic. Last year, it was held before a limited fan base. It recently signed a one-year extension to return to A.C. in 2023.
The men's bracket is headed by top seed Iona (24-5, 16-2), which is coached by legendary Rick Pitino. Fairfield (20-6, 17-1) is favored to win the women's tournament.
In addition, the MAAC Esports Championships will take place at Showboat Hotel Atlantic City on March 10-12. Teams will compete in League of Legends, Overwatch, Rocket League, and Super Smash Bros. Ultimate.
Boxing fans can get their fix on March 26 with the Rising Star card. It marks the first boxing show at Boardwalk Hall since April 13, 2019, when Claressa Shields beat Christina Hammer to become the undisputed women's middleweight champion. Maryland's Greg Outlaw (9-1, 4 KOs) will face New Orleans' Jonathan Martrel (12-0, 7 KOs) in the 10-round main event. Egg Harbor Township super-middleweight DeCarlo Perez (18-6-1, 6 KOs) is scheduled to fight on the undercard.
I plan to take in as many of the events as possible. In-between, I'm heading over to Atlantic City Convention Center for the Atlantic City Boat Show. I try to go to the show every year as an homage to my late father-in-law, Charles "Newt" Newton, who upon moving to the Cape May area in the 1960s spent his spare time fishing for flounder aboard the "Shirley E." - named after my late mother-in law - before passing away in 2008.
The closest I've come to owning a boat is a standup paddleboard, which I use to cruise across the Cape May Harbor and other local waterways as soon as the water temperature climbs above 55 degrees. During my sessions, I check out the names of the boats docked at the various marinas and always get a kick of them.
My favorite remains Tommy O'Hara's "Flipper N' Liquor." He's the owner of Uncle Bill's Pancake House and former owner of Sunset Liquors.
20 Sporting Events That Happened at Boardwalk Hall in Atlantic City