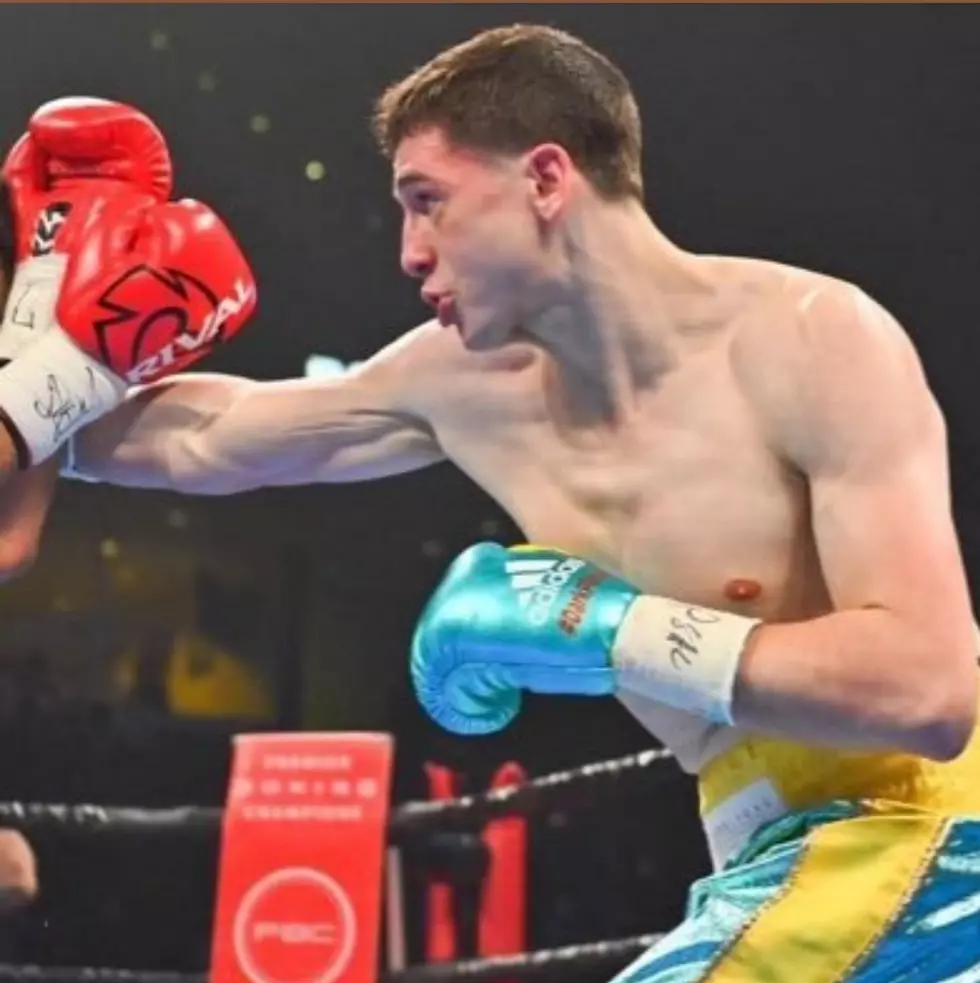 Extra Points: Millville, NJ Boxer LaManna Joins Special Group of Fighters
Photo: Twitter.com/cornflakeboxing
Millville middleweight boxer Thomas LaManna joined a special group of local fighters Friday night with a fourth-round TKO over Colombia's Francisco Cordero in the Dominican Republic.
The victory unofficially left LaManna (34-5-1, 14 KOs) tied with late Atlantic City lightweight Leavander Johnson for the third-most career wins among local boxers who competed in the last 50 years. Former Bridgeton light-heavyweight Richie Kates (44-6, 23 KOs) tops the list, followed by former Atlantic City heavyweight Bruce Seldon (40-8, 36 KOs).
LaManna, who is also the President of Rising Star Promotions, was supposed to headline a Rising Star card at Showboat Hotel Atlantic City on Friday, but the show was rescheduled for a later date. He accepted the bout against Cordero (41-16, 32 KOs) on 10 days' notice.
LaManna, 31, had little trouble controlling the fight, registering three knockdowns via body shots before the referee halted the scheduled eight-round bout in the fourth.
It marked LaManna's fourth straight win since losing via first-round knockout against Erislandy Lara in a WBA middleweight title fight on May 1, 2021 in Carson, California. As of last month, LaManna was ranked No. 7 in the WBA.
Johnson and Seldon are the only local fighters who have won world championships.
Johnson earned the IBF lightweight title with a seventh-round TKO over Stefano Zoff in Milan, Italty on June 17, 2005. He lost the belt to Jesus Chavez in Las Vegas three months later via 11th-round TKO and passed away on September 22, 2005 from injuries sustained in that fight.
Seldon, now 55, was the area's first world champion. He won the WBA heavyweight crown with a seventh-round TKO over Tony Tucker in Las Vegas on April 8, 1995. Seldon made one successful title defense, posting a 10th-round TKO over Joe Hipp in Las Vegas on August 19 of that year, before losing the belt via first-round knockout against Mike Tyson on September 7, 1996.
Seldon was so distraught over the loss that he dropped out of sight for eight years before resuming his career in 2004. He went 7-4 during his comeback before retiring in 2009.
Kates, 68, is widely regarded as the best fighter from Atlantic, Cape May and Cumberland Counties to not win a world title, though he came close. Kates, who now resides in Vineland, twice fought the late Victor Galindez for the WBA light-heavyweight crown, only to lose a pair of disputed 15-round decisions in 1975 and 1976, respectively.
20 Sporting Events That Happened at Boardwalk Hall in Atlantic City