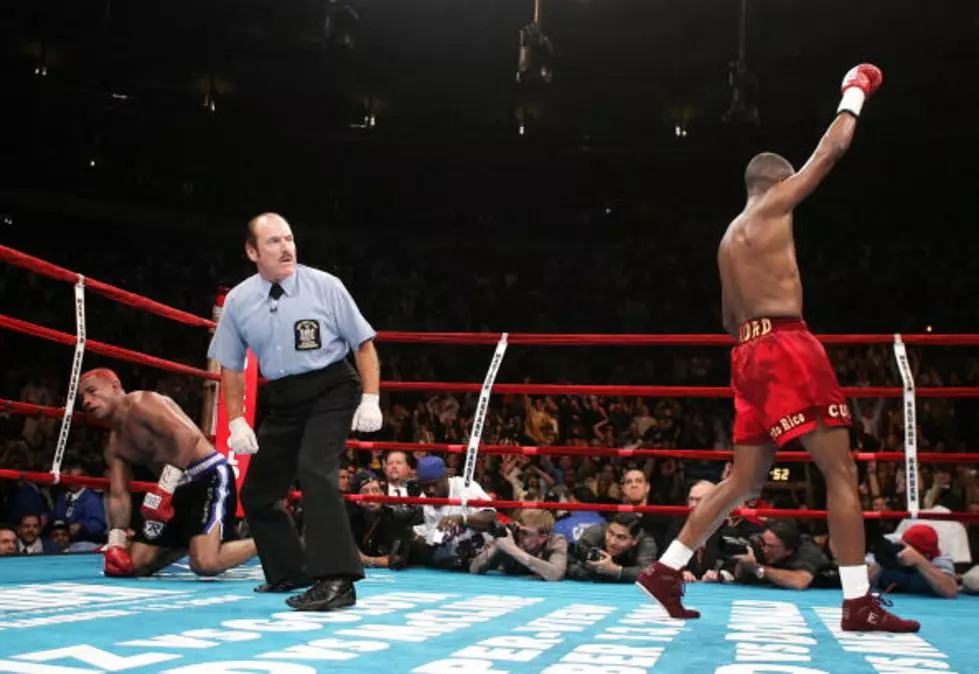 Extra Points: RIP to Ventnor, NJ Native and Boxing Referee Steve Smoger
Getty Images
Kelly Pavlik might never have become middleweight champion if not for local boxing referee Steve Smoger.
Smoger, a Ventnor resident who passed away Sunday after a lengthy illness, was the third man in the ring when Pavlik took on reigning 160-pound champ Jermain Taylor on September 29, 2007 at Atlantic City's Jim Whelan Boardwalk Hall.
Taylor seemed to take control of the fight in the second round, putting Pavlik on the canvas with a barrage of powerful punches. Pavlik struggled to his feet and endured some more punishment, but Smoger let the fight continue. Pavlik wound up winning the fight via seventh-round knockout.
"How many referees stop it in that second round and change (Pavlik's life)?" Smoger told me after the fight. "Probably nine out of 10. But I had worked with Kelly before. I saw him take some tremendous shots with (Edison) Miranda, and I knew he has great resilience."
Pavlik-Taylor I was among over 200 championship fights Smoger officiated over the course of a 35-year career as a professional referee. He was inducted into the International Boxing Hall of Fame in 2015 and was also a member of the inaugural Atlantic City Boxing Hall of Fame Class in 2017.
Smoger served as a referee from 1984 to 2018. He was 79, according to New Jersey State Athletic Control Board records.
"The Atlantic City Boxing Hall of Fame family mourns with so many from all around the world the passing of our dear friend, Hall of Famer and iconic boxing referee Steve Smoger," the ACBHOF said in a statement. "Our prayer and condolences go out to his wife and daughter during this time of great loss of such a great man."
Smoger got his start in boxing by working at the Police Athletic League in Atlantic City in the early 1970s.
He got his first taste of the professional level in the late 1970s, soon after casinos opened on the boardwalk and boxing became a staple in properties such Resorts, the Sands, Tropicana, Trump Plaza, Harrah's and Boardwalk Hall.
"One afternoon I was at the PAL, and (the late) Jersey Joe Walcott called," Smoger told SecondsOut.com in a 2004 interview. "He was chairman of the New Jersey State Boxing Commission, which was what they called it back then. There were fights scheduled for that night and Walcott said, 'We're short-handed. Is there anyone at the PAL who can help out as an inspector?"
He worked as an inspector for five years before being granted a provisional referee license in 1983. His first professional bout as a referee took place on June 12, 1984, when he oversaw a four-round bout between lightweights C.B. Mustafa and Mike Brown at Tropicana.
Smoger's first world title fight was a 15-round flyweight IBF championship tussle in South Korea in 1986 between Jong-Kwon Chung and Bi-Won Junge. Two years later, he worked his first big fight in Atlantic City, a WBA welterweight championship fight between champion Marlon Starling and Fujio Ozaki at Boardwalk Hall.
"A good friend and a good referee passed away (Sunday)," Hall of Fame promoter J Russell Peltz, a part-time Ventnor resident, wrote Monday on Facebook. "I think I first met Steve in 1980 at the 400-seat Rutland Room and Resorts International when ESPN began televising weekly fights from different venues around the country.
"Steve was 'old-school' and he'd let fights play out, giving each fighter a chance. He never was too quick to jump in and stop what may have appeared - on the outside - to be a one-sided match. He let fighters fight."
That approach sometimes produced controversy.
On Oct. 26, 2013, Smoger was the ref for Bernard Hopkins' 12-round, unanimous decision over Germany's Karo Murat at Boardwalk Hall. When the bell sounded to end the fight, the two were engaged in a shoving match. Smoger got between the two and slapped Murat in the face before following Hopkins to his corner and giving him a hug.
Smoger's final fight as a referee in Atlantic City took place at Boardwalk Hall's Adrian Phillips Ballroom on March 29, 2014 in a lightweight bout between Karim Mayfield and Thomas Dulorme, though he served as a referee for four more years in other states - Connecticut, Delaware, Missouri, and Virginia, among others - and even officiated world title fights in Belgium, Germany, Russia and Uruguay.
Smoger's last world championship appearance as a referee saw Denis Lebedev earn a second-round TKO over Victor Emilio Rodriguez in a cruiserweight unification fight in Moscow on May 21, 2016. His career as a referee ended after 1,051 professional bouts on May 11, 2018, when he worked a card at 2300 Arena in Philadelphia.
Perhaps it was fitting that Smoger's final fights occurred in a club-like atmosphere. Although known for high-profile bouts, Smoger put as much attention and effort into four-round undercard fights. Whether a boxer was 20-0 or 0-20, he treated them like a champion.
"Whenever I was involved with a card or with a fighter on someone else's card, I knew I would get a fair shake with Steve, whether we were friends or not," Peltz wrote. "That's all you can ask from any official in any sport."
-30-
20 Sporting Events That Happened at Boardwalk Hall in Atlantic City