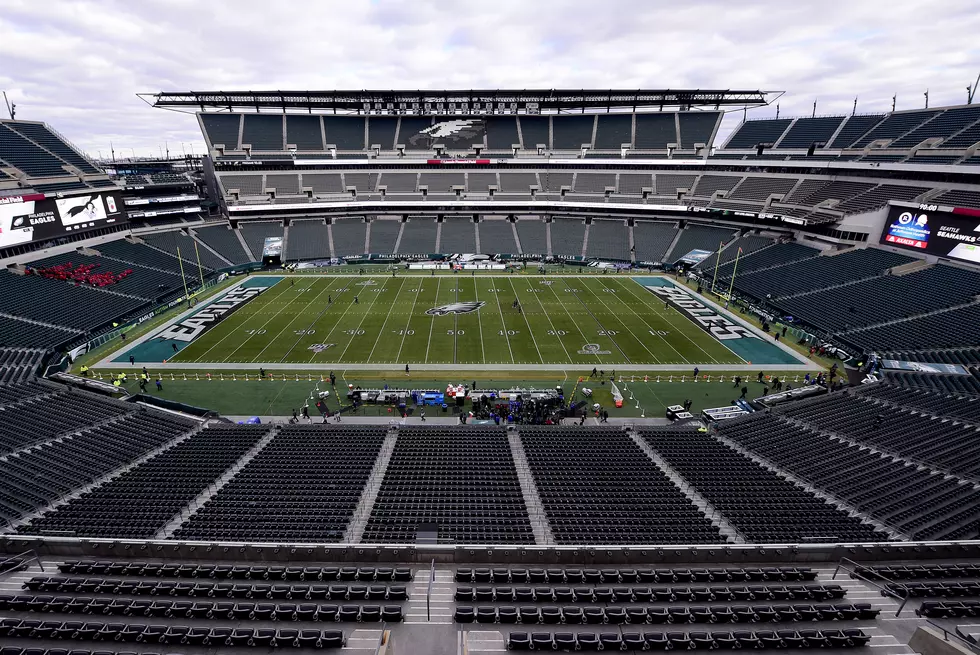 Extra Points: Some Local Fans Disappointed by Eagles' Decision to Ban Fans
Getty Images
The Eagles traditionally enjoy one of the NFL's best home-field advantages.
Enter your number to get our free mobile app
Their fans are extremely vocal and emotional. They fill Lincoln Financial Field with cheers for the Birds and boos for the opponents - they scream more colorful chants when the Cowboys are in town - but are also not afraid to vocalize their displeasure when the Eagles are struggling.
The Linc rocks when the Birds score a touchdown, prompting the crowd to sing "Fly Eagles Fly."
That won't be happening this season, at least not at first.
The team announced Thursday that no fans will be permitted for the first regular-season home game, which is scheduled for Sunday, Sept. 20 against the Los Angeles Rams, due to the Covid-19 pandemic.
"I'm disappointed," Atlantic City Mayor Marty Small, who is entering his 16th season as a season-ticket holder, said Thursday. "As Mayor, I understand safety is paramount, but Eagles football is my escape. After working hard all week, I look forward to it. When Sunday morning comes and I breathe that crisp fall air, I get excited. I can't wait to get to the Linc and slap fives with the people around me. I love singing 'Fly, Eagles, Fly' with 70,000 other fans."
The decision was made by state and city officials. The Eagles and Pittsburgh Steelers became the 21st and 22nd NFL teams to ban fans for at least the start of the regular season.
Earlier in the week, the Rams and Los Angeles Chargers, who will share a spanking, new stadium (SoFi Stadium) this season, announced they would not allow specators, as did the Minnesota Vikings and San Francisco 49ers.
The Giants and Jets will also be fanless at MetLife Stadium in East Rutherford.
"The nice thing about the process and conversations we've had with the state and city is they understand how much the fans mean to the Eagles and Steelers as well," Eagles President Don Smolenski said Thursday during a podcast on the team's web site. "We know how much energy is brought by the fans, how much they mean to the team and how much the team feeds off the fans. We know that's important for us and we're going to continue with conversations."
Not every stadium will be empty this season, however.
At least six teams - Dallas, Indianapolis, Jacksonville, Kansas City, Miami and Tampa Bay - will be allowing a certain percentage of fans into their respective arenas. The Dolphins will have a maximum of 13,000 fans (20 percent capacity) into Hard Rock Stadium for their Sept. 20 home opener against Buffalo. The Chiefs have set a limit of 22 percent (approximately 16,000 fans) for their early games at Arrowhead Stadium. The Colts and Jaguars are both setting the limit at 25 percent. The Cowboys have yet to determine a capacity limit for AT&T Stadium.
The Eagles play at Dallas on Dec. 27.
Smolenski indicated that the Linc may have fans at some point this season, pending the status of Covid-19 in the state.
Until then, fans will have to be content with watching on TV to root for the Birds.
For Small, that means gathering at his house with fellow fans such as Atlantic City High School boys basketball coach Gene Allen and Atlantic City native Ron Jordan. He has a special man cave in his home, which is called "Eagles Country."
Jordan, 86, has held season tickets for 54 years. At one point, he went almost 47 straight years without missing game.
"I missed the first game at the Vet in 1971 against the New York Jets because of a Nor'easter," Jordan said Thursday. "I didn't miss another one until the (regular-season finale) against Dallas in 2017. To be honest, I probably wasn't going to be able to go to any games this year because I don't get around as well as I used to. But it still hurts."
TACKLE THESE: Check Out the Best Uniforms In Each NFL Team's History