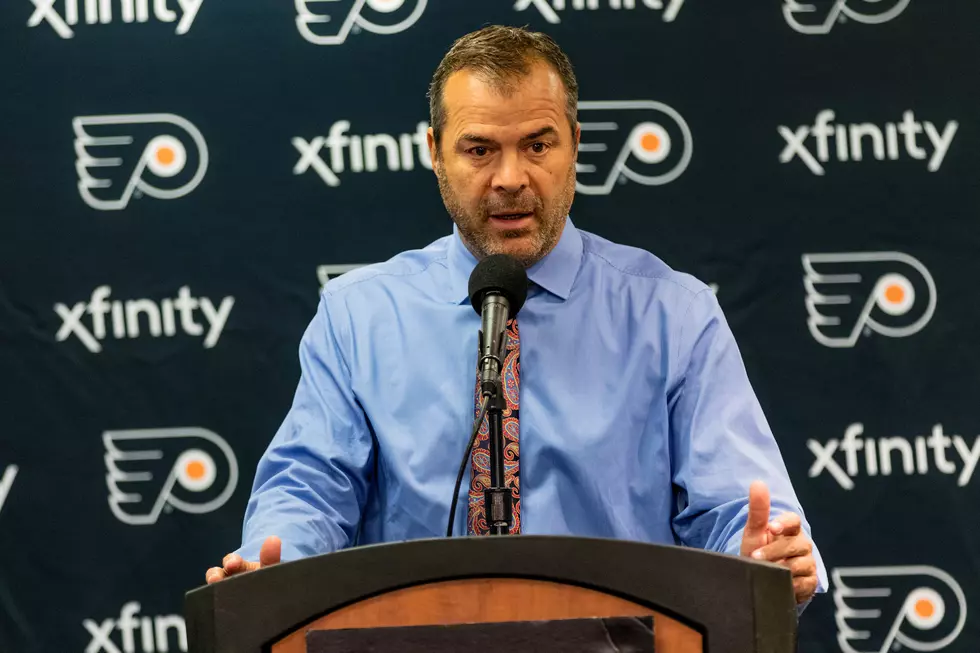 Flyers Announce 18 Cuts, Roster Down to 36
(Mike Kruce/97.3 ESPN)
The results in the preseason don't matter. So despite the Flyers 0-2-1 start, that's not the reason for the drastic change of plans made by head coach Alain Vigneault.
Vigneault rans lines for two groups on Friday as in every day before, but after practice, announced that the lines that were seen on Friday would not be the game group for Saturday.
"Usually, I give the veteran players three of the six or seven games that we play. I feel at this time that our players, veteran players, need more games than I originally planned," Vigneault said. "So I'm going from three that I planned to four, and some might even get five out of the seven.
"This group has been off for a while. In my mind, it just needs a little bit more preparation. And there's nothing better than game situations where, you know, games are on the line. We'll accelerate the process."
With that in mind, the Flyers announced the next round of cuts on Friday. In total, 18 players were cut, leaving 36 players remaining on the camp roster.
Five players were placed on waivers for purpose of reporting to the AHL's Lehigh Valley Phantoms -- forward Kyle Criscuolo and defensemen Tyler Wotherspoon, Nate Prosser, TJ Brennan and Reece Willcox. In addition, 13 players were assigned to Lehigh Valley. Isaac Ratcliffe headlines the group that will head to Phantoms camp starting next week. The 13 players are as follows:
Felix Sandstrom G
Cal O'Reilly C
Greg Carey LW
Maksim Sushko RW
Kirill Ustimenko G
Gerry Fitzgerald C
David Drake D
David Kase C
Pascal Laberge RW
Isaac Ratcliffe LW
Matthew Strome LW
Rob Michel D
Josh Couturier D
Vigneault said that cuts that were originally planned for Monday will now happen in the next 24 hours. By Saturday's game, there will be 18 forwards -- enough for six full lines -- 10 defensemen and three goalies left in camp, a total of 31 players not including injured players like Nolan Patrick and Tyler Pitlick. Vigneault added that it narrows the group down to players who legitimately have a shot at making the final roster and moves everyone into one practice group. The cuts made on Friday have the Flyers down to 36 overall on the roster, but with injured players a total of 32.
There are two confirmed participants in Saturday's game. Carter Hart is getting the start in goal and will play two periods. Travis Konecny is also going to make his preseason debut on Saturday. The rest of the lineup is to be determined, but will be known by Saturday morning's skate.
The decision followed a rather sloppy performance for a veteran-heavy lineup against the Bruins on Thursday, a 3-1 loss. It was the preseason debut for Claude Giroux, Sean Couturier, Ivan Provorov and Matt Niskanen.
The Flyers will get back on the ice on Saturday night to face the New York Rangers at 7 p.m. at Wells Fargo Center.