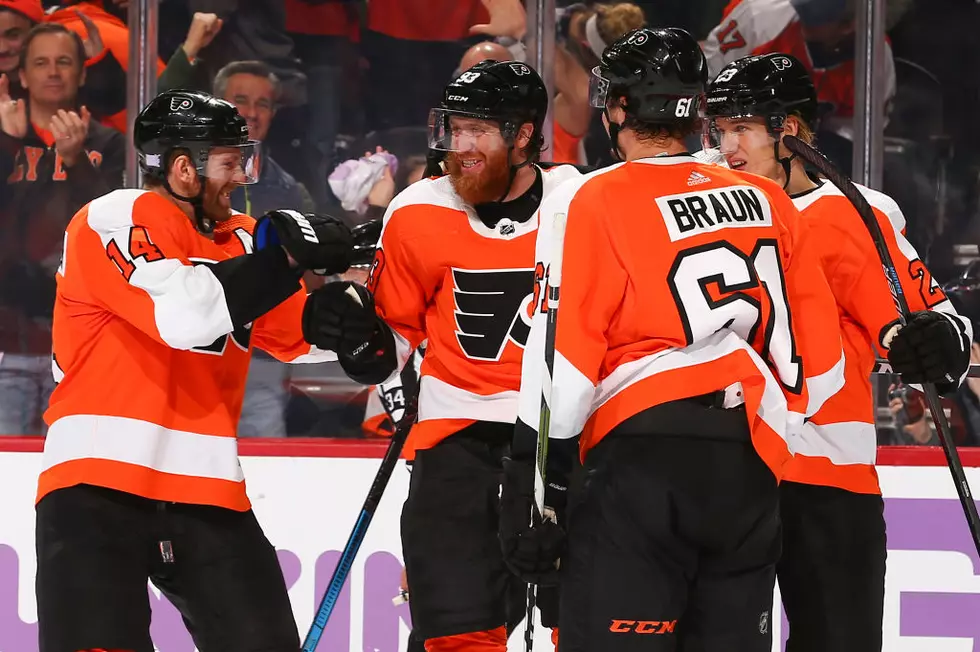 Flyers-Canucks Observations: Finishing Strong
(Mitchell Leff/Getty Images)
Monday night's game for the Flyers against the Canucks felt an awful lot like Saturday's game against Calgary. Perhaps the only difference was that there was no late bounce that went against the Flyers that forced overtime. The head coach certainly noticed it.
"I thought this looked a lot like the last game from the second period on," Alain Vigneault said. "We dominated totally. We got the second goal. We needed two big saves tonight at the end and we got them both, a five-on-four save and a six-on-five save, which was great to see from Carter."
For a change, the Flyers did not need overtime or a shootout to decide a game, securing a 2-1 win over Vancouver on Monday night. Here are some observations from the win.
After going 12 games without scoring a goal, Jake Voracek has two in the last two games. His goal on Monday couldn't have come at a better time.
The Flyers had been dominant for the previous 30 minutes when Voracek broke a 1-1 tie with a perfect shot from the left circle, hitting off iron and in to give the Flyers the lead.
It's no secret that Voracek was not just in a goal-scoring slump of late. When his production is good, you can live with some of the other parts of his game that may be inconsistent or give you headaches. When he's not, the frustration around him mounts.
Perhaps all Voracek needed was for one goal to go for him. After a strong all-around game on Monday, Voracek noted that he feels like he has found himself again.
"I feel like a swagger back," Voracek said. "If I don't play with a swagger I think that's what I was missing. I got the swagger back kind of that '[screw] you' attitude I need too to be successful."
Alain Vigneault certainly noticed Voracek throughout the night. Voracek was involved in both goals, but his steady play at both ends of the ice was what stood out to the head coach.
"I think for tonight's game, the whole game, he played the right way," Vigneault said. "When it was time to defend he defended. When it was time for him to use his size and his skill on one-on-one battles, he did. He created room and opportunities for himself and his two linemates. This was probably one of his most effective games since the start."
It seems like if a player is slumping and in need of a boost, just put him with Sean Couturier.
Couturier had a two-point game of his own, but it was really his tenacity around the puck that was noticeable. Couturier is an impressive player as it is because of the emphasis he puts on playing well away from the puck defensive first before shifting to the offense. Yet here he was, just casually having another game where his line was the most effective and where he was constantly around the puck during his shifts.
That has been part of the reason Travis Konecny started the season so hot and why Oskar Lindblom has been so consistent this season. It's now a reason why Voracek has been able to see his game come around. Couturier says there is no secret.
"I just try to play the right way -- a solid 200-foot game," Couturier said. "I just try to adjust to each guy, each line and try to use their strength and control the puck possession time. I just try to make our line work, that's all that counts."
"You got to say that everybody that plays with Coots has played well," Vigneault said. "I don't know if that's Coots or guys getting excited to play with him. Coots is a real solid 200-foot player. You can trust him as a coach in defensive situations. Offensively, again tonight, that line was real effective."
For a second straight game, Shayne Gostisbehere was a healthy scratch. That's becoming more of a storyline, mainly because the team has played two very sound defensive games. The high-powered Vancouver offense that had at least 30 shots in nine of 12 games this month to their lowest total of the season.
Monday's game was one of the best for Phil Myers in his young NHL career. Paired with Robert Hagg, the duo had a strong game. You could really say that about every defensive pairing. But this is the third pairing that has struggled at times and for the last few games has seen consistent performances, limiting chances for the opposition.
With just 17 shots on goal for Vancouver, it wasn't a busy game for Carter Hart, especially after the first period. Hart faced nine shots in the first period, where he did allow the lone goal to J.T. Miller.
In the second, the Flyers outshot the Canucks, 17-4. In the third, shots were 9-4 in favor of the Flyers. But Hart stepped up in a big way on the best scoring chance of the game for the Canucks in the final seconds.
With the Canucks at 6-on-5, Josh Leivo got the puck at the front of the net with space. Hart got across to make the save and covered with 17.4 seconds remaining. For a goalie that had not seen much action, it was a crucial save that helped the Flyers lock up the two points.
Hart hasn't had a lot of luck on his side lately. His performances have been good, but the end result has been a consistent string of losses. This got him back on the winning side of things, certainly a just reward after the way Saturday's game came to an end.
It's now fair to say that this is more than just a hot start for the Flyers penalty kill. This has been one of the few areas of consistency throughout the season and continues to rank toward the top of the league.
Following a 2-for-2 showing against Vancouver -- the fourth-ranked power play entering Monday -- the Flyers penalty kill is tied for third in the NHL with an 85.7 percent success rate.
Claude Giroux said that the success on the penalty kill is simple and just about doing the right things, that when everybody does their job, you have success.
A big reason the Flyers have been an improved team this season, even with a 12-7-5 record through 24 games, is because of the improvement on the penalty kill.