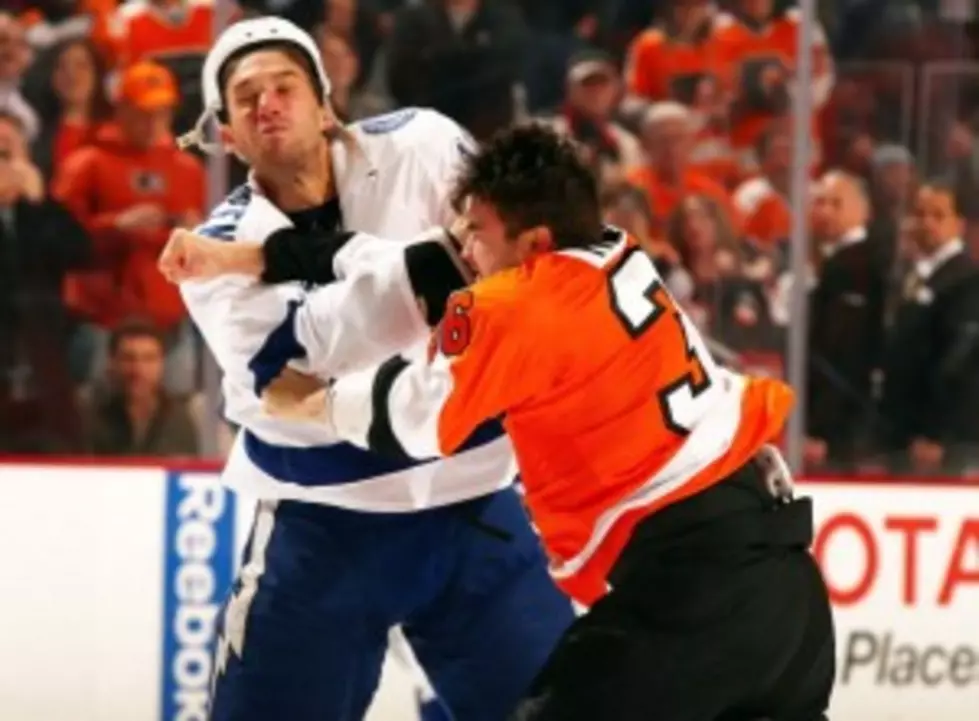 Flyers Extend Zac Rinaldo for Two More Years
Zac Rinaldo and B.J. Crombeen fight. (Photo by Elsa/Getty Images)
The move seems a little strange considering the direction new general manager Ron Hextall said he wanted to go in and the signings he's made thus far.
Hextall has talked about wanting to get skill players time with the puck and having more of an offensive game.
Zac Rinaldo has seven career goals in 165 NHL games, all with the Flyers, but something impressed Hextall to give the 24-year-old left wing a two-year extension reportedly worth $850,000 per season, a raise from his current deal which gives him $750,000 per year. Rinaldo still has another year to go on his current pact, which would have made him a restricted free agent after the 2014-15 season.
Now he's under contract until July 2017. Even Rinaldo himself didn't suspect the timing.
"I'm surprised that we'd even started to talk about it so early, but I am thrilled," Rinaldo said in a press release. "Philadelphia is where I started my NHL career and this is where I want to be so I am really happy. This definitely gives me a lot of confidence by the Flyers showing that they have confidence in me. I know they want to see me get better as a player, and this is the place to do it."