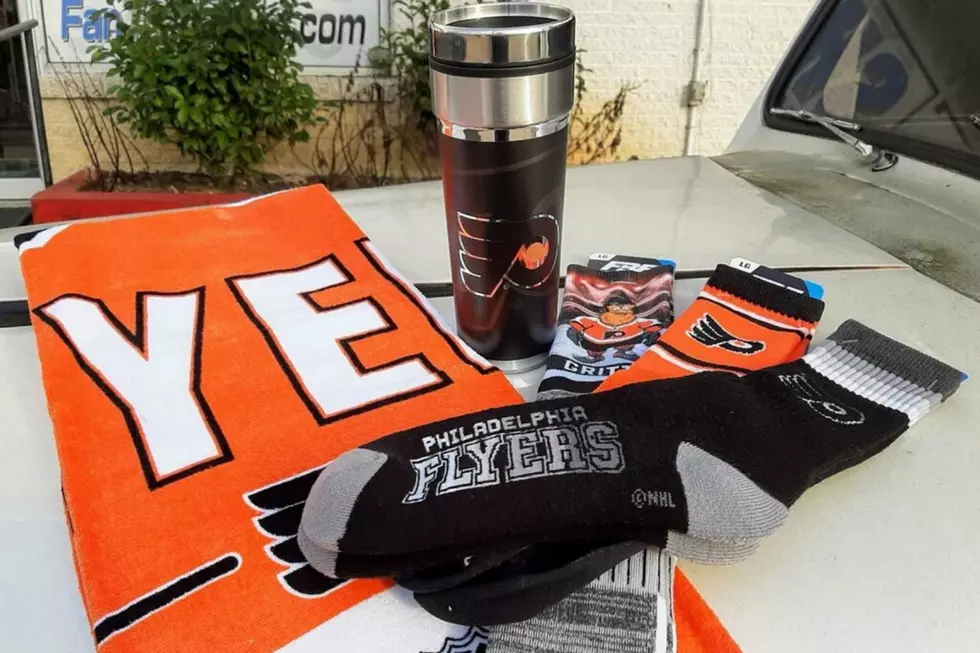 Flyers Hockey Returns While Sixers And Eagles Work Through Issues
Photo by Billy Schweim/Host of The Locker Room on 973 ESPN
The Philadelphia Flyers returned to the ice on Wednesday Night and beat their interstate rivals, the Pittsburgh Penguins, 6-3 at the Wells Fargo Center.  The NHL started its season under strict COVID-19 Protocols due to extensive pandemic restrictions with no fans in attendance at most arenas in the United States and Canada but there was still excitement on the ice all around the league.  This season the schedule and format of the league will look very different than what casual along with die hard fans are accustomed to seeing but it's still Flyers Hockey we are excited to watch.  Flyers 22 year old Goaltender Carter Hart played well Opening Night with the exception of one giveaway goal but the Flyers offense was the story of the night led by 20 year old Joel Farabee.  Farabee tallied a goal and three assists playing on the top line with 6'5" Center Kevin Hayes and Flyers' Captain Claude Giroux.  The Power Play was a weak point for the team in last season's postseason in the NHL Bubble after finishing the regular season ranked 14th in the NHL, on Wednesday Night the Power Play was clicking as that unit scored 2 goals on three opportunities versus the Penguins. 
The Philadelphia Sixers were slowed over the last several days by the NBA's COVID-19 protocols Contact Tracing taking several players out of action after Seth Curry received a positive test last Thursday.  The Sixers got back on track this week by beating the short-handed Miami Heat twice thanks in part to Rookie Tyrese Maxey who is averaging 21.3 Points Per Game and shooting 50.7 Percent from the field in the team's last four games.
Also in the news are the Philadelphia Eagles who decided to fire their Super Bowl winning Head Coach Doug Pederson after five season and they are now in search of their Head Coach in the last 10 years. 
On Saturday in The Locker Room with Billy Schweim, we will get you pumped up for the Flyers season by giving away a Flyers Prize Package, courtesy of Pro Image Sports, to a lucky listener who answers our question of the day via the textboard.  The radio voice of the Flyers Tim Saunders will check in to the show and talk about what to expect from the Flyers this season. 
On Sunday in The Locker Room with Billy Schweim, we will review the week in sports as the Eagles are now in search of a new Head Coach and we will examine the details behind the firing of Doug Pederson.  Also, the NFL Playoffs, the Flyers and Sixers will all be discussed.  My Fantasy Football Guru Brian Hartley checks in with his picks for the NFL Playoffs. 
Don't miss all the action every Saturday and Sunday in The Locker Room with Billy Schweim from 10am to noon on 973 ESPN radio!
Flyers Top Goal Scorers Each Year Since 2010