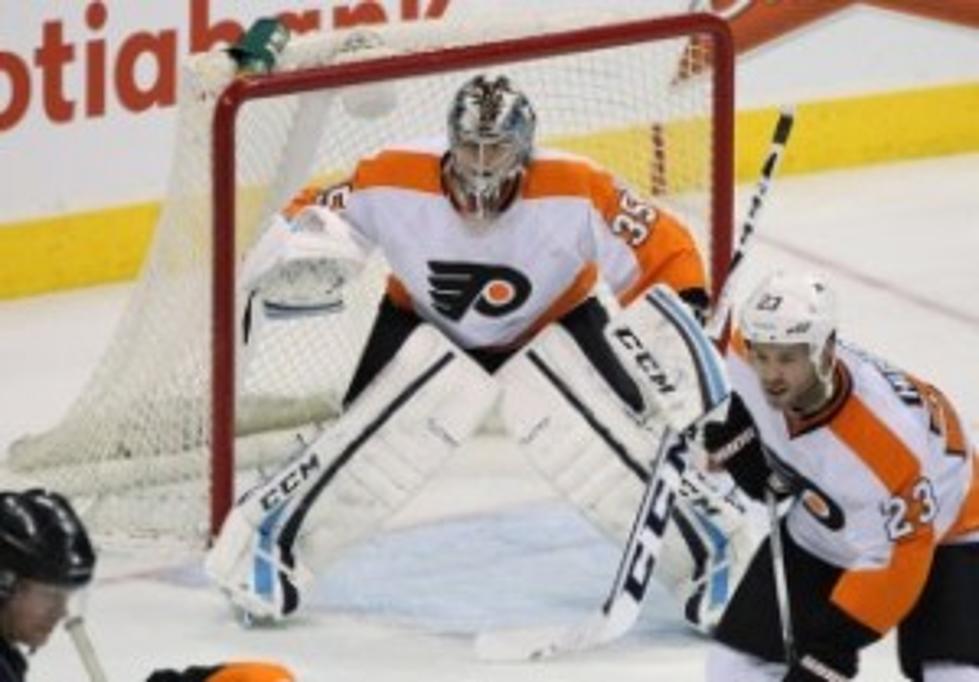 Flyers Must Rely on Backup Goalies With Steve Mason Out
Steve Mason (knee) will miss two weeks because of his knee injury.
(Photo: prohockeytalk.nbcsports.com)
General manager Ron Hextall said the injury that took Mason out of Saturday's game, believed to be a right knee injury, was independent of two "tweaks" last week and of the back spasms that caused him to miss time in December.
This latest ailment will keep Mason from playing for "up to two weeks."
"You never know how much of a setback it is until the guys that are replacing him play," Hextall said on a conference call with reporters. "Obviously it's not what we want. It's a tough break for our hockey club, but it is what it is and we're gonna deal with it."
Mason has been a big part of the Flyers this season. His .920 save percentage is top 10 in the league among goalies who have played at least 20 games, far better looking than his 8-12-6 record.
The keys to the goalcrease now belong to the tandem of Ray Emery and Rob Zepp. Emery's .889 save percentage this season suggests the Flyers may be in trouble while Mason sits out.
"That's the job," Emery said of coming into Saturday's loss on no notice.
"You always want to be prepared but I don't know what the situation is. If I get a chance to play I'm going to make sure I'm prepared."
Zepp, who was recalled Sunday, won his only NHL appearance, Dec. 21 in Winnipeg. He's played mostly for the Lehigh Valley Phantoms, where he has a 2.57 goals-against average and .921 save percentage and has a 11-5-4 record in his first North American season since 2005.
The Flyers are in no rush to trade and pick up another goalie while they spend two weeks without their No. 1 goalie.