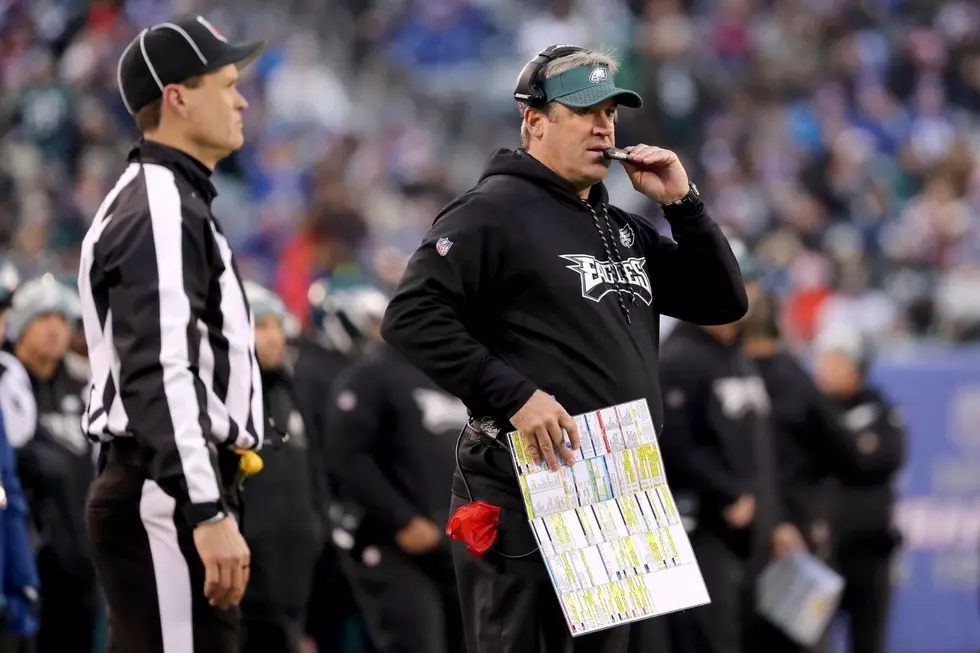 Former Eagles' Head Coach Doug Pederson to Interview with NFL Team
(Photo by Elsa/Getty Images
Former Eagles head coach Doug Pederson is the only coach to ever lead the franchise to Super Bowl victory.
After taking a year off, Pederson is ready to return to a NFL sideline.
The Jacksonville Jaguars reportedly will interview Pederson this week, along with a handful of other candidates, according to NFL Network reporter Tom Pelissero.
Pederson joins five coordinators — Byron Leftwich, Todd Bowles, Kellen Moore, Dan Quinn, and Matt Eberflus — for their head-coaching position on Tuesday. They're also expected to sit down with former Lions head coach Jim Caldwell.
The Jaguars fired Urban Meyer before he finished his first season in Jacksonville and are taking advantage of the NFL's new rule, which allows teams with coaching vacancies to speak with candidates with two weeks remaining in the regular season.
Pederson interviewed for some offensive coordinator positions last offseason, after being let go by the Eagles after a 4-11-1 2020 season, but decided to take the year off.  
The 53-year-old ended his tenure in Philadelphia with a 42-37-1 regular-season tenure, three playoff appearances) and a victory in Super Bowl LII. He came to Philly after spending time in Kansas City as Andy Reid's offensive coordinator after a 13-year playing career, mostly as a backup quarterback.
Compared to other candidates, Pederson has the one thing none of the other can say they have - a Super Bowl title.
If he is passed over in Jacksonville, there is a good chance Pederson will have other opportunities this offseason to return to coaching.
20 Sporting Events That Happened at Boardwalk Hall in Atlantic City