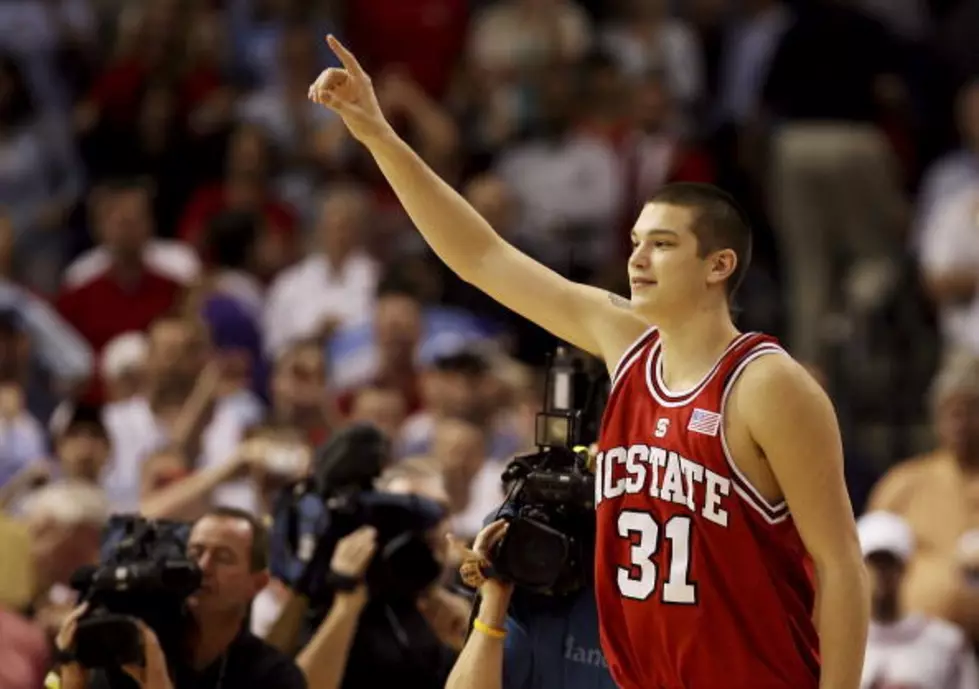 Former Holy Spirit Star Dennis Horner Makes NBA's Nets [AUDIO]
Linwood, NJ resident, Dennis Horner, a graduate of Holy Spirit High School. Getty Images
When the New Jersey Nets have announced on Friday Dec. 23rd  that Holy Spirit graduate and former North Carolina State star, Dennis Horner had made the team, his childhood dream had come true.
'It's a dream come true, Horner said in an interview on The Sports Bash on 97.3 ESPN Radio.  "Its really crazy and unbelievable that they actually gave me the chance and opportunity to make the team. After practice I was just sitting around in the gym, and the GM Billy King just came and sat next to me and said we thought about it and we are going to keep you, you have made the roster."

As a young boy growing up in Linwood and playing basketball, Horner, now 23 years old, had dreams of playing in the NBA.  As he grew taller, then assistant coach at Holy Spirit and current head coach Jamie Gilliespie saw this as a possibility.

"As an eight grader, I saw a kid who wasn't done growing and had the skills to go with his height, Gilliespie said in a phone interview.  "The fact that he had guard skills at his height was special."

The six-foot-nine Horner was a star at Holy Spirit from 2002-2006 averaging 17.4 points per game during his senior season in which the Spartans went 24-3 and won the CAL title game over Atlantic City 45-43, all memories he says he will never forget.

"The guys I played with there are still my friends, Horner explained.  "Playing against AC High, the Prep with their fans and Mainland getting to play against the kids I grew up with was always nice, its something I will never forget."

After Holy Spirit, Horner went on to play basketball at North Carolina State in the ACC, one of the best basketball conferences in the county.  The process of leaving South Jersey to play college basketball was a difficult one.

"It was hectic, coaches calling me everyday and calling my family," Horner recalled.  "It came down to West Virginia, Notre Dame and NC State."

Once at NC State, Horner worked hard and became a hard-working, blue collar player who did everything he could to try and get noticed - but following a strong senior season where he averaged 11.9 points per game and 4.9 rebounds per contest, nobody called.

So Horner left the beaches of South Jersey for a chance to play professionally in Europe.

"I spent two months in Belgium, I left there to finish the year in Cyprus and then this summer I did a lot of working out and went to a D-League workout and got drafted by the Springfield Armour who is affiliated with the New Jersey Nets," Horner described.  "I played three games there and when training camp started I got the call from the Nets and from there it's just been a roller-coaster really."

Its a roller-coaster ride that not many college basketball players get to take and even fewer from South Jersey.  However, not only did Horner get the call, he has the chance to play in his home state with the Nets.

"Besides the 76ers (which is closer to South Jersey), being with the Nets is the best place I can be for my family and friends," Horner admitted.  "About 35 people came to my first game against the Knicks, its great to be close to home."

Playing the Knicks was a great experience, but playing in Madison Square Garden was something else Horner had never done.

"It was crazy playing against guys like Carmelo Anthony and Amare Stoudmire (two players who are stars from the New York Knicks) that you see on TV playing," an humbled Horner stated. "No words can really put it into perspective."

Horner said the Nets want him to be a guy who can come off the bench and give the Nets some energy off the bench, his high school coach Gillespie thinks that will serve him well.

"I think that's him, he is a blue-collar kid who got after it here (at Holy Spirit), Gillespie explained.  "That got lost here, he was always around the ball."

While his dream has come true, he looks back at the long, hard and sometimes arduous road he took to get to the NBA.

"Ever since I was young I have played in the backyard and that's what I dreamed of," explained Horner.  "When I started getting recruited in high school, then it became a goal that I could reach, and I just kept working hard and I got the opportunity, I was just focused on getting better in the summer, working out and lifting twice a day.  That's why I did the D-League, it was a good experience (playing over seas), but being that far from family and friends and being young I wanted to try to make it to the NBA, so I wanted to give the D-League a try and it worked out.

From the backyard in Linwood, to a tiny gym in Absecon, down to North Carolina, over to Belgium, then Cyprus, Springfield and back to New Jersey - it's been a wild ride for Dennis Horner, one I am sure he would be willing to take again to land up in his dream spot - the NBA.