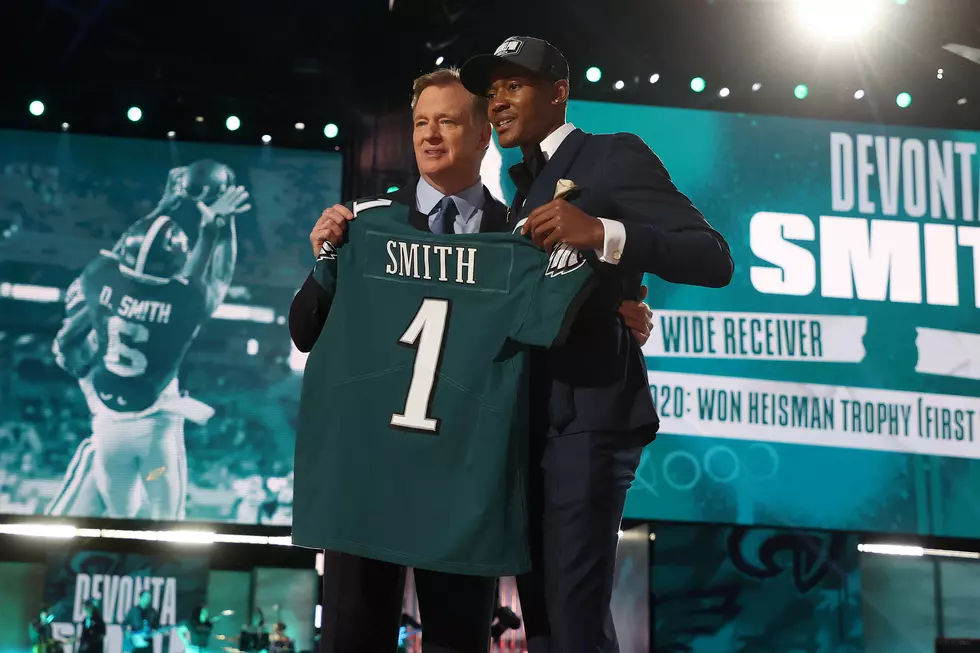 Grayson's Grades: Eagles 2021 NFL Draft
Getty Images
The Philadelphia Eagles faced a lot of criticism in the media this offseason for their alleged dysfunction behind the scenes. Most of the media reports centered on the front office and its draft process. So General Manager Howie Roseman and Owner Jeffrey Lurie were under a microscope throughout this draft needing to do better than they have at selecting players in some time.
The Eagles added nine new players to the roster. They selected three offensive players and six defensive players.
Eagles General Manager Howie Roseman once again made some moves to go up and down in the draft at different points.
Roseman ultimately traded the sixth overall pick and a third round pick for Heisman Trophy winner DeVonta Smith and a first round pick next year.
So how do these new additions grade out???
Here's an NFL Draft edition of Grayson's Grades:
I thought Roseman did a great job in hindsight of ultimately ending up with a very talented Wide Receiver and Heisman Trophy winner in DeVonta Smith from Alabama. He also got a first round pick in next year's draft as part of multiple moves that led to selecting Smith. So all in all, a great first day for Roseman. Day two in my opinion was not nearly as good. I expected them to address the need at Corner with the 37th overall pick. It was the fifth pick of the second round. Instead, they chose an offensive lineman with a long injury history that ended four different seasons in his college career. This was a high risk pick and a huge gamble on Roseman's part. They ultimately did not add a corner until the fourth round. Roseman focused on building both the offensive and defensive line depth. There was no doubt that this felt and looks like a better draft than Roseman has overseen in some time. However; as is the case with any draft, we will not know the success or failure of this one until a few years from now.
DEVONTA SMITH (WR): A
They got speed and a receiver who rarely ever drops a ball. He has performed at the highest level and also has familiarity with Eagles Quarterback Jalen Hurts when the pair played together at Alabama in 2018. I like this pick a lot. Patrick Surtain was my top target for the Eagles but when he went off the board higher than expected at Number 8, I felt this was the next best choice.
LANDON DICKERSON (OL): D (Potentially an A)
Dickerson was a huge gamble by the Eagles. This felt exactly like the Sidney Jones pick a few years ago. Jones was a player graded out in his career as a first round pick that they Eagles got in the second round due to coming off an injury. Dickerson's injury history is even more extensive. He has torn an ACL in both knees that each time ended his college season early. He also had two season ending ankle injuries. When healthy, he has a lot of talent and is a great lineman. He is also versatile enough to play Center or Guard and even Tackle if needed. But therein lies the question, how many games will he be healthy for you? This is a high risk high reward pick. Given where this team is, I do not justify spending a high second round pick on a high risk high reward player. However, if he can stay healthy, this becomes an A grade and deserves a big pat on the back for Howie Roseman.
MILTON WILLIAMS (DT): B
Williams is a Defensive Tackle with a great motor. He is explosive at the snap and should help against the run. Williams needs to become a better pass rusher if he intends to develop into a three-down lineman. This was a nice depth piece and he should compete for a solid amount of snaps coming out of camp and going into the regular season.
ZECH MCPHERSON (CB): B
McPherson will certainly have the chance to compete for a starting spot at Corner given the Eagles lack of real talent at that position. Darius Slay is one starter, but who gets the starting nod at the other Corner? McPherson gets aggressive in the battle for the ball as it approaches the receiver so he will challenge that nicely and it leads to broken up passes. The knock on him coming out of college dealt with his inconsistency backpedalling and coming out of his break to attack a route. Those are all things that can be fixed entering this level and if fixed, this could turn out to be a solid pick with great value where they got him.
KENNETH GAINWELL (RB): A
I really like this choice. I feel the Eagles got great value for Gainwell in the fifth round. I also believe he will be a solid compliment to Miles Sanders. This is not a guy who will challenge Sanders for the starting job. Sanders has that. This is the guy who will help spell Sanders and fill a role. Gainwell's brings a dual-threat skillset to the Eagles. He opted out of the 2020 season. One look at his stats at Memphis in 2019 illustrate how he can help you. He rushed for nearly 1,500 yards and 13 touchdowns. He also caught 51 passes for more than 600 yards and 3 touchdowns. New Eagles Head Coach wants Running Backs to catch the ball out of the backfield. They definitely got that in this guy.
MARLON TUIPULOTU (DT): B
When you get into the sixth and seventh rounds you are hoping to find a part-time contributor with the potential to develop into something more than that over time. That is exactly what they got with this pick. Tuipulotu's strength is as a run stopper. So he will have the chance to compete for some snaps to get into the defensive line rotation in run stopping packages. He needs to work on rushing the passer. If he can develop that skill than he could become more of an every down player in a couple of years.
TARRON JACKSON (DE): C
Jackson shows spits and spurts of NFL ability. But to play in the NFL you have to have more consistency if you plan to stick around. Jackson shows an explosive rush at times. However, the knock on him is when he gets a little tired he starts standing more upright and loses some of that explosiveness. Look for him to get an opportunity to rotate in on definite pass plays on third and long.
JACOBY STEVENS (S): B
Stevens is listed as a Safety but plays like more of a hybrid Safety-Linebacker type. Think Malcolm Jenkins although he clearly is not at the level of Jenkins, at least not yet. Stevens played at LSU and saw plenty of talent opposite him on a weekly basis. He can be a help in run defense and also help in coverage. He can get too overaggressive leading to big plays against him. However, that aggressiveness can also lead to big plays for his team. The Eagles need to find a way to teach him to pick and choose when he tries to be overaggressive and limit the damage from reacting too fast.
PATRICK JOHNSON (LB): C
The Eagles finally took a Linebacker with their final pick in the draft. It goes to show you just how little they value this position in the draft. Johnson strength is reacting quickly and rushing the passer when needed. He lacks the kind of size you want for someone to play inside so he will strictly stay on the outside. Johnson could develop into a decent rotational and depth piece.
Eagles Head Coaching Wins All-Time