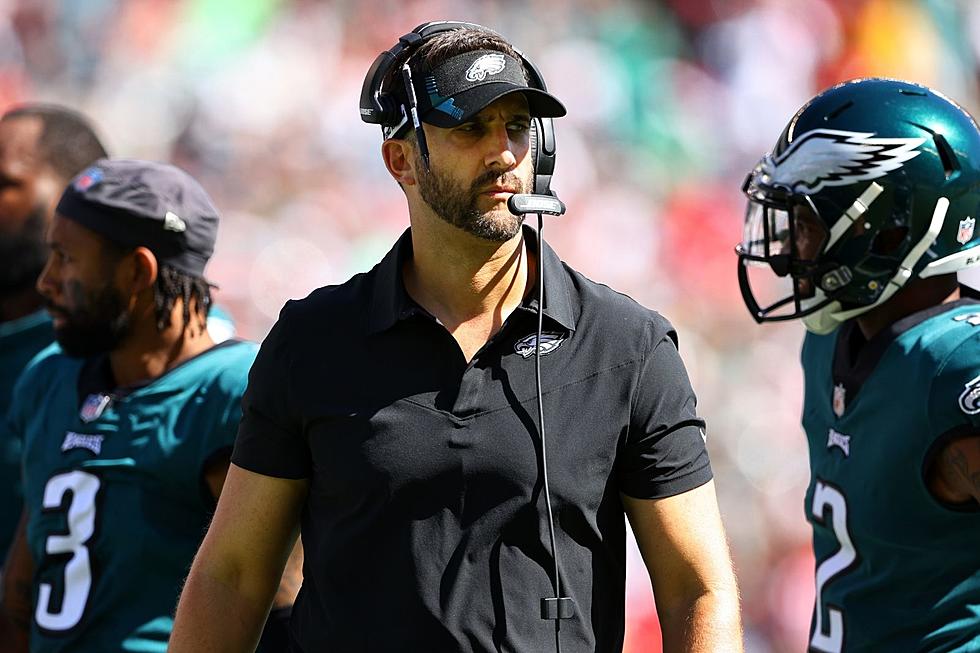 Grayson's Grades: Eagles at Bucs (Wild Card)
(Photo by Mitchell Leff/Getty Images)
The Philadelphia Eagles seemed to be spectators of the playoff game in Tampa more than participants. They came out flat and never really got going on either side of the ball. The Eagles eliminated with a 31-15 loss to the Buccaneers. 
The Eagles once again played a conservative defense in the first half giving the underneath routes to Tom Brady and his receivers. Brady was more than happy to keep dinking and dunking it down the field. Meanwhile, the offense was unable to get its running game going. When it did start driving, Jalen Hurts threw an interception. When the defense started getting some momentum and stops then Jalen Reagor muffed a punt turning it over to the Bucs.
On the bright side, the youth on this team including Jalen Hurts, Jordan Mailata, Landon Dickerson, Dallas Goedert and DaVonta Smith got some valuable playoff experience. The same can be said for rookie Head Coach Nick Sirianni. They learned what not to do in playoff games.
The dark side of that says this was an embarrassment that will linger for these players into the offseason.
Here is the final edition of Grayson's Grades for this season:
A
Alex Singleton - Singleton appeared to play his butt off in this game. I saw him flying around trying to make plays. He got into the backfield several times and helped to disrupt plays. Singleton led the team with 16 tackles and four tackles for a loss including one sack.
B
Dallas Goedert - Goedert was targeted frequently as he should have been. He did a good job of tacking on yards after the catch. However, he has been plagued by a big drop per game lately and that happened again here. The one he dropped would have gone for probably close to 20 yards. Goedert has to eliminate the drops. He is a valuable weapon in this offense. He finished with six catches for 92 yards.
DeVonta Smith - Smith seemed to be facing a bunch of man-to-man coverage and for whatever reason did not get many targets until it was too late. Smith tried to make an impact in the fourth quarter. He caught a pass and went 31 yards that set up a touchdown on the next play. This was a great rookie season for Smith and he clearly presents himself as a solid weapon to build around in the future. Smith caught four passes for 60 yards. He also made a great diving catch for a two-point conversion in the fourth quarter.
Ryan Kerrigan - Kerrigan started in place of the injured Josh Sweat. He took advantage of the opportunity and abused some of the injured Bucs offensive linemen. As a result, Kerrigan was able to get to Brady. He finished with 1.5 sacks including two tackles for a loss and two quarterback hits.
Kenneth Gainwell - Gainwell finished the game strong. He competed hard. The rookie looks to have a lot to offer this franchise in the future. He is a great receiver out of the backfield. Gainwell did a great job adding yards after the catch. He caught five passes for 49 yards and a touchdown. Gainwell also carried it one time for six yards.
C
Offensive Line - The offensive line had a tough task as the Bucs stuffed the box. It made it harder on the line to dominate the line of scrimmage as it has throughout the season. The line did a decent job in pass protection but a couple of penalties hurt what would have been good gains. Jason Kelce was called for holding twice. At least one of them if not both appeared on replay to be bad calls.
D
None
F
Jalen Reagor - Reagor single-handedly hurt this team on special teams. They were still very much in the game and about to get the ball around midfield down 17-0 early in the second half when Reagor muffed a punt that was recovered by the Bucs. That moment seemed to remove any optimism the Eagles had left. Before that he misplayed punts and was unable to field them. Not really sure how much longer the Eagles can afford to wait for him to "figure it out." Personally, I have seen enough. It seems like he needs a fresh start somewhere else and the Eagles would be better served giving another player those opportunities. Reagor had one catch for two yards. He muffed two punts and lost one of them.
Jalen Hurts - Hurts clearly struggled to identify what he was seeing and also appeared to struggle throwing in that wind. Credit the Bucs for quickly getting the Eagles to get away from the run and forcing Hurts to beat them. The Eagles are still faced with the question of whether he is the Quarterback of the future. While he had a pretty good season, he did not help answer that question in this playoff game. Hurts completed 23 of 43 passes for 258 yards with one touchdown and two interceptions. He also carried it eight times for 39 yards.
Miles Sanders - Sanders is always the kind of back who needs touches to get going. It is not entirely his fault that he was unable to produce much. Credit the Bucs for stuffing the box and in turn stopping the Eagles rushing attack. The Eagles were forced to get away from the run and that limited Sanders' touches. He had seven carries for 16 yards. Sanders also caught three passes for 12 yards.
Nick Sirianni - The one thing Sirianni needed to guard his team against was a slow start. That slow start directly led to getting themselves out of their game plan and putting the ball in the air more than they wanted. Sirianni saw the Bucs stack the box and dare the Eagles to beat them through the air. To their credit, they played the run well. At the same time, the Bucs offense was scoring and that contributed to the Eagles scrapping the plan. I have no idea why Sirianni continues to include Jalen Reagor in any part of the plan that touches the ball.
Jonathan Gannon - Gannon once again saw his defense eaten alive by a good quarterback. He played passive in coverage giving Tom Brady the underneath and he was more than happy to take those gains and methodically move the ball down the field. Gannon's defense was able to get to Brady, but not frequently enough. Gannon's defense was unable to come up with stops on the Bucs first few drives and that helped contribute to taking Sirianni and the offense out of its plan. Gannon's defense played well the second half of the season; however, it frequently gave up an enormously high completion percentage to the good quarterbacks it faced. Brady completed 78 percent of his passes in this one. In Gannon's defense, the Eagles turned it over three times putting his defense in a bad spot although the game was pretty much out of hand at that point anyway.
Top 10 Rushers in Eagles History